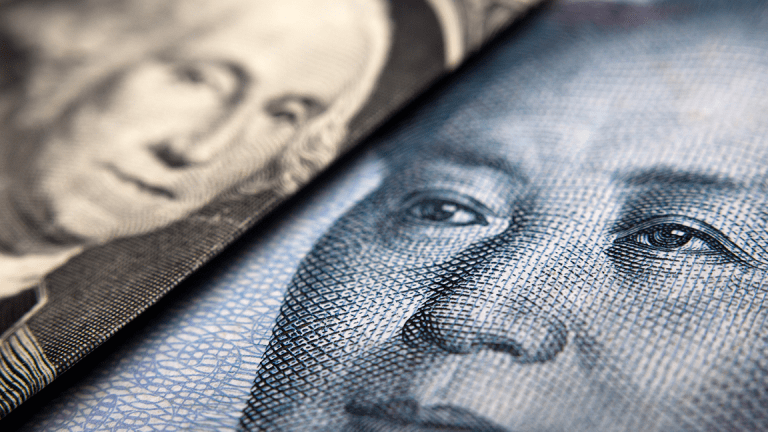 Trump's Trade War Revives Fears China Will Devalue Yuan
Investor jitters over a major currency devaluation by China rattled markets in August in 2015 and January 2016. President Donald Trump's promised tariffs against the country's exporters have pushed such concerns back to the fore.
President Donald Trump's escalating trade tiff with China is stoking investor concerns that the country might seek to devalue its currency, a fear that last gripped global markets and sent stocks reeling in 2015 and 2016.
China, which has closely managed its foreign exchange rate versus the dollar in recent years, could allow a steep drop in the value of the yuan as a way of retaliating against Trump's threatened tariffs, economists at Pittsburgh-based bank PNC warned this week in a report.
A cheaper currency for China would help to offset the effect of any tariffs on its exports to the U.S. by helping to keep the end products affordable for consumers. A weaker yuan would also reduce dollar-based profits for U.S. manufacturers that ship goods to China -- even as they face potential new tariffs from customs officials there.
"China could deliberately engineer a much larger depreciation of the yuan if its policymakers wanted to offset the damage from tariffs to export competitiveness," the PNC economists wrote. "While unlikely, the tail risk of a Chinese devaluation would be very bad news to the global economy if realized."
In the past five years, the two biggest monthly drops in the Standard & Poor's 500 Index of U.S. stocks have been triggered by just such fears. In August 2015, China made a sudden change to its exchange-rate-management policy, sending U.S. stocks down 6.3%. And in January 2016, as China showed signs of slowing economic growth and troubles managing a burgeoning debt load, investor fears of a further devaluation led to a 5.1% plunge in the U.S. stock index.
One concern is that global investors might rush en masse to pull capital out of China, leading to a broader selloff in emerging-market stocks, bonds and currencies.
The Federal Reserve's interest-rate increases in recent years have helped to make U.S. investments incrementally more attractive, pushing up the value of the dollar while weakening often-volatile emerging-market currencies.
"Export-oriented sectors started to see outflows in recent weeks, highlighting potential spillovers from escalation of U.S.-China tensions for EM more broadly," economists with the Institute of International Finance wrote Monday in a report.
Over the past week, China cut reserve requirements for its banks, a way of putting extra money into the economy without cutting interest rates. But the move has had an effect similar to that of loosening monetary policy: a weaker currency.
The yuan has slipped about 3% just in the past month, as the dollar strengthened against most world currencies.
On Monday, SEB, the Swedish bank, predicted that the Chinese yuan could weaken to 6.6 per dollar by the end of this year, compared with a previous projection of 6.2. On Tuesday, the currency traded at 6.58.
"The increasing threat of a trade war is weighing heavily on equities and currencies in export-depending emerging markets," Per Hammarlund, a strategist at SEB, wrote in the report. "More is coming."