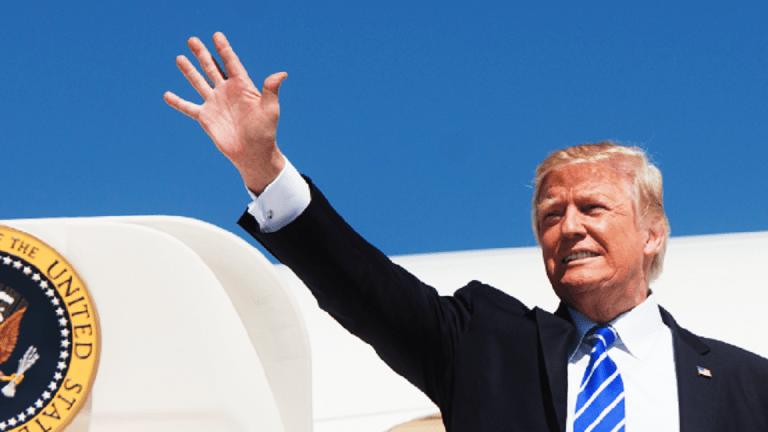 Trump Ties Stock Market Gains to Debt Reduction in Fox News Interview
'Maybe in a sense we're reducing debt,' Trump claims as markets hit fresh record highs.
U.S. President Donald Trump has appeared to suggest that the record run for American stock markets is helping to reduce the country's $20 trillion national debt. 
In an interview with Sean Hannity of Fox News late Wednesday, the President returned to one of his favorite themes -- chastising the media -- while at the same time touting what is undeniably a notable achievement for this fledgling administration: the record-setting performance of domestic stocks.
However, the President conflated equity market gains, which are earned by private investors around the world, with the country's national debt, a burden that is shared by all U.S. taxpayers - many of which have no stake of any kind in domestic or global markets.
"The country, we took it over at $20 trillion," Trump began, "As you know the last eight years they borrowed more than it did in the whole history of our country, so they borrowed more than $10 trillion. And yet we've picked up $5.2 trillion just in the stock market possibly picked up the whole thing in terms of the first nine months, in terms of value, so you could say in one sense we're really increasing values and maybe in a sense we're reducing debt."
"We're very honored by it and we're very happy with what's happening on Wall Street," Trump added.
If "virtually unprecedented" means the seventh best in history, then Trump is indeed correct: according to Bloomberg data, the S&P 500's post-election gain of 19% puts the current market rally behind Presidents Kennedy (1960), Roosevelt (in 1932 and 1944), Bush (1988), Hoover (1928) and Clinton (1996). Bloomberg puts the value creation figure at $4.4 trillion.
However, the implications for gains on American wealth need to be placed into context, given that polling last year from Gallup suggested domestic share ownership, via direct holdings, 401(k)s and mutual funds, sits near a record low of 52% and has fallen some 12 percentage points since 2009. 
Digging deeper into Trump's market boasts, and his characterization of the fiscal track record of his predecessor, Barack Obama, paints a slightly different picture as well.
Congress approved some $9 trillion in new borrowing during the eight years that Obama was in the White House, six of which were under the control of Republican lawmakers. Borrowing costs over the time also decreased, with 10-year Treasury bond yields falling from 2.36% just before Obama's innaguration in 2009 to around 1.6% prior to last November's elections.
It's also worth nothing that around a third of the new borrowing during Obama's two terms were based on tax and spending proposals agreed under the Presidency of George W. Bush, while the data from the Committee for a Responsible Federal Budget notes that the country's annual deficit fell in seven of the nine years his term spanned (including overlaps from past and present administrations).
More of What's Trending on TheStreet: