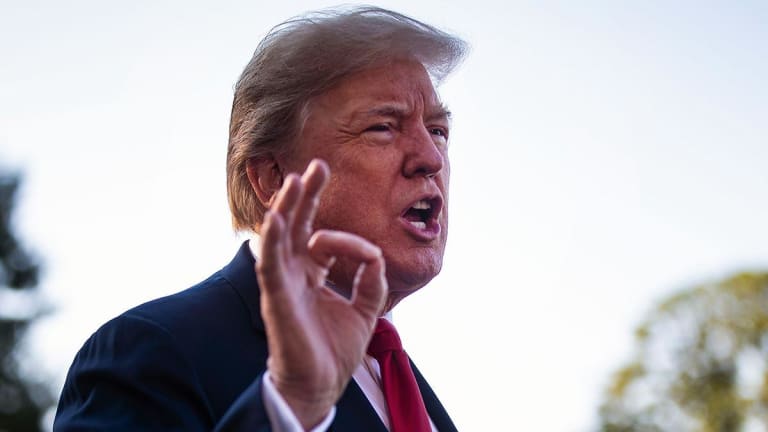 Trump Takes Aim At Prime Minister May in Unprecedented Attack Amid State Visit
President Donald Trump said Prime Minister Theresa May's Brexit stance has "probably killed" any potential U.S. trade deal and appeared to endorse her main political rival in an extraordinary interview with Britain's biggest newspaper.
President Donald Trump launched an astonishing broadside to U.K. Prime Minister Theresa May late Thursday, telling Britain's most-read newspaper that her new Brexit strategy would "probably kill" any chance of a U.S. trade deal U.S. while appeared to endorse her main political rival in an interview that has overshadowed his controversial visit to the United Kingdom.
Trump also took the Prime Minister to task for failing to heed his advice on how to negotiate with the European Union, telling the Sun newspaper that "she didn't listen to me". He capped the interview by saying that Boris Johnson, the former Foreign Secretary who resigned earlier this week saying he couldn't support May's new Brexit plan, would make a good Prime Minister. 
"The deal she is striking is a much ­different deal than the one the people voted on," he told the Sun. "It was not the deal that was in the referendum. I have just been hearing this over the last three days. I know they have had a lot of resignations. So a lot of people don't like it."
"If they do a deal like that," Trump said of May's plan to maintain similar ties to EU rules for markets in goods and some form of free movement for skilled workers and students. "We would be dealing with the European Union instead of dealing with the UK, so it will probably kill the deal."
The President's views are certain to heap further pressure on the Prime Minister, while emboldening her party political rivals, many of which want her to exit the European Union completely and sign new trade deals with countries such as the United States and China.
The pound fell to a 10-day low of 1.3122 against the U.S. dollar in early London trading as investors expressed concern that Trump's attack, which comes amid his controversial arrival in London and was met by as many as 50,000 protesters, could trigger a leadership challenge that could either oust her as Prime Minister to lead to fresh national elections.
Trump said May's approach to EU exit negotiations, during which she has attempted to broker a compromise between the hard and soft Brexit factions within her party, was "the opposite" to how he would have handled the talks. 
"I would have done it much differently," he told The Sun. "I actually told Theresa May how to do it but she didn't agree, she didn't listen to me. She wanted to go a different route."
"She should negotiate the best way she knows how," he conceded. "But it is too bad what is going on."
Others, however, expressed anger at the idea of a U.S. President so directly commenting on the internal affairs of a sovereign nation, particularly ahead of a State visit that includes an audience with Her Majesty Queen Elizabeth and was arranged at some personal risk for the Prime Minister, given the President's low approval ratings in the United Kingdom.
Trump's comments follow criticism for remarks her made ahead of the two-day NATO summit that began Thursday in Brussels, where he was accused of attempting to undermine Chancellor Angela Merkel by stating that Germany was "captive to Russia" owing to its reliance on natural gas from the former Soviet state. Russian natural gas comprises 9% of Germany's annual energy mix, government data published after the comments indicated.