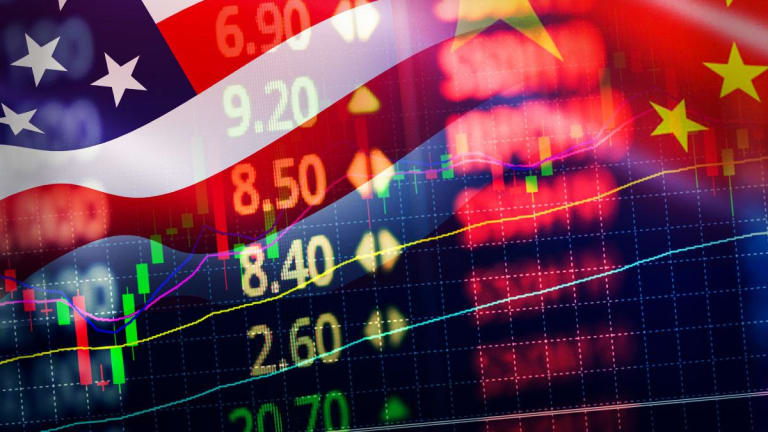 Trump Says U.S. and China Reach Preliminary Trade Accord
The president cited progress in the 18-month trade war on topics including currency, intellectual property and financial services. And China will buy more U.S. agricultural products. The U.S. for its part will delay the tariff increase that was due next week.
President Donald Trump said Friday that the U.S. and China have reached a "very substantial phase one" deal in their trade negotiations, involving progress on a number of issues that have fueled an acrimonious 18-month trade war.
The stock market rose sharply Friday in part due to optimism that the two sides would settle the trade war.
The president, speaking after meeting with Chinese Vice Premier Liu He at the White House, said the two sides made progress on intellectual property and currency matters, and on opening China to U.S. financial services.
The deal also includes China agreeing to sharply boost its purchases of U.S. agricultural products, scaling up to $40 billion to $50 billion worth annually.
That's "two-and-a-half to three times" the amount China had been buying "at its highest point," the president said.
And "phase one" of what the president said might be as many as three phases to the deal will include some technology-transfer aspects.
Liu said that "to get the China-U.S. economic relationship right is something that is good for China, for the U.S. and for the whole world."
Trump said completion of the first phase is "very close," a matter of a few weeks. The second phase, he said, will start almost immediately after the two sides conclude phase one and sign to it.
The president had said he wanted one overarching agreement. Asked about the phases, he said, "It's such a big deal and it covers so much territory that doing it in sections, in phases, is really better." He expects most of the major subjects of the agreement to be completed in the first phase.
The U.S., for its part, will delay a tariff increase that had been set to take effect next week, Treasury Secretary Steven Mnuchin said. The U.S. was threatening as of next Tuesday to increase tariffs on about $250 billion of Chinese imports to 30% from 25%, Bloomberg noted.
More duties on $160 billion of Chinese products were set for Dec. 15. U.S. Trade Representative Robert Lighthizer said the president hasn't made a decision to suspend those duties, but "there's plenty of time" to reach a resolution.
Mnuchin said that if the agreement is signed, that'll be "a big step in the right direction" for the U.S. lifting its August 2019 designation of China as a currency manipulator.
Lighthizer also said, "both sides agree [the deal] absolutely has to have a workable dispute-settlement mechanism, and we're very close to that."
The question of what to do about Huawei isn't being discussed right now and "is a separate process," Lighthizer said. The U.S. and other countries were concerned that the company's telecom equipment could be used for espionage purposes.
Trump said his team also would review the blacklist of Chinese companies and decide which ones belong there.
The president reiterated that he wants the Federal Reserve to cut rates. "I think the Federal Reserve should cut rates regardless of this deal because we're higher than other nations. ... We have a great economy but we have a Federal Reserve that's not in step with the rest of the world."
Trump said the impeachment process is "a hoax done by people that are losing and they want to try and use it to win an election. And I don't think it's going to happen."
The president called the deal important for both sides and for the world. "There was a lot of friction between the U.S. and China," he said. "And now it's a love fest."