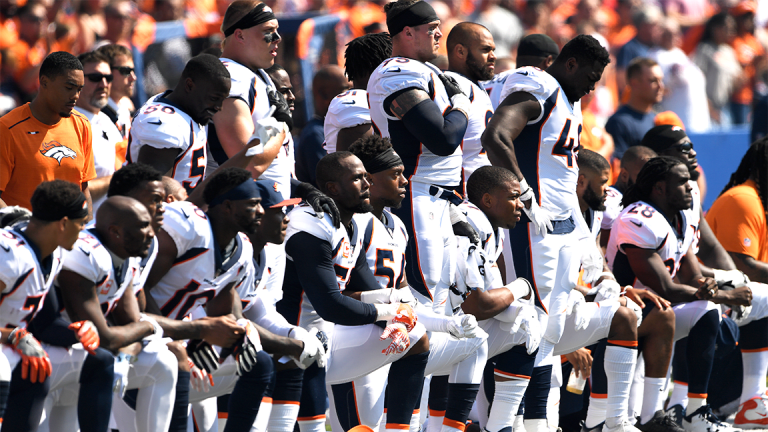 Trump Renews Attack on NFL Anthem Protests, Targets Oakland's Marshawn Lynch
Trump calls for Lynch to be suspended after veteran running back sits for US anthem, stands for 'Himno Nacional Mexicano'
Trump calls for Lynch to be suspended after veteran running back sits for US anthem, stands for 'Himno Nacional Mexicano'
President Donald Trump renewed his attack on the National Football League and recent protests of the national anthem Monday, accusing start running back Marshawn Lynch of "great disrespect". 
The President Tweeted his thoughts on both Lynch and the NFL after the Oakland Raiders's star sat during the pre-game rendition of "The Star-Spangled Banner" during one of the League's international games in Mexico City, but stood as the host country's anthem was played prior to kickoff against the New England Patriots.
Lynch, a 10-year NFL veteran, has largely avoided speaking to the media for most of his NFL career, but was photographed earlier this season with an "Everybody vs Trump" t-shirt and has sat for the playing of the anthem for each game so far this year.
Trump's attack also comes amid unprecedented turmoil for both the League and its advertizers as attendance and viewer ratings decline -- for a host of reasons -- and franschise owners squabble over the fate of Commissioner Roger Goodell and publicly criticise Dallas Cowboys' owner Jerry Jones for his stance on League discipline and unity.
In parallel to those ongoing challenges, Bloomberg reported over the weekend that Verizon Communications Inc. (VZ) - Get Report , the biggest wireless carrier in the U.S., was close to inking a deal with the NFL that would give it the right to broadcast games on larger devices -- such as internet-connected TVs and tablets -- instead of its current agreement that limits transmission to mobile phones. Under terms of the deal, however, Verizon would lose its exclusive rights to broadcast over mobile devices. 
Verizon shares were indicated 0.4% higher in pre-market trading in New York Monday, with an opening price of $45.60 that would trim their year-to-date loss to 14%.
Is NFL Commissioner Roger Goodell worth his weight in goals?
More of What's Trending on TheStreet: