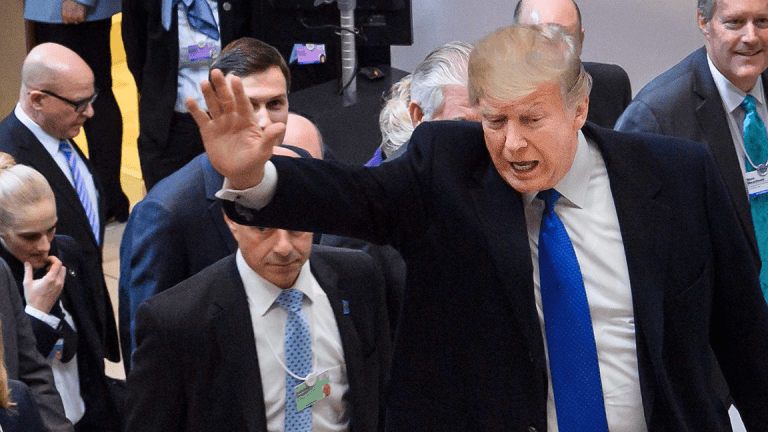 Trump Pushes Strong-Dollar Theme Ahead of Davos Speech
Donald Trump says he supports a strong dollar and would reconsider entering a pan-Pacific trade deal on 'substantially better terms' for the United States in an interview ahead of his keynote speech to the World Economic Forum in Davos, Switzerland.
U.S. President Donald Trump said Friday there's a "good chance" he'll be able to renegotiate the North American Free Trade Agreement and that he'd be open to joining a new Pacific trade agreement if the terms were "substantially better" for the United States.
In remarks released from an interview with CNBC television at the World Economic Forum in Davos, Switzerland, Trump also insisted that no one should be "talking down" the U.S. dollar and argued that its value should be based on the strength of the broader economy.
"I'll tell you where I stand, which ultimately is very important," he said. "No.1, I don't like talking about it because, frankly, nobody should be talking about it ... it should be what it is and it should also be based on the strength of the country."
"We are doing so well, our country is becoming so economically strong again, and strong in other ways too, by the way, that the dollar is going to get stronger and stronger and ultimately I want to see a strong dollar," Trump added.
The dollar index, which benchmarks the greenback against a basket of six global currencies, touched a fresh three-year low of 89.81 during European trading Thursday, rebounded modestly following the president's comments but was last quoted 88.96 in early Friday trading, extending its year-to-date decline to around 3.6% and its 52-week slump to 12.5%
The resident also told CNBC that he would reconsider his decision to withdraw from the Trans-Pacific Partnership trade deal if he could secure better terms for U.S. companies.
"I would do TPP if we were able to make a substantially better deal. The deal was terrible, the way it was structured was terrible. If we did a substantially better deal, I would be open to TPP," he told CNBC.
On Nafta, Trump again referenced America's trade deficit with Mexico and noted that he's still trying to re-negotiate the three-way agreement that also includes Canada.
"I may terminate NAFTA, I may not, we'll see what happens." Trump said. "We have a $71 billion-a-year trade deficit with Mexico. We can't have that."
"Will it be renegotiated? We're trying right now with Bob Lighthizer and the whole group. I think we have a good chance but we'll see what happens," he said.
On U.S. corporate investment, Trump referenced Apple Inc.'s (AAPL) - Get Report recent decision to invest as much as $350 billion in the U.S. over the next ten years as an endorsement of his broader economic policies.
"We're setting records every week, every day we're setting records, you see what's going on, Apple now with $350 billion, most people thought they meant $350 million which would build a nice plant, " he said.
"But I spoke with Tim Cook and I was very honoured ... you remember in my campaign I used to say I won't consider this great until Apple starts coming in and investing big money, doing the plants."
"They're going to do a lot, but so many companies are coming in," he insisted.
More of What's Trending on TheStreet: