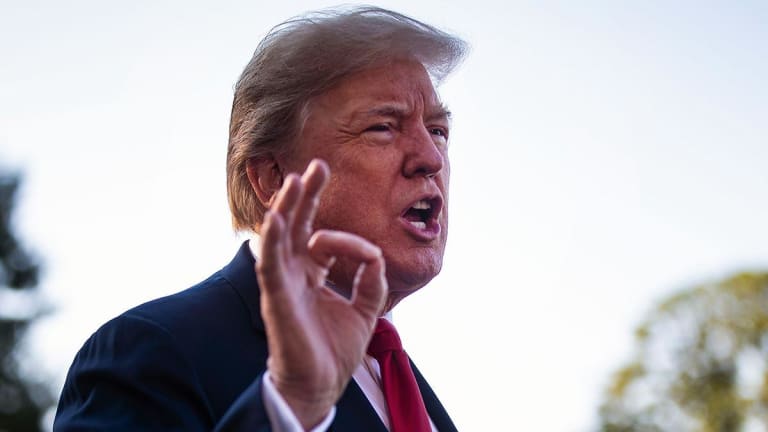 Trump Tariffs Hurt U.S. Oil Companies, May Help China
Just as the president is waging a war on global exporters in an effort to reduce the price of oil, his steel tariffs are costing U.S. companies hoping to build out necessary energy infrastructure that would in theory allow more U.S. oil to come to global markets.
The president's war on high oil prices is backfiring amid a contentious trade battle with China. 
Evidence is building that Donald Trump's global policies are hurting U.S. oil transporters and producers and assisting rival countries such as China in securing cheaper goods, and potentially, winning the war on trade. 
On Monday, one casualty was revealed in Plains All American Pipeline LP (PAA) , which announced it had been rejected by the U.S. Department of Commerce for an exclusion to tariffs on steel it planned to import from Greece for the construction of a $1.1 billion U.S. shale pipeline that would bring crude from the Permian Basin of west Texas to terminals near the ports of Corpus Christi. 
The Commerce Department said Plains All American's request was denied because suitable product for the project is available from U.S. producers. But the company argued the rejection is "unjust" because it purchased the steel for the 550-mile pipeline last year before the tariff decision was made.
Other U.S. companies, including Kinder Morgan Inc. (KMI) are awaiting rulings, while others, such as Royal Dutch Shell plc (RDS.A) and Chevron Corp. (CVX) , have received mixed results from a review process that Plains All American calls "flawed." Plains All American did not detail how much the tariffs would increase the project's cost. As of Monday, the Commerce Department had denied 452 exclusion requests and approved 267, Reuters reported. Another 3,385 of the 26,400 requests submitted through Monday were rejected as improperly completed. 
To be sure, the 25% tariff on steel is but one of the president's many attempts to deliver on his campaign promise of returning growth to U.S. industries such as energy and steel, which face increasing competition from global producers. In recent months, Trump has opened up federal waters for drilling and has urged global oil producers to increase production in an effort to stall surging oil prices and make gasoline cheaper at the pump for his constituents.
Oil prices have risen 52% since Trump was elected president from $44.83 per barrel on Nov. 8, 2016, to $68.08 at Tuesday's close. The average gallon of gas in the U.S. cost $2.23 the week before Trump was elected. Since, gas prices have risen 28% to $2.86 a gallon. 
Iran Sanctions Could Mean Cheaper Oil for China
Amidst his war on oil, Trump has lambasted the Chinese for participating in unfair trade practices, leading to the imposition of tariffs on $34 billion worth of Chinese goods, and threatened tariffs on more than $200 billion of goods from the world's largest exporter.
And in May, the president withdrew from the Iran nuclear deal struck by the Obama administration in November 2013, placing "the highest level of economic sanctions" back on the country. Those sanctions were initially expected to take between 300,000 and 500,000 barrels per day of Iranian oil off the market before the extent of the U.S. demands were fully understood.
The administration in late June clarified its stance by threatening to slap sanctions on any countries that didn't bring imports of Iranian crude to "zero" by Nov. 4, which would effectively take all 2.2 million barrels per day of Iranian crude exports off the market. The U.S. has since softened that decree, saying it would possibly provide waivers to certain allied countries that are dependent on Iranian oil supplies. 
China doesn't appear willing to comply to any level of limitation of Iranian supplies, however. In fact, the Chinese are expected to buy more Iranian crude after threat of U.S. sanctions, KLR Group analyst Gail Nicholson said Wednesday in a note to clients.
"China may want to take advantage of cheaper Iranian crude price due to sanctions," Nicholson wrote. "China is [the] largest buyer of Iranian crude."
President Trump has reportedly pleaded privately with Saudi Arabia to increase production enough offset the loss of production from Iran and other OPEC countries, such as Venezuala, where crippling debt and political upheaval have forced more and more oil off the market for months. 
Less supply from Iran means higher oil prices, but if Trump can persuade other producers to ramp exports to make up the gap, the president can have his cake and eat it, too.
Nevertheless, despite OPEC agreeing to increase production in June, fears remain that higher U.S. gasoline prices averaging close to $3 per gallon — the highest since 2014 — is a real possibility, which could upset voters in the November midterm elections, explaining why the president publicly has called upon OPEC to increase production and blamed the oil cartel for "artificially high" oil prices.
Instead of trying to influence the global market through scare tactics, however, the president might do better to attempt to exert his influence on the U.S. oil and gas market, where the president could further reduce regulations and pressure legislators to speed up investments in U.S. infrastructure that will allow domestic producers to export crude in greater volumes. 
"One way the administration could help would be to invest more federal funds to improve port infrastructure for exports — e.g. the Port of Corpus Christi has been trying to raise funds to dredge the port channel to handle bigger vessels," Morningstar Inc. oil markets analyst Sandy Fielden told The Street.
That work has to be done by the U.S. Army Corps of Engineers using its navigation construction budget, according to Fielden, but the whole process could be sped up by "federal investment that seems to be stuck in the slow lane."
In other words, instead of imposing tariffs that limit infrastructure buildout and pushing oil prices up through global sanctions on foreign exporters, the Trump Administration should be rallying behind ideas that will improve the chances the U.S. will one day be the largest exporter of them all.