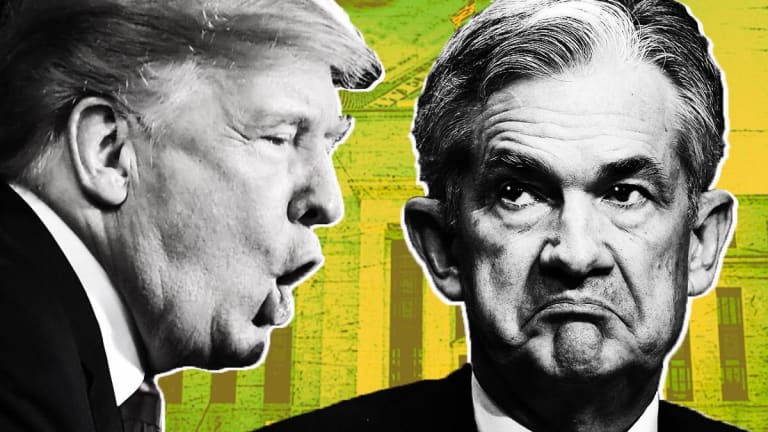 Was Trump Right About the Fed Raising Interest Rates Too Far, Too Fast?
President Donald Trump's oft-repeated criticisms of Federal Reserve interest-rate hikes have been labeled by some economists as an assault on the central bank's independence. But Joe Lavorgna, chief Americas economist for the French bank Natixis, says that at least one measure of effective interest rates shows that the Fed's recent efforts may have exceeded the mid-2000s cycle of monetary tightening that helped to trigger the 2008 financial crisis.
Does President Donald Trump know monetary policy better than anyone? Better even than the Federal Reserve?
Trump drew ample criticism last year -- even from his own former top economic advisor -- when he repeatedly ranted on Twitter and in interviews and impromptu press briefings that the Fed was raising benchmark U.S. interest rates too quickly, sapping the economy's strength. Central bank officials led by Chair Jerome Powell shrugged off the remarks and kept pushing up the borrowing costs through December, that is, until they suddenly reversed themselves and signaled they would pause the rate-hiking cycle following a late-year stock market selloff. Bank of America economists called it a "90-degree turn."
Now, a new report from the French bank Natixis shows that the Fed's recent efforts may represent one of the toughest episodes of monetary-policy tightening in recent history.
Joe Lavorgna, chief Americas economist at Paris-based Natixis, has examined a "shadow" Fed funds rate representing an estimate of effective short-term borrowing costs over time, including during the years after the 2008 financial crisis, when official borrowing costs were cut to near-zero.
That measure, known as the "Wu-Xia Shadow Rate" and published on the website of the Fed's Atlanta branch, bottomed out at around negative3% in 2014, and the Fed's borrowing-cost increases since 2015 have now pushed the official rate up to 2.4%.
That 5.4-percentage-point increase ranks the recent monetary-tightening cycle well ahead of the 4-percentage-point boost that took place from 1986-1989 and the 3-percentage-point hike of 1994-1995. It also exceeds the jump of 4.25 percentage points from 2004 to 2006, which helped to trigger the 2008 financial crisis. 
The Fed's effort in recent years to shrink its massive bond holdings -- roughly $400 billion of securities have run off -- effectively has raised rates by another 0.5 percentage point, for a total of nearly six percentage points over the latest hiking cycle, Lavorgna estimated.
Using these alternative measures, the central bank has not tightened monetary policy this much since the double-digit-inflation era of the early 1980s, Lavorgna wrote in a report this week. And if signs emerge that businesses and households are having a hard time shouldering the higher borrowing costs, then the central bank may need to cut rates -- more like a 180-degree turn.
"The amount of policy tightening is unprecedented," Lavorgna wrote. "The Fed may need to begin reversing some of its previous rate hike actions."  
As a former real-estate investor whose businesses have declared several bankruptcies, Trump knows the pain of high interest rates.
And of course, it's well-understood that Federal Reserve rate increases typically act as a brake on economic growth -- a metric on which Trump knows his presidency is being judged, especially after his $1.5 trillion of tax cuts in late 2017 have helped to balloon the national debt past $22 trillion.
But when Trump said last October that the Fed was being "ridiculous," maybe it wasn't so laughable after all.   
A Special Invitation:Do you want to learn more about planning for and living retirement from the nation's top experts, including Ed Slott and Robert Powell, the editor of TheStreet's Retirement Daily? Want to learn how to create tax-efficient income in retirement and how to manage and mitigate all the risks you'll face in retirement? Then sign up to attend TheStreet's Retirement Strategies Symposium on April 6 in New York City. For a limited time, you can attend this extraordinary symposium for $149 - a cost savings of $50 off the general admission price of $199.
You can see the full day's agenda, learn about the guest speakers and sign up HERE for this special event.