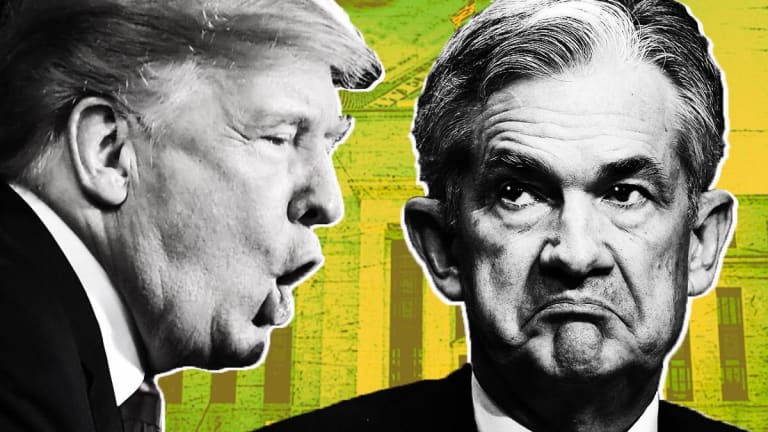 Trump Jawboning Unlikely to Stop Federal Reserve From Raising Rates
President Donald Trump says the Fed is "loco" for moving too aggressively to raise U.S. interest rates. And his arguments for saying so aren't entirely, well, crazy. But Federal Reserve Chair Jerome Powell says higher rates are needed to prevent future inflation. And when it comes to monetary policy, he's got the power.
Attention investors: Interest rates are going up. Get used to it. President Donald Trump should too. 
U.S. stocks are having their worst week in eight months, based on trading in the Standard & Poor's 500 Index of large U.S. companies, as more traders embrace the likelihood that the Federal Reserve will keep raising rates well into next year. Such a push by the central bank, intended to keep inflation from spiking as the economy heats up, could boost borrowing costs for households and businesses, acting as a brake on growth -- and thus damping corporate profits that typically drive share prices higher.
Trump said in a series of press gaggles and interviews this week that wants the Fed to hold off on further rate increases, especially after a government report Thursday showed that prices for U.S. goods and services have climbed at a steady and manageable pace of just 2.2% over the past year. Trump's increasingly frequent comments on interest rates in recent months are unusual in that U.S. presidents usually refrain from publicly commenting on monetary policy -- to preserve the Fed's independence from politics and the whims of elected officials.
But Trump's stated desire for an ever-hotter economy and surging stock market isn't likely to dissuade Fed Chairman Jerome Powell from further rate increases, according to Eric Winograd, senior economist at the money manager Alliance Bernstein. Powell and John Williams, who as head of the Fed's New York branch is a key adviser on monetary policy, have repeatedly expressed their belief that further gradual rate increases are warranted, especially with U.S. unemployment at its lowest in 49 years.
A low jobless rate often leads to faster inflation: As workers become harder to find, wages start to increase as businesses compete to recruit and retain staff, in turn driving production costs higher. Eventually, businesses try to pass those costs along to consumers.    
"The market is coming around to the idea that the Fed is in fact serious," Winograd said in a telephone interview. "Trump can flap his gums all he wants, or his Twitter finger, but it won't influence their thinking."
Trump has made fast economic growth a centerpiece of his campaign and presidency, embodied in his $1.5 trillion of tax cuts passed in December. While the move has ballooned the federal budget deficit and swollen the $21 trillion national debt, the economy grew by 4.2% in the second quarter, the fastest in four years. The U.S. unemployment rate, which declined last month to 3.7%, is now the lowest since the first year of Richard Nixon's presidency in 1969.
It may be no coincidence that Trump made the remarks with less than a month to go before the November congressional elections in the U.S. Previously, the president has taken credit personally for rising U.S. stock prices.   
"I don't want to slow it down even a little bit, especially when you don't have the problem of inflation," Trump told reporters Tuesday in Washington. "I just don't think it's necessary to go as fast."
A Fed spokesman declined to comment. Powell, when asked at a press conference last month about Trump's criticism of the central bank's recent interest-rate increases, said that Fed officials "don't consider political factors or things like that."
"We consider the best thinking, the best theory, the best evidence," Powell said, according to a transcript. "That's who we are, that's what we do, and that's just the way it's always going to be for us." 
It's also true that presidents typically prefer low interest rates, Winograd said. The only thing that's different is Trump's willingness to say so publicly. 
"Almost all politicians, when they're in office, want interest rates as low as possible, to keep the economy growing as quickly as possible, and Trump is no different from his predecessors in that regard," Winograd said. 
Even so, the economist predicts that the Fed will raise interest rates by 0.25 percentage point later this year, from the current range between 2% and 2.25%, and then four more increases next year. Currently, financial markets have only priced in expectations for two to three hikes in 2019, he said.
Williams, a Stanford University-trained economist who's president of the Federal Reserve Bank in New York, said this week in a speech that he continues "to expect that further gradual increases in interest rates will best foster a sustained economic expansion." 
His comments are closely tracked by traders because he's an academically oriented economist and considered one of the nation's foremost experts on monetary policy. Powell, by contrast, is a former investment banker and private-equity executive. 
Even though the economy is "strong, strong, strong," Williams said, "I don't see any signs of greater inflationary pressures on the horizon."
And while such comments sound like an echo of Trump's stated views, Williams says it's important to avoid keeping rates low for too long, which might allow "risks to grow that ultimately undermine economic prosperity."  
"If we wait till we see the whites of their eyes, it will be too late, and the economy will be overheating," Alliance Bernstein's Winograd said. 
The Labor Department's Bureau of Labor Statistics reported Thursday that prices for U.S. goods and services, excluding volatile food and energy items, rose by just 0.1% in September. Strength in apparel prices was offset by weakness in used-car prices. Over the past 12 months, prices have climbed by 2.2% -- hardly runaway inflation.
Even so, signs that low unemployment are starting to lead to faster wage gains could bolster the Fed's case for continuing to raise rates, economists at the French bank BNP Paribas said in a report Thursday.
"Inflation continues to underwhelm the Fed, but is unlikely to deter the pace of gradual rate hikes ahead," they wrote. 
In his speech, Williams noted that the Fed has raised rates five times since late 2015 without knocking the U.S. economy off its "healthy pace" of growth. Williams said he expects the economy to grow by around 3% this year and 2.5% in 2019.
His definition of a "healthy pace" is considerably lower than 4%-plus  level that Trump administration officials predicted when they pushed for the tax cuts last year. 
Trump's views on monetary policy aren't entirely off-the-wall: Several high-profile investors agree with his case for a more accommodating Fed.
Rick Rieder, chief investment officer of global fixed income at BlackRock Inc. (BLK) - Get BlackRock, Inc. Report , the world's largest money manager, said Thursday in e-mailed comments that in the "new economy," fueled by technology, faster wage increases won't necessarily translate to faster inflation. 
"We think the Federal Reserve policy reaction function will be more subdued than many in the market anticipate," Rieder said.  
Trump told Fox News on Wednesday that the Fed is "going loco" -- Spanish for "crazy" -- and making a "big mistake" in being "so aggressive" in raising interest rates. "The Fed is going wild."
The Fed joins a long list of institutions and companies Trump has attacked when they conflict with his political ends, contradict his assertions or threaten his legal standing -- from the U.S. Justice Department to the FBI, to the "fake" news media, to Amazon.com Inc. (AMZN) - Get Amazon.com, Inc. Report , whose CEO, Jeff Bezos, owns the Washington Post.
Larry Kudlow, the president's National Economic Council director, told CNBC that Trump officials "know the Fed is independent."
"The president is not dictating policy to the Fed," Kudlow said. "He didn't say anything remotely like that."
Kudlow added: "They're going to do what they're going to do."
The president's economic adviser knows: When it comes to monetary policy, Powell and Williams have all the power -- not Trump.