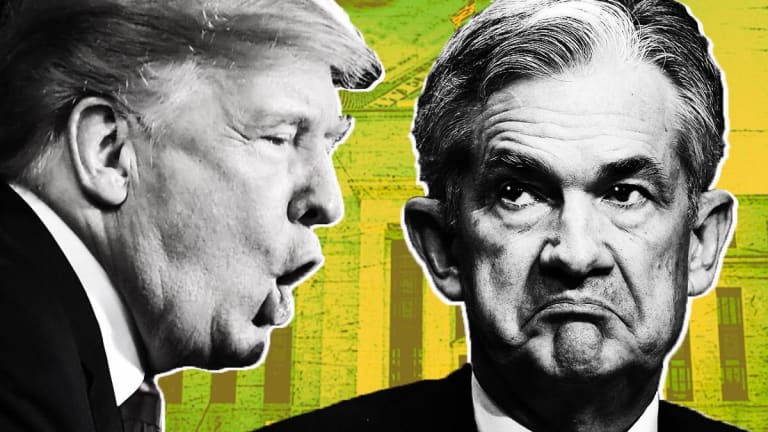 Federal Reserve Is Trump's Savior, Not Enemy, as Jackson Hole Summit Looms
President Donald Trump blames the Federal Reserve for the U.S. economy's latest distress signals. But as Fed Chairman Jerome Powell and other leaders of the U.S. central bank prepare to meet this week near Jackson Hole, Wyoming, a growing number of economists say Trump's policies deserve the blame.
President Donald Trump's economic policies have created millions of jobs and extended the current U.S. business expansion past 10 years, a record in U.S. history. But in a couple key areas, his policies have failed.
His $1.5 trillion of tax cuts in late 2017 have yet to produce the long-term economic growth of 3% a year he promised, instead simply swelling the federal government's annual budget deficits and running up the $22 trillion national debt.      
Trump's trade war with China, which was supposed to spur a growth boom by shifting more activity to the U.S., has instead sapped confidence among business executives and households alike, helping to trigger a manufacturing slowdown.
So as he faces re-election in 2020, the bogeyman is easy to spot: the Federal Reserve, which is supposed to keep unemployment low and prevent runaway inflation. The U.S. central bank's monetary-policy committee consists of six economists and four former lawyers and business leaders; they're people, and just like everyone else, they make mistakes. 
But as Fed Chairman Jerome Powell and his colleagues prepare to meet this week for an annual symposium at a national-park building near Jackson Hole, Wyoming, a growing number of economists said the anxiety gripping investors recently stems largely from the president's own mistakes, and that the central bank is merely scrambling to contain the damage. 
"They kind of have to be the adult in the room, cleaning up for the two-year old who's been playing all day," said Scott Anderson, chief economist at San Francisco-based Bank of the West, a unit of the giant French bank BNP Paribas. 
The emerging narrative contrasts with Trump's oft-repeated criticism of the Fed for setting interest rates too high, stymieing an economy that he said is "too strong." And as next year's elections approach, the allocation of blame could prove crucial for swing voters trying to decide whether the president deserves another four years in office.
Questions over the economy's stewardship have come come to the fore amid forecasts that U.S. economic growth will slow to 2.4% in 2019, shy of Trump's promised 3%. Even last year, when corporations and households were flush from the tax windfall, the economy expanded by just 2.9%. Growth in 2020 is forecast at 1.8%, according to the data provider FactSet. 
A classic warning sign of a recession emerged last week from the U.S. bond market, as yields on 10-year Treasury bonds briefly fell below those of two-year notes. Usually, the 10-year yields are higher because investors want more compensation for the extra cost and risk of holding bonds for a longer period of time. The Dow Jones Industrial Average on Aug. 14 tumbled 800 points, or 3.1%, the biggest one-day decline this year.  
Beth Ann Bovino, chief U.S. economist for Standard & Poor's, said the tax cuts probably failed to spur faster growth because corporate executives used much of their 2018 tax windfall to pay out big dividends to shareholders and buy back stock -- considered an easy trick for immediately boosting earnings per share. That meant the executives weren't spending the money on future growth initiatives, such as building new factories, buying new equipment, upgrading technology or hiring more personnel.
The dynamic might reflect a major policy mistake by Trump: choosing to pump the economy full of cash after it had already been growing for many years; business executives weren't sure how much longer the good times could last. Usually, governments deploy big fiscal-stimulus packages following a recession, when an economic expansion is just beginning and profits are primed to increase.
Now, the tax cuts are yesterday's news. The president has only mentioned them on Twitter five times this year, after 43 mentions in 2018, according to the website searchtrumpstweets.com. 
"Unpredictability on the trade front and deteriorating global backdrop (led by industrial weakness) are the key reasons for high alert," S&P said last week in a statement.  
By most accounts, the U.S. economy is still performing remarkably well considering the age of the expansion. Unemployment, at 3.7%, is close to its lowest in a half century. And inflation, currently at 1.6% using the Fed's preferred measure, is running below the central bank's 2% target.
But recently, that resilience may simply reflect the Fed's stated willingness to support the economy, after cutting U.S. interest rates last month for the first time in more than a decade. 
Traders in Chicago futures markets are betting the Fed will cut interest rates at least three more times this year, for a total of 0.75 a percentage point, from the current range between 2% and 2.25%.
Powell could clarify his latest thinking during a speech on Friday at the Jackson Hole symposium titled, "Challenges for Monetary Policy."
Trump, however, isn't waiting. On Monday he tweeted that he wants a full percentage point of interest-rate cuts over a "fairly short period of time."
"If that happened, our economy would be even better, and the world economy would be greatly and quickly enhanced," Trump wrote. "Good for everyone!" He decried the "horrendous lack of vision by Jay Powell and the Fed," adding that "the Democrats are trying to 'will' the economy to be bad for purposes of the 2020 election."
A request for comment from Treasury Department press officials was referred to the White House, which didn't respond.  
The president's placing of the blame likely reflects his political acumen rather than economic reality, according to Karen Petrou, managing partner of Federal Financial Analytics, a Washington-based consultancy: The Fed is unpopular with many voters, and thus an easy target. 
"He clearly knew that the macroeconomic tide was turning, just as his trade war fired up," Petrou wrote Friday in a report. "What's an astute politician to do? Find a fall guy distrusted by Republicans, Democrats, independents, populists and progressives."
Every time the stock market goes down from now on, Trump can just "blame the Fed," according to Petrou. 
Powell insists he won't be a patsy for the president, repeatedly stating that the Fed is independent, and that he wouldn't go quietly if Trump tried to fire him. But Powell acknowledged at a press conference last month that the central bank must respond to policies that threaten U.S. economic growth, and lately the biggest risk is Trump's trade war with China.
"If the Fed does not move to vindicate market rates, of course, the chances of a recession will rise," economists for the forecasting firm TS Lombard wrote Monday.
Janet Yellen, a former Fed chair, told Fox Business Network on Friday that she thinks Powell "is ignoring the pressure that he's receiving from the president," she said.  
Stock-market investors may be hoping Powell won't ignore the pressure from Trump's policies.