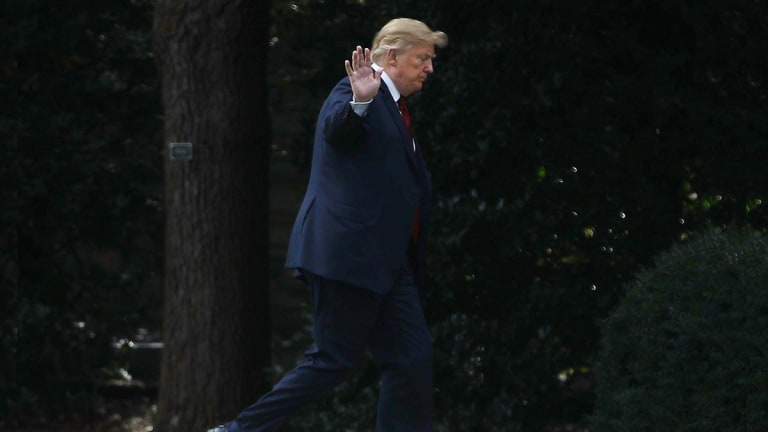 Trump Hammers NATO Secretary on German Gas Deal With Russia
President Donald Trump had harsh words for NATO General Secretary Jens Stoltenberg and Germany in comments that suggest he may use the two-day summit as leverage for his broader ambitions on trade between Washington and Brussels.
The Siegfried Line may be the next front in the global trade war.
President Donald Trump attacked Germany and its NATO allies at the start of a two-day summit in Brussels Wednesday, accusing Europe's biggest economy of being "captive" to Russia thanks to its energy dependence on Moscow.
The remarks, made in full view of the international media but directed to NATO General Secretary Jens Stoltenberg, suggest the President may be using the summit on military spending and defense commitments to bolster his position on global trade and increase pressure on German Chancellor Angela Merkel and her European Union allies to loosen tariff barriers between Washington and Brussels.
"I think it's very sad when Germany makes a massive oil and gas deal with Russia when you're supposed to be guarding against Russia and Germany goes out and pays billions and billions of dollars a year to Russia," Trump said. "If you look at it, Germany is a captive of Russia. They got rid of their coal plants, they got rid of their nuclear, they're getting so much of their oil and gas from Russia. I think it is something NATO has to look at. It is very inappropriate." 
Trump was referencing the Nord Stream pipeline deal, an arrangement with Russia that can move as much as 55 billion cubic meters of natural gas a year 760 miles through the Baltic Sea and into Germany as part of a joint venture between state-controlled Gazprom and Germany's Wintershall and PEG Infrastruktur.
Germany's Defense Minister Ursula von der Leyen refuted Trump's remarks in an interview with CNBC. 
"If we look at the gas pipeline, Germany is an independent country where energy supply is concerned, we diversify, but the main overarching topic is the summit — we want a summit that sends out the message of unity," von der Leyen said. 
German Chancellor Angela Merkel echoed those sentiments, saying she is "very happy that today we are united in freedom, the Federal Republic of Germany."
"Because of that we can say that we can make our independent policies and make independent decisions," Merkel said. 
Trump's comments come just hours after the White House escalated its trade dispute with Beijing by unveiling a list of $200 billion in China-made goods it says will be subject to fresh 10% tariffs unless China is able to adequately address its $375 billion surplus with the world's biggest economy.
Trump has often directed his ire with respect to what he calls "unfair" trade deals around the world in the direction of Europe, saying yesterday on Twitter that the bloc "makes it impossible for our farmers and workers and companies to do business in Europe (the U.S. has a $151 Billion trade deficit), and then they want us to happily defend them through NATO, and nicely pay for it. Just doesn't work!"
The President has also suggested that American taxpayers are funding "by some accounts ... 90% of NATO", a figure which is hard to square with official accounts that put the U.S. contribution at 22.144% of the whole NATO budget, compared to Germany's contribution of 14.65% and France's at 10.63%. Britain's overall contribution is 9.84% of the defense spending collective.
Trump appears to be targeting Germany's business ties with Russia, and its perceived lack of defense spending, to gain leverage in the ongoing trade dispute with Brussels, which has resulted in retaliatory tariffs to counter the 25% levy slapped on steel and aluminum imports into the United States earlier this year.
Trump has referenced the European auto sector as a potential target for tariffs in his effort to reduce what he has called "unfair" trade agreements between the United States and its largest economic partners.
The average EU tariff on U.S. goods imported into the bloc is 3%, according to Export.gov data, although non-EU automobiles are subject to a 29% tariff when brought into the bloc, of which 19% is a value-added tax and 10% is a tariff based on current World Trade Organization (WTO) rules.
Cars imported into the United States from countries that don't have existing pacts with Washington are subject to a 12.5% levy, while pickup trucks are subject to a 25% tariff.
That said, some of the largest production facilities of Europe's biggest carmakers are located in the United States, with plants in Vance, Alabama, Spartanburg, S.C.  and Chattanooga, Tennessee, that assemble about a third of the German cars sold in the U.S.
-- This story has been updated to include comments from Germany's defense minister. 
-- Anders Keitz contributed to this article.