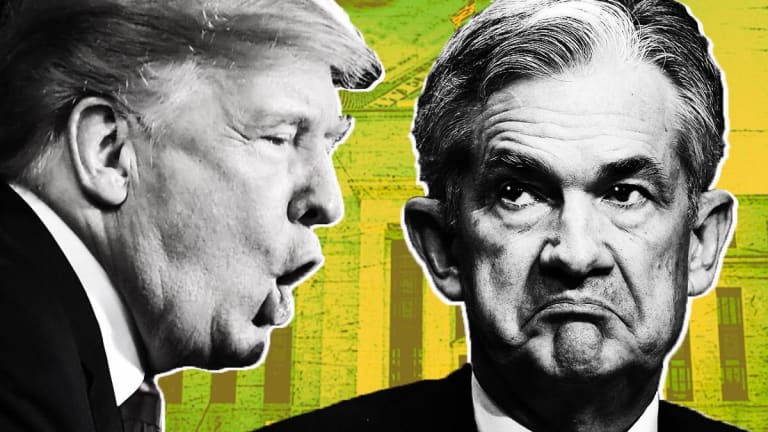 Trump-FOMC Blame Game Is Pointless; Safety Stocks for Crashes -- ICYMI
Here's what you need to know now for Thursday, Oct. 11.
You didn't miss the massive selloff in the markets on Thursday, so let's dig a little deeper into the blame game going on in the media.
Donald Trump is blaming the Fed for the abysmal market performance of the last two days. As Brad Keoun points out, he's not really wrong, but all the jawboning isn't likely to make much of a difference when it comes to the Fed's propensity to raise rates. "Trump's stated desire for an ever-hotter economy and surging stock market isn't likely to dissuade Fed Chairman Jerome Powell from further rate increases," Brad writes citing Eric Winograd, senior economist at the money manager Alliance Bernstein. Powell and John Williams, who as head of the Fed's New York branch is a key adviser on monetary policy, have repeatedly expressed their belief that further gradual rate increases are warranted, especially with U.S. unemployment at its lowest in 49 years, and as inflation becomes a real and serious risk to the economy. A low jobless rate often leads to faster inflation: As workers become harder to find, wages start to increase as businesses compete to recruit and retain staff, in turn driving production costs higher. Eventually, businesses try to pass those costs along to consumers. "The market is coming around to the idea that the Fed is in fact serious," Winograd tells Brad. "Trump can flap his gums all he wants, or his Twitter finger, but it won't influence their thinking."
So if rates are going to rise and the market is going to react as it did, what do you do with your money? Stephen "Sarge" Guilfoyle, a frequent contributor to TheStreet.com and Real Money, says to look at stocks such as Verizon (VZ) , which aren't as susceptible to marked swings in the economy. "My thought is that while you won't get rich in this one, it might be a good core position for investors worried about capital preservation who want to be paid something for their time," Guilfoyle writes noting Verizon's 4.4% dividend.
Markets Today: Stocks fell sharply in volatile trading at the close on Thursday, Oct. 11, pushing the Dow's two-day losses to more than 1,300 points and sending the Nasdaq into correction territory a day after tech stocks went into a tailspin. The Dow Jones Industrial Average fell 546 points, or 2.1%, to 25,053, the S&P 500 was down 2%, and the Nasdaq fell 1.25%. Leading the Dow lower were Pfizer (PFE) , McDonald's Corp. (MCD) and Chevron Corp. (CVX) . Energy giant Chevron declined after oil prices fell following an increase in U.S. crude supplies for a third straight week.
This is an excerpt from "In Case You Missed It," a daily newsletter brought to you by TheStreet. Sign up here.