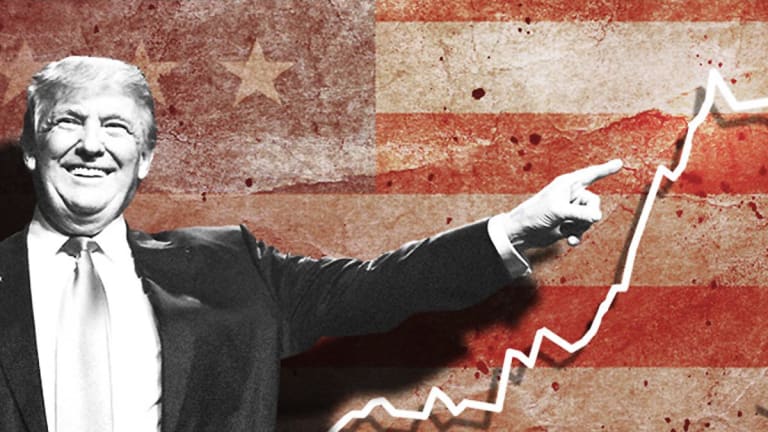 Trump's Economy, Recently Swooning, Now Seems to Be Going Swimmingly
President Donald Trump's administration predicted 3% annual economic growth when he pushed for the $1.5 trillion of tax cuts in late 2017. Despite recent bouts of pessimism and market gloom, the president's economy is holding its own.
All of a sudden, President Donald Trump's economy is looking more like a miracle than a mirage.
A U.S. government report Friday is expected to show that gross domestic product, or GDP -- the most basic gauge of economic output -- rose at an annual rate of 2% during the first quarter, based on a survey by data provider FactSet.
That rate of expansion would represent a slowdown from the fourth quarter's pace of 2.2%, but it's not nearly as disappointing as economists were predicting just a month ago. In early March, the Federal Reserve Bank of Atlanta's computer-based forecaster pegged first-quarter growth at less than 0.5%.
More investors are starting to embrace the possibility that the U.S. economy might still be on track to expand by 3% this year, a level Trump administration officials promised when they campaigned for the $1.5 trillion of tax cuts in late 2017. The economy expanded at a 2.9% rate last year, close enough to the target for Trump's top economic advisors to claim that the president's policies were working. 
"I'd rather have the Donald," said Mark Dowding, a top investment executive in London at BlueBay Asset Management, a $61 billion bond-focused firm owned by Royal Bank of Canada (RBC) - Get Regal Beloit Corp Report . "As much as we don't really like the personality, if you judge the results from an economic point of view, it's gone pretty well."
The quarterly GDP release is a key indicator of how well the U.S. economy is performing, and Trump himself has pointed to past releases as glowing report cards on his ambitious policies -- when the results were strong, that is.
In 2017, when Trump pushed for the tax cuts, some economists worried that the move might backfire and spur runaway inflation since the economy was already in decent shape, with low unemployment of just over 4%. Historically, governments mostly rely on fiscal-stimulus plans only when their economies are sluggish or in need of a boost. 
By mid-2018, many economists were lamenting that many companies just distributed their 2018 tax windfall to shareholders without using the money to build factories, buy equipment, develop new technology or even hire more workers. Such investments are typically needed to boost productivity and ensure future growth, not to mention additional hiring and wage increases.
Trump's trade battles with China, Europe, Canada and Mexico did little to inspire confidence among business leaders or investors. The Federal Reserve raised official U.S. interest rates, a move that tends to slow economic growth in exchange for a lower inflation risk. Trump's insistence on funding for a border wall with Mexico led to a 35-day government shutdown, the longest in U.S. history.
On cue, economists slashed their growth forecasts for the first quarter.
But since then, the government has reopened, Federal Reserve officials have indicated that they expect to keep rates at their current level for the rest of this year, and signs have emerged that Trump officials are engaged in fruitful discussions with Chinese counterparts to resolve the trade dispute. The S&P 500 has risen 17% this year, charting new record highs.
The downside of Trump's policies, of course, is a potential deterioration in the U.S. government's finances and creditworthiness. Annual federal budget deficits have widened to nearly $1 trillion, pushing up the already-lofty $22 trillion national debt. 
For now, few politicians are in uproar over that. Unemployment has declined even further to about 3.8%, and if there's a worry about inflation it's that inflation is too low.
In fact, according to Dowding at BlueBay, investors don't seem overly concerned either. If they did, U.S. Treasury-bond yields would be spiking -- a sign of ebbing confidence, and waning demand, he said. Instead, yields on 10-year Treasuries have fallen by more than 0.5 percentage points in the past six months to about 2.5%.
Dowding projected first-quarter GDP growth at 2.5%, well above the average forecast in the FactSet survey. Over the remainder of the year, the economy will accelerate, pushing the full-2019 growth rate to about 3%, Dowding predicted.
With interest rates this low, borrowers are apt to continue borrowing, and consumers are apt to continue consuming.      
"There are too many people who have been too bearish too long on the U.S. economy, and the U.S. economy keeps proving the naysayers wrong," Dowding said. 
The upshot is that Trump appears to be succeeding in pushing the U.S. economy to its limits. The surprise is that nothing is breaking yet.