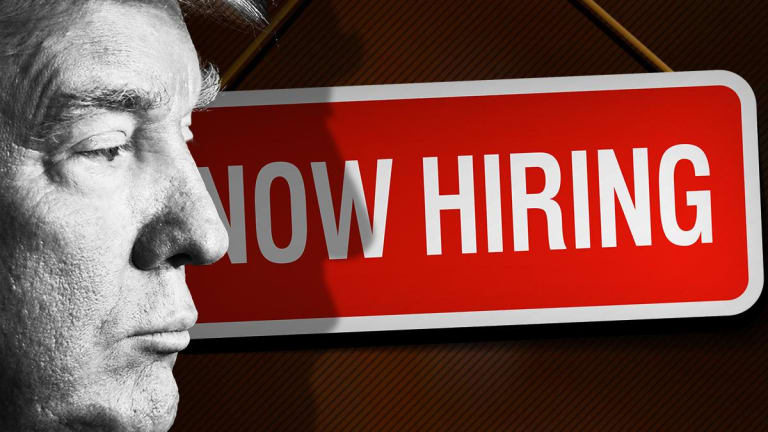 Trump Economy Keeps Creating Jobs, Jobs, Jobs Along With Debt, Debt, Debt
A report due Friday from the Labor Department is expected to show that U.S. employers added 181,000 jobs in April, though some economists say the growth may have been even stronger. The cost is annual federal budget deficits estimated at more than $1 trillion.
The U.S. economy is proving President Donald Trump right on a key pillar of his policies: that the massive tax cuts and government-spending increases passed in late 2017 would create "jobs, jobs, jobs."
Of course, the cost of such success has been a surge in federal budget deficits, which the bipartisan Congressional Budget Office predicted this year would average $1.2 trillion a year over the next decade, or 4.4% of gross domestic product, up from an average 2.9% of GDP over the past 50 years. The national debt would rise by about $12 trillion from roughly $22 trillion currently. That money will eventually have to be paid back. 
For now, though, the trick is working.
A report due Friday from the Labor Department is expected to show that U.S. employers added 181,000 jobs in April, down from 196,000 in March. But some economists said last month's employment growth likely was much stronger and could top 200,000 for the seventh time in 12 months -- a powerful performance despite recent weakness among manufacturers.  
The labor-market strength is one factor keeping the Federal Reserve from cutting U.S. interest rates despite Trump's call earlier in the week for a reduction of at least one percentage point. On Wednesday, Fed officials voted to keep borrowing costs in the current range between 2.25% and 2.5% at least through mid-June.
Consumer prices are rising slower than the Fed's 2% target, but Fed officials worry that a scarcity of available workers might eventually force businesses to offer higher wages, triggering higher inflation.
"We're in this environment where labor markets are really tight, but we haven't seen inflation," Charlie Ripley, senior strategist at the asset manager Allianz Investment Management, said in a phone interview.
In the meantime, household confidence is up, businesses are investing more, and major U.S. stock indexes have surged to record highs. What's not to like about the economy?
Fed Chair Jerome Powell said during a press conference Wednesday that technological improvements might be boosting worker productivity, allowing employers to get more output from personnel without having to increase wages. 
Automatic Data Processing, a giant paycheck processor that publishes its own data on employment trends, said Wednesday that U.S. private employers added 275,000 jobs in April, the fastest pace in nine months. The figure was well above the 176,000 average projection of Wall Street analysts in a FactSet survey, and it was more than double the 129,000 new jobs added in March. 
Trump pushed for the $1.5 trillion of tax cuts in late 2017 as a way of extending what is now the second-largest economic expansion in U.S. history, at nearly 10 years. Historically, such fiscal-stimulus efforts -- so-called because the government essentially foregoes extra revenue so more money can be spent or saved by businesses and households -- only took place when the economy was ailing, and in need of a boost. 
TS Lombard, a forecasting firm, has described Trump's tax cuts as a "full-on fiscal stimulus at a thoroughly unorthodox late stage of the economic cycle." 
But Trump has never spoken much -- or tweeted much -- about the long-term costs of the plan, instead focusing on the immediate benefits. 
"Our plan can be simplified in three simple words," Trump said in October 2017. "Jobs, jobs, jobs." 
The president got more specific in August 2017 when he promised that the tax cuts would help create "millions and millions of new jobs." 
Technically, "millions and millions" works out to at least 4 million.
And according to government data, the number of employed people in the U.S. has increased by 4.6 million since Trump took office in early 2017 to about 156.7 million.
So on that basis, Trump has already met his goal.
The bill comes later.