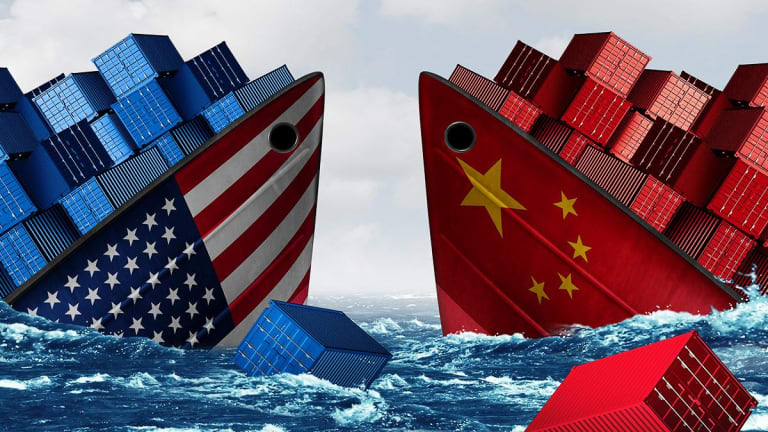 Trump Counters Claims of China Tariff Rollback, Reports Reuters
President says talks 'going very well,' but dismisses report U.S. is considering pulling back tariffs on Chinese imports
President says talks 'going very well,' but dismisses report U.S. is considering pulling back tariffs on Chinese imports
After stocks rose Friday on hopes of a U.S.-China trade deal, President Donald Trump reportedly said that talks between the two nations were "going very well," but that a report of lifting tariffs on Chinese imports was "false."
"If we make a deal certainly we would not have sanctions and if we don't make a deal we will," Trump told reporters Saturday, according to a report by Reuters. "We've really had a very extraordinary number of meetings and a deal could very well happen with China. It's going well. I would say about as well as it could possibly go."
After a dinner meeting in December, Trump and Chinese President Xi Jinping had made a deal to stave off escalating the trade war between the world's two largest economies, and the White House backed down from upping tariffs on Chinese goods until March as negotiations continued. 
Trump had previously threatened to put a 25% tariff on $200 billion worth of Chinese imports, upping the 10% fee by Jan. 1. Since that meeting, the stock market has trembled on nearly every signal of which way the tariff battle might go.
The Wall Street Journal reported earlier this week, for example, that the U.S. was eyeing pulling back tariffs, pushing up the Dow Jones Industrial Average, S&P 500 and Nasdaq by the week's end.
As talks continue, a top Chinese official, vice premier Liu He, is reportedly slated to arrive in the U.S. at the end of January, invited by U.S. Treasury Secretary Steven Mnuchin and Trade Representative Robert Lighthizer to further negotiate the trade deal between the Asian nation and the U.S.