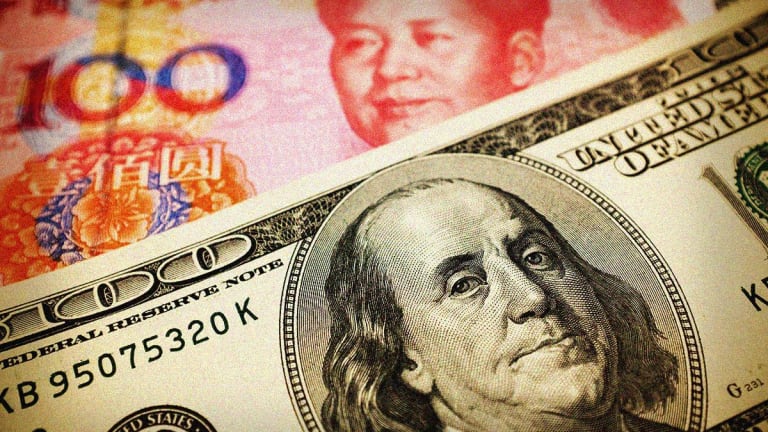 Trump's Threatened China Tariffs Could Cost U.S. Families $2,300 Each
With the U.S. inflation rate lagging well below the Federal Reserve's 2% target, President Donald Trump's increased tariffs on Chinese imports could push up consumer prices -- by a lot. A recent study puts the estimate at $2,300 annually for a U.S. family of four.
No wonder the U.S. stock market hates Donald Trump's renewed trade war against China: The president's threatened import tariffs, if imposed, could drive up annual costs for the average family of four by more than $2,300, according to one estimate.
Since Trump imposed an initial wave of tariffs on Chinese products early last year, importers -- not exporters -- have mostly covered the cost of the extra duties, economists with the German lender Deutsche Bank wrote in a report.
And a separate study from the research firm Trade Partnership Worldwide showed that an average U.S. family of four are paying an extra $767 annually because of Trump's tariffs, including a new round the president imposed last week. The study was funded by a consortium of farmers and industry groups representing big retailers like Walmart (WMT) and Macy's (M) ; the farmers are worried about retaliation from China, while the retailers fret over a profit squeeze.
The costs could rise to about $2,300 if Trump follows through with his threat to impose a 25% tariff on all remaining imports from China, according to the study.  
Trump has heralded the extra duties as a new source of revenue for the U.S. government -- much needed since federal budget deficits have mushroomed to roughly $1 trillion a year following the president's late-2017 tax cuts. The Trump administration also said its campaign against China will ultimately make U.S. businesses more competitive in a boon for the economy.
Yet while Trump has claimed on Twitter that the duties are coming "from China," the extra charges are actually being paid by U.S. importers, who in turn are trying to recoup the added costs from American consumers via higher prices at the checkout counter, Laura Baughman, president of Trade Partnership Worldwide, said in a phone interview.
"He finds it appealing that all this money is pouring into the U.S. Treasury, but he doesn't seem to get that it's coming out of American's pockets," Baughman said. 
It might not make much of a difference in the budget deficit anyway.
According to Deutsche Bank, the president has estimated that $325 billion of Chinese goods would be subject to new tariffs of 25%. That works out to about $81 billion.
For a U.S. government with a $22 trillion-and-growing national debt, it's a rounding error.
But the extra costs could hit U.S. households hard, according to Deutsche Bank.  
"If the U.S. does impose the final tranche of tariffs, it would likely hit the U.S. consumer more directly," according to the report.