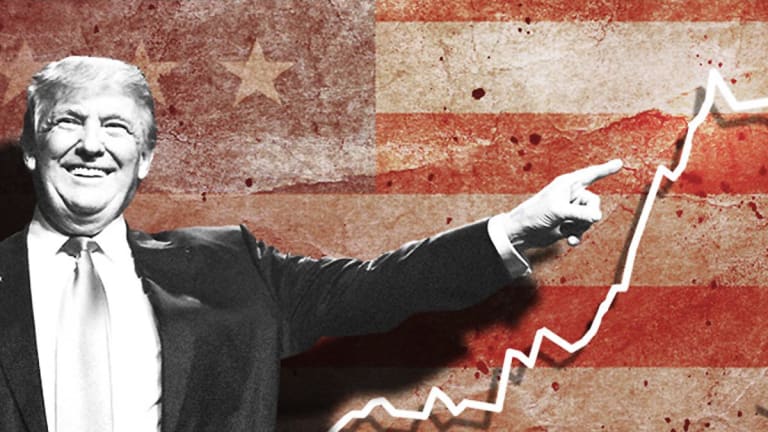 Trump's Tweets on GDP Mask Weakness Ahead
A report due Friday from the U.S. Bureau of Economic Analysis is expected to show that gross domestic product rose at an annualized rate of 4% in the second quarter, doubling from the first quarter's pace to the highest in four years. President Donald Trump says the U.S. is "WINNING AGAIN" with the "best financial numbers on the planet." That's up for debate.
President Donald Trump's economy is running hot. Maybe not for long.
A report due Friday from the U.S. Bureau of Economic Analysis is expected to show that gross domestic product rose at an annualized rate of 4% in the second quarter, doubling from the first quarter's pace to the highest in four years, based on a survey by the data provider FactSet.
The Atlanta Federal Reserve's GDPNow forecast model on Thursday showed slower growth, with the U.S. economy gaining at a 3.8 percent annualized rate in the second quarter following the latest data on domestic durable goods orders and advance trade balance.
But few economists expect the momentum to last. Growth is forecast to slow down in the second half of the year and average 2.8% over the full 2018. After that, the economy would slow even further, to 2.4% in 2019 and 2% in 2020.
What gives? Upon his inauguration in January 2017, Trump promised that his economic plan would return the U.S. to 4% annual growth, a clip not seen since the late 1990s. The president's $1.5 trillion of tax cuts in December, including a steep reduction in the corporate rate, was central to that effort.
One problem, as some economists see it, is that Trump himself has sowed so much uncertainty about his policies that businesses aren't willing to invest their tax savings in new plants, equipment and expansion plans. While the president's agreement Wednesday with the EU to resolve trade differences encouraged investors, the president's threatened tariff war with China has prompted concern over its potential effect on growth from Wall Street to the Federal Reserve.
Instead, many companies are simply using their tax windfall to pay out dividends to shareholders and buy back their own shares - a financial-engineering tactic that helps CEOs meet short-term targets for earnings per share but does little to assure future revenue growth.
Joseph Lavorgna, Americas chief economist for the French bank Natixis, wrote Thursday in a report that Trump's tax cuts and efforts to roll back industry regulations have had a positive effect on the economy, and that the "upward trend seems more durable."
Yet that prediction is partly dependent on the Federal Reserve slowing down the pace of U.S. interest rate hikes. Since 2015, the U.S. central bank has been raising rates to keep runaway inflation at bay, and Fed Chairman Jerome Powell has said a "gradual" pace of increases remains warranted.
One driver of the second-quarter GDP improvement is an uptick in consumer spending, which increased at a core rate of 0.4% at the last reading in May, up from 0.3% a year earlier. But according to Tendayi Kapfidze, chief economist at LendingTree, much of that spending came not from the tax cuts, but from increased credit-card spending. So-called revolving consumer debt, mostly credit cards, climbed by $16 billion in May, a record increase for the month.
Kapfidze said in an e-mail that some of the jump in credit-card debt was due to higher gasoline prices - in turn a reflection of higher crude-oil prices caused by Trump's threats against Iran, a big producer.
"Gas spending is non-discretionary for many households, so they dip into credit when the cost becomes burdensome," Kapfidze said.
Trump's personal-income tax cuts, meanwhile, amount to less than $100 a month for anyone earning below $80,000 a year, which accounts for three-quarters of tax filers, he said.
Most economists agree that the tax cuts have boosted consumer confidence, a plus for the economy. And, for now, borrowers are making good on their credit-card payments, says Warren Kornfeld, a senior vice president at Moody's Investors Service.
"Confidence also means that people are confident enough to borrow," Kornfeld said in an interview.
Standard & Poor's said Wednesday in a report that the "credit cycle" - the long-term waning and waxing of debt defaults - is in its "later stages," indicating that banks may soon face higher loan losses and tighten underwriting standards. Higher interest rates are a factor, since they make debt payments less affordable.
Another driver of higher interest rates is the federal government's ballooning budget deficits, according to LendingTree's Kapfidze. That's a direct result of Trump's tax cuts, which have forced the government to borrow to cover the budget gap, further swelling the already $20-plus-trillion national debt.
As a result, Treasury-bond yields are likely to go up, in turn increasing borrowing costs for consumers, Kapfidze said.
According to Trump, there's nothing to worry about. Treasury Secretary Steven Mnuchin has said the tax cuts will pay for themselves -- by generating new tax revenue -- if the economy grows sustainably above 3%.   
In a Tweet this week, Trump wrote that the U.S. has the "best financial numbers on the planet" and that it's "great to have USA WINNING AGAIN."
Based on economists' outlook, though, it might be too early for a victory lap.