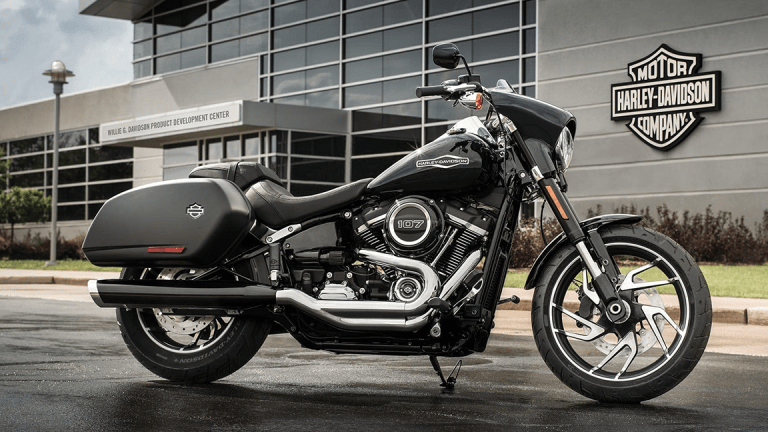 Trump Backs Harley Davidson 'Boycott' as War Of Words With Bikemaker Continues
President Donald Trump fired off his seventh Harley-Davidson-related Tweet this year Sunday, calling a planned boycott of the iconic motorcycle maker "great" following a "Bikers from Trump" rally in New Jersey.
Trump is riding Harley hard.
Harley Davidson Inc. (HOG) - Get Report shares fell sharply Monday following a weekend Tweet from President Donald Trump that appeared to back a boycott of the iconic motorcycle maker as it plans to move some of its production facilities overseas.
Wisconsin-based Harley Davidson was targeted by the European Union in June with fresh import tariffs after Trump imposed 25% levies on non-American steel and aluminium products earlier in the year. CEO Matt Levatich has cautioned that any import tariffs would have a "significant" impact on overseas sales and increased the cost of each bike by $2,200. It also said it will ramp-up production in Asia and South America as part of a new business strategy focused on accelerating overseas sales.
Harley Davidson shares were marked 2.6% lower in early New York trading Monday and changing hands at $42.13 each, taking the stock's decline to just over 7% since the EU first floated tariffs directed at the company and valuing the Milwaukee-based group at around $7 billion.
The nature of the boycott that Trump referenced was unclear, although the President visited a "Bikers from Trump" rally at his Bedminster, N.J. golf course Saturday that the White House said would include 180 riders that included military veterans and law enforcement officials.
Harley's second quarter earnings, however, were relatively solid, and the group confirmed its full-year shipping guidance even amidst its war of words with the White House.
Harley Davidson said last month that earnings for the three months ending in June came in at $1.45 share, well ahead of the consensus forecast of $1.34 but down from the $1.48 recorded in the same period last year. Group revenues from motorcycle products fell 3.3% to $1.53 billion, the company said, as worldwide retail sales fell 3.6% and U.S. retail sales fell 6.4%. However, Harley said it will maintain its full-year shipments forecast of between 231,000 and 236,000 motorcycles for the full 2018 fiscal year.
"Our results in the second quarter reflect business performance that is in line with our expectations," said CEO Matt Levatich. "With the focus of every employee and dealer, we are making progress building the next generation of Harley-Davidson riders in line with our long-term objectives. Our manufacturing optimization, demand-driving investments and commitment to manage supply in line with demand remain on target and continue to strengthen our business."