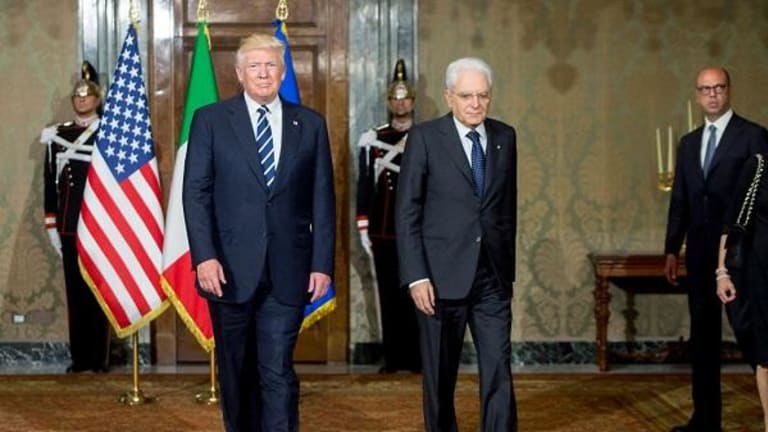 Trump Arrives For G-7 Summit In Italy After Rebuking European Allies on Trade and Defense
Donald Trump arrived in Italy for a meeting with G-7 leaders Friday amid a cloud of controversy at home and an increasingly adversarial tone between Washington and Berlin.
Donald Trump arrived in Italy Friday for his first meeting as President with leaders of the world's biggest economies amid a cloud of controversy at home and an increasingly adversarial tone between Washington and key European leaders following yesterday's NATO summit in Brussels.
The so-called G-7 group of nations will hold two days of talks in the Sicilian city of Taormina, at the foot of the Mount Etna, the region's most active volcano, after what could be described as an explosive gathering of NATO allies in Brussels Thursday that could set the tone for a weekend summit focused on trade and climate change.
"We will have a very robust discussion on trade and we will be talking about what free and open means," said White House economic adviser Gary Cohn to pool reporters Thursday.
Trump's comments yesterday, however, when he accused NATO members of owing "massive amounts of money" and accused some of backsliding on funding commitments to shared defence, have altered the mood heading into the final stop on the President's 9-day foreign trip. The atmosphere was further eroded by a report in Germany's Der Spiegel,which claimed that Trump told EU leaders in a closed-door meeting that "the Germans are very, very bad. Just look at the millions of cars they are selling in the US. Terrible. We will stop this."
G-7 leaders are expected to press Trump on the U.S.'s commitment to reducing greenhouse gas emissions as part of the 2015 Paris Accord on climate change signed by his predecessor, Barack Obama.
Trump's domestic issues, as well, intensified overnight with news that his son-in-law, Jared Kushner, is being investigated by the FBI as part of a wider probe into alleged links between the Trump election campaign and officials in Russia, according to multiple media reports.
The Washington Post said Kushner, who is married to the President's daughter, Ivanka, is the focus of an investigation that will examine meetings he had with Russia's ambassador to the U.S., Sergey Kislyak, and an unnamed banker in December of last year. The Post had reported last week that a senior White House insider was the subject of the latest FBI probe, but did not name Kushner specifically.
Both the Post and NBC News, which also reported the FBI investigation, said Kushner was not suspected of having committed any legality and that, at this stage at least, there were not indications he would be charged with any crime.
The revelation also comes amid a decision by the U.S. 4th District Court of Appeals to refuse to reinstate the President's travel ban, which targeted six majority-Muslim nations, saying the plan "drips with religious intolerance, animus, and discrimination." Attorney General Jeff Sessions said the administration would seek a review of the decision at the Supreme Court.