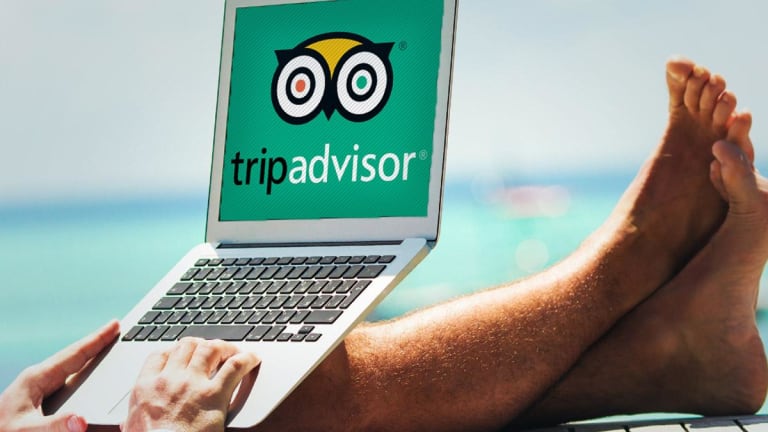 TripAdvisor Shares Sink After Third-Quarter Earnings Miss
TripAdvisor's CEO says the third quarter was 'more difficult than we anticipated.'
TripAdvisor (TRIP) - Get Free Report shares sank 20% Thursday after the vacation booking company reported third-quarter earnings that missed Wall Street expectations.
The stock was down 19% to $33.04 at last check after the company reported revenue was $428 million, a 7% decrease year over year and below expectations of $458.8 million, according to FactSet.
Net income was $50 million, or 36 cents a share, down from $69 million, or 49 cents, last year. Adjusted net income was $81 million, or 58 cents  share, compared with $101 million, or 72 cents, a year earlier. Analysts were expecting adjusted earnings of 69 cents, according to FactSet.
"Q3 was more difficult than we anticipated, but we are taking action," CEO Steve Kaufer said in a news release. "We are driving non-auction revenue growth in our HM&P [hotel media and platform] and E&D [experience and dining segments]; we are containing costs; and we are returning more capital to shareholders."
Rival company Expedia (EXPE) - Get Free Report  also saw its shares fall 25% on Thursday after the travel giant reported earnings that missed expectations. 
"The material Q3 misses from TRIP and EXPE, driven largely by unexpected declines in free search engine optimization ("SEO") traffic from GOOG, has shed light on the significant impact SEO changes can have on Online Travel financial results -- especially given its high level of incremental profitability," Cowen analyst Kevin Kopelman said in a note on Thursday. He said the companies have provided "very poor disclosures on the size of their SEO exposures."
The analyst wrote that TripAdvisor has "by far the most SEO exposure, with near 100% effective EBITDA exposure to the channel, while Expedia "falls somewhere in the middle."
"We reiterate that the companies themselves have provided very little data to corroborate these estimates. However, recent company guidance revisions driven primarily by GOOG SEO changes speak for themselves," the analyst wrote.
He has an underperform on TripAdvisor and outperform on Expedia.