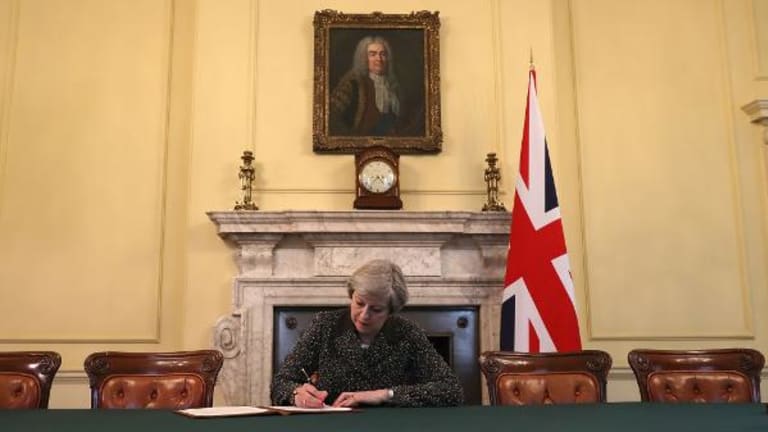 Publish date:
Trigger Warning: Britain's EU Exit Talks Raise Significant Risks for Politics and Business
Britain's decades-long membership of the European Union will end Wednesday as the government delivers its formal exit request to officials in Brussels.
Britain's decades-long membership of the European Union will end Wednesday as the government delivers its formal exit request to officials in Brussels.
Britain's decades-long membership of the European Union will end Wednesday as the government delivers its formal exit request to officials in Brussels triggering a clause in the Treaty of Lisbon that allows member states to negotiate a departure from the bloc.
Sir Tim Barrow, Britain's EU Ambassador, will deliver a six-page letter, signed late Tuesday by Prime Minister Theresa May, to European Council President Donald Tusk at around 13:30 CET, triggering what is expected to a long and torturous process of negotiations between not only lawmakers in Britain but also representatives of the 27 other member states that comprise the current European Union.
And while officials have consistently said the talks will need to be completed within two years, few seem to believe that the myriad issues now on the table -- from tariffs and trade to immigration and collective security -- will be sufficiently addressed in such a short time frame.
Deepening the concern from an investment perspective is the fact that the government's public and private position remains prioritizing controlling immigration and returning sovereignty to British judges and parliamentarians will take priority over access to the European single market. That's a major concern for the country's businesses, which export 45% of their goods to the EU and rely on tariff-free access to the 500 million-strong marketplace.
In many respects, this is the central challenge of the British government's negotiating stance: it must deliver on a clear message from voters on immigration control while ensuring that its economy, which is inexorably connected to the single market, maintains unfettered access.
European officials, however, have been equally clear that Britain cannot "cherry pick" its relationship with the EU and that the bloc's 'Four Freedoms' -- the movement of goods, capital, services, and people -- cannot be impinged.
Further complicating the economic aspect of the talks will be an overarching political tension on the home turf of both parties.
In Britain, Scottish lawmakers voted Tuesday to pursue a second independence referendum if its requests to maintain single market access are ignored.
In Europe, anti-Brussels sentiment has lifted far-right and populist movements to the forefront of national politics in France, Italy, Spain, Greece and the Netherlands and any signal that a departing member state will wind up in a better position at the conclusion of exit talks will only bolster their support and unravel what many see as a fragile-at-best collective of fundamentally different societies and cultures.
The complexity of the talks has left many to believe that no agreement will be reached in the two-year time frame, meaning that, absent an agreed extension of the talks, trade between Britain and the EU will fall under WTO rules as of April 2019.
Britain's top Brexit negotiator, David Davis, has said such a scenario is "unlikely", but one that the country should be prepared for nonetheless and May herself has famously said that "no deal is better than a bad deal" and has insisted that Britain can walk away from talks if it's not satisfied of a successful conclusion.
EU officials have shown, on rare occasions, the ability to stand shoulder-to-shoulder in the face of existential threats to the Union, most notably in the summer of 2015 when it famously dared Greece to go through with its threat to abandon the euro amid a contentious spat over its multi-billion-euro bailout program.
British lawmakers, on the other hand, are no less obstinate in their ability to lever their constituents' deeply-held suspicions of the European project into a negotiation win, as was the case when former Prime Minister Margaret Thatcher famously brokered a permanent British rebate from the EU budget during a 1984 summit at Fontainebleau.
Such intransigence doesn't augur well for the unprecedented talks that are expected to being next week, but honorable compromise has been reached in difficult circumstances before, and both sides have much to gain from a mutually-beneficial agreement.
U.K. Foreign Secretary Boris Johnson once said Britain's Brexit aims should be similar to "my policy on cake (which is) pro having it and pro eating it."
We'll see who's ready to dine on cake ... or eat crow.