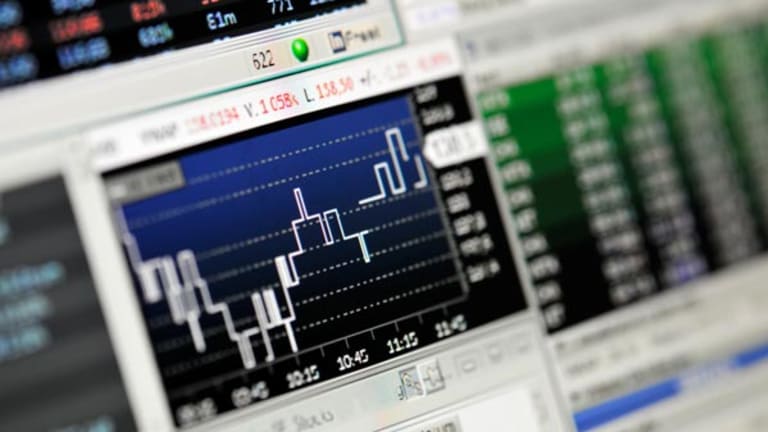 Transports Gain Traction
The average has found firm support, and several components bear watching.
This column was originally published on RealMoney on June 21 at 12:01 p.m. EDT. It's being republished as a bonus for TheStreet.com readers.
A trader has shared with me an unfortunate experience with an IBD 100 stock that almost immediately went against her after she bought it. She bought more. As the stock continued to decline, she repeatedly averaged down until she finally sold in frustration -- just before the stock popped back up. I have no doubt that this was a painful lesson, but trading is full of lessons, and a desire to learn is a common trait among successful traders.
I suspect that this has happened to all of us, and my bet is that averaging down is more prevalent now because of the gut-wrenching decline we are experiencing. Who wants to book a loss with the market so close to a bottom? Why not just buy more so that the inevitable bounce results in a winning trade rather than a break-even escape?
Do not confuse averaging down on a position with scaling into one. Unless you know exactly what you are doing, individual investors rarely have a good reason to average down. Now, if averaging down is a well-reasoned part of your plan (
Rev Shark has some interesting thoughts on this), go ahead and buy more when the price falls. You are trading your plan. That's always a good thing. But using an averaging-down strategy as first aid for a severe portfolio injury is like treating a deep laceration with a poultice of broken glass. It's hard to watch, not particularly effective and leaves scars.
On the other hand, scaling into a position that is moving in your favor is an altogether different strategy. The underlying reason for scaling in derives from your initial position size. A small initial position is taken to balance the benefits of participating in an immature trend against the risk of being wrong in the trade. If you are correct, there should be plenty of time to increase your position size. And if you are wrong, you've got to find out without losing too much money. In my book, that's a good trade.
Let's look at the Dow Jones Transportation Average and a few of its components that look interesting.
The transports have sustained a 12% pullback since the average peaked in May, but it has found support in the last two weeks around the 4400 level. In light of the broader market bloodbath over the last several weeks, I'd be surprised if this support level breaks down any time soon. It defines the maximum strength of the bears.
Here are four transport stocks that show promise.
When we last looked at
Expeditors International of Washington
(EXPD) - Get Expeditors International of Washington Inc. Report
in early February, the stock had just cleared $70 on a breakout. The last six weeks have capped that $40 advance.
It sports the highest P/E ratio in the transport average, but you've got to pay up for growth -- it has a five-year earnings growth rate of 18.5% and earnings per share have increased by 50% over the last year. That's compelling enough to warrant buying on a breakout.
There has been necessary consolidation in
Ryder
(R) - Get Ryder System Inc. Report
at the end of a 35% advance from the February low. Notice that RSI does not fall beneath the midline on price pullbacks. If that changes, the uptrend is suspect.
Unlike the prior two charts,
Overseas Shipping Group
(OSG) - Get Overseas Shipholding Group Inc. Class A Report
has been consolidating after a substantial decline in late 2005. As the trading range narrows, the Bollinger bands will squeeze together against the price action.
Low volatility conditions ultimately lead the way to volatility expansion, as we're seeing now. If the broader market begins firming up, I'd look for the stock to move higher from here, but a pullback beneath the breakout level could signal a failed breakout.
The stock presents a money management issue. The substantial amount of churning at around $50 creates significant emotional and financial commitment at that level, generating natural support for any pullback. But the lower end of the established trading range is down around $47. As such, any stop placement above $47 could be triggered on a normal pullback, taking you out of the trade at the wrong time.
How do you deal with it if you're a bull in Overseas Shipping? Scale in gradually, with a willingness to buy more on any pullback into congestion, so long as that pullback finds support.
Landstar
(LSTR) - Get Landstar System Inc. Report
is bumping up against resistance at $46. The stock has been oscillating within a 10% trading channel over the past several months, so I'd wait for a breakout before buying.
Be careful out there.
P.S. from TheStreet.com Editor-in-Chief, Dave Morrow:
It's always been my opinion that it pays to have more -- not fewer -- expert market views and analyses when you're making investing or trading decisions. That's why I recommend you take advantage of our
to TheStreet.com's
RealMoney
premium Web site, where you'll get in-depth commentary
and
money-making strategies from over 50 Wall Street pros, including Jim Cramer. Take my advice --
At the time of publication, Fitzpatrick did not hold any of the stocks mentioned, though positions may change at any time.
Dan Fitzpatrick is a freelance writer and trading consultant who trades for his own account in Encinitas, Calif. He is a former co-manager of a hedge fund and teaches seminars on technical analysis, options trading and asset-protection strategies for traders and business owners. Fitzpatrick graduated from the McGeorge School of Law and was a fellow at the Pacific Legal Foundation, a nonprofit public interest firm specializing in constitutional law. He also practiced law in the private sector before pursuing trading as a full-time career. Under no circumstances does the information in this column represent a recommendation to buy or sell stocks. While Fitzpatrick cannot provide investment advice or recommendations, he appreciates your feedback;
to send him an email.