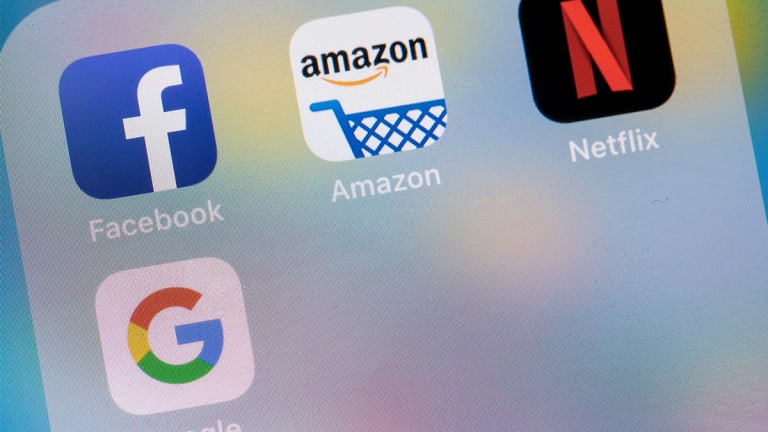 Traders Are Focusing on FANG Through Nasdaq Futures
E-mini Nasdaq futures trading soared to new highs amid recent tech-stock volatility.
Consumers have sunk their teeth into the four companies behind the so-called FANG stocks. The same could be said about traders and a futures contract, CME Group's E-mini Nasdaq 100, closely linked to those companies and the broader technology sector.
In December 2018, E-mini Nasdaq futures trading averaged 732,849 contracts per day, more than double the average of December 2017 and a record for any month since the contract was launched in 1999, according to CME Group data.
FANG Hedge
E-mini Nasdaq 100 futures trading soared as tech stocks tumbled sharply to close 2018, amid concern over potentially slower growth and other factors. Prices have since bounced back, with the Nasdaq 100, the underlying index on which the E-mini Nasdaq is based, trading around 6,872 at the beginning of February, up 16 percent from a 15-month closing low Dec. 24.
The fundamentals driving volume in the E-mini Nasdaq 100 might be summed up in a couple words: name recognition, said Tim McCourt, CME Group's Managing Director of Equity Products.
FANG companies -- Facebook (FB) - Get Free Report , Amazon (AMZN) - Get Free Report , Netflix (NFLX) - Get Free Report and Google (GOOGL) - Get Free Report -- are deeply embedded in so many people's lives (another version of the acronym, FAANG, includes Apple (AAPL) - Get Free Report ).
"People are very familiar with the FANG names, and they're very ingrained in the U.S. market," McCourt said. "These companies are innovating in the technology space, and there's a very different reaction when they report news. They tend to see outsized trading and reactions."
'A Truly Stellar Month'
Surging trading in the E-mini Nasdaq 100 late last year continued a trend that started in 2017, as escalating trader and investor interest in FANG stocks extended into close proxies.
FANG stocks had a combined market capitalization of about $2.2 trillion as of Feb. 1, or nearly 30 percent of the Nasdaq 100's total market cap of nearly $7.7 trillion.
"A confluence of events led to a truly stellar month for the contract" in December, McCourt said. "It continues to be a popular trade for various market participants, including retail, institutional and proprietary traders. People are attracted to the day-to-day and intraday opportunities. And market-moving events no longer conform to a Monday-Friday news cycle."
FANG companies are also prime examples of "story stocks," generating news of some form or another in the financial media every day. The E-mini Nasdaq 100's close correlation with FANG movements means it comes in handy for professional investors and traders, said Jim Cagnina, Executive Senior Vice President at Infinity Futures, LLC, a Chicago-based online broker.
"Many traders use E-mini Nasdaq 100 futures as part of their strategies," Cagnina said. "Speculators can instantly go short or long, depending on their point of view, and exit positions immediately. They also use the E-mini market to express their opinions on the FANG stocks."
New Traders, New Strategies
McCourt said that as the tech sector's prominence grew in recent years, he's been seeing different types of participants in the E-mini Nasdaq 100. This includes more hedge funds and other varieties of asset managers deploying different types of strategies. Additionally, 23 percent of trading volume in 2018 originated outside the U.S., up from 15 percent in 2012.
For all of 2018, an average of 492,839 E-mini Nasdaq 100 futures contracts changed hands each day, up 78 percent from 2017.
Last October, CME Group and Nasdaq announced a 10-year extension of CME's exclusive license to offer futures and options based on the Nasdaq 100 and other Nasdaq indexes. This year marks the 20th anniversary since Nasdaq and CME originally partnered on the e-mini.
"We have been partners with CME Group for more than 20 years and extending our relationship enables market participants access to our global benchmark products in order to manage their equity market risk," Nasdaq President and CEO Adena Friedman said in a press release announcing the extension.
Access and Liquidity
Many of these traders are attracted to a few key features that E-minis offer, McCourt said.
These include near 24-hour-a-day market access, deeper liquidity (an average notional value of $95 billion in E-mini Nasdaq 100 futures traded each day in the fourth quarter 2018, about seven times the value of Nasdaq 100-linked ETFs) and certain tax benefits. Under U.S. tax code, E-minis are considered "Section 1256" contracts offering "blended capital gains," which can provide an easier way to address tax implications.
Cagnina, of Infinity Futures, noted that many Nasdaq 100 companies release announcements or disclosures after the close of regular, daily equity trading, or before the opening bell. The nearly round-the-clock trading in E-mini futures enables traders to respond right away to any market-moving news.
Despite the occasional market bumps, FANG stocks and others in the tech sector retain a positive longer-term outlook. That means the Nasdaq 100 index and related gauges will be followed closely in the years ahead.
"The innovations in the tech world are simply amazing," Cagnina said. "These companies are pushing the envelope in everything: clean energy, health care, aerospace and more. Companies like Apple will keep innovating and acquiring. This will not slow down in 2019."
Read more from the author here.
For trader tools and resources visit: https://activetrader.cmegroup.com
(This article is sponsored and produced by CME Group, which is solely responsible for its content.)