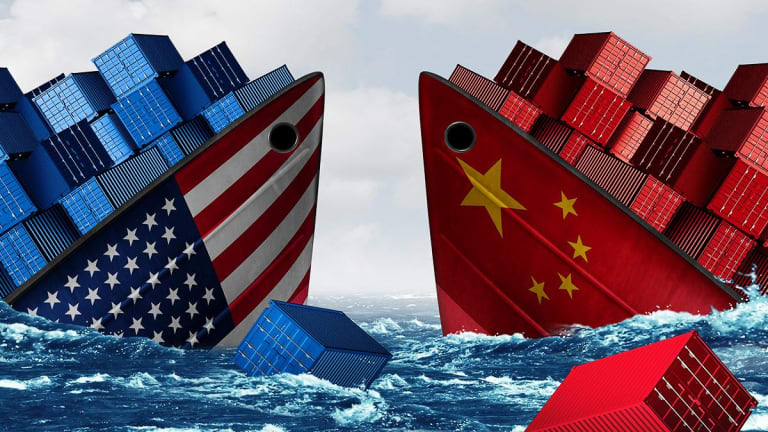 U.S. Trade Deficit Shrinks Faster Than Expected in Win for Trump
The U.S. international trade deficit shrinks faster than expected in January, helping to alleviate concerns over President Donald Trump's economic policies after a surge in imports in December.
The U.S. international trade deficit shrank faster than expected in January, falling from a December level that was the biggest in a decade and had sparked questions about whether President Donald Trump's policies were working.
The U.S. imported $51.1 billion more than it exported, for an $8.8 billion decline in the overall trade deficit compared with December's level, the Census Bureau said Wednesday in a report.   
Exports rose by $1.9 billion to $207.3 billion, while imports dropped by $6.8 billion to $258.5 billion, the report showed. Compared with January 2018, the trade deficit was lower by $1.9 billion, or 3.7%.
Trump has waged trade battles with China, Mexico, Europe and Canada in an effort to shrink the U.S. deficit in international goods and services - a linchpin of his economic policies.
But the deficit surged in December to $59.9 billion, the most since 2008, as Trump's tax cuts fueled consumer spending - leading to more purchases of goods from abroad - even as China's economy slowed, reducing exports by U.S. companies.
At the same time, some companies sped up imports from China to get ahead of new tariffs that had been threatened by Trump. 
In January, the increase in exports was led by soybeans and autos, offset by a drop in civilian aircraft, according to the Census. 
The decline in imports came from computer accessories, semiconductors, civilian aircraft and crude oil. 
Will You Have Enough Money to Retire?
Want to learn about retirement planning from some of the nation's top experts? Join TheStreet's Robert "Mr. Retirement" Powell live in New York on April 6 for our Retirement Strategies Symposium. For a limited time, tickets are available for $99 for this full-day event. Check out the agenda, learn about the speakers and sign up here.