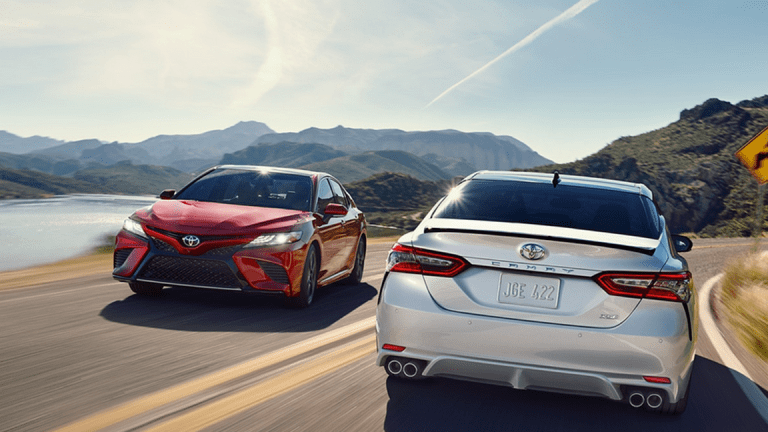 Toyota Sees Profit Boost From Weak Yen, U.S. Sales After Trump Critique on Trade
Toyota's solid U.S. market share, coupled with a weaker yen exchange rate, will boost full-year earnings and fuel President Donald Trump's criticism of the Japanese auto industry.
Toyota Motor Corp. (TM) - Get Toyota Motor Corp. Report   lifted its full-year profit forecast Tuesday as a weaker yen and strong U.S. sales boosted the bottom line of the world's biggest carmaker amid sharp criticism for the Japanese auto industry by President Donald Trump during his Asia visit.
Toyota said after the close of trading in Tokyo that its sees full year profits for the year ending in March rising to around ¥2 trillion ($17.5 billion) ¥1.85 billion, thanks in part to the assumption of an exchange rate of 111 yen to the U.S. dollar, down from a prior forecast of 102 yen to the dollar. Profit for the three months ending in September, the company's second quarter, rose 10% to ¥522.2 billion while revenue jumped 8.6% to ¥14.1912 trillion on total vehicle sales of 4,389,435 for the first six months of the year.
Toyota's RAV4 compact SUV drove U.S. sales, helping the company secure its best share of the world's second biggest market (behind China) since 2009. However, total North American sales slipped 1.75% from the same three month period last year to 672,000 in the company's second quarter. 
The overall outlook, however, is likely to add fuel to President Trump's recent criticism of unfair trade pacts between Japan and the United States, which he singled out during his visit with Prime Minister Shinzo Abe earlier this week.
"Try building your cars in the United States instead of shipping them over. Is that possible to ask? That's not rude. Is that rude? I don't think so," he told top auto executives Monday, although he also praised come carmakers for "building new plants and doing expansions" in the United States.
"We want fair and open trade. But right now, our trade with Japan is not fair and it's not open," Trump said. "The US has suffered massive trade deficits with Japan for many, many years. Many millions of cars are sold by Japan into the United States, whereas virtually no cars go from the US into Japan."
The Japanese Automobile Manufacturers estimates that around 75% of the cars it sells in the United States each year were built inside North America and that members assembled more than 4 million cars in the U.S. alone last year.
Toyota and Mazda Motor Corp. (MZDAY) , one of its domestic rivals, said earlier this year that they would build a U.S. production facility that could create 4,000 new jobs.
The $1.6 billion facility, when completed in 2021, will employ around 4,000 people and be capable of producing as many as 300,000 cars a year, the companies said. Toyota's Georgetown, Ky. facility has the capacity to make 550,000 cars a year while Ford Motor Co.'s Kansas City Assembly Plan in Claycomo, Mo., America's biggest, churns out more than 460,000 vehicles a year and employees 7,000 people.
Toyota shares closed 0.2% higher in Tokyo at ¥7,183 each, extending their 3-month gain to 13.3%. 
The Toyota Prius is among the fastest-selling used cars:
More of What's Trending on TheStreet: