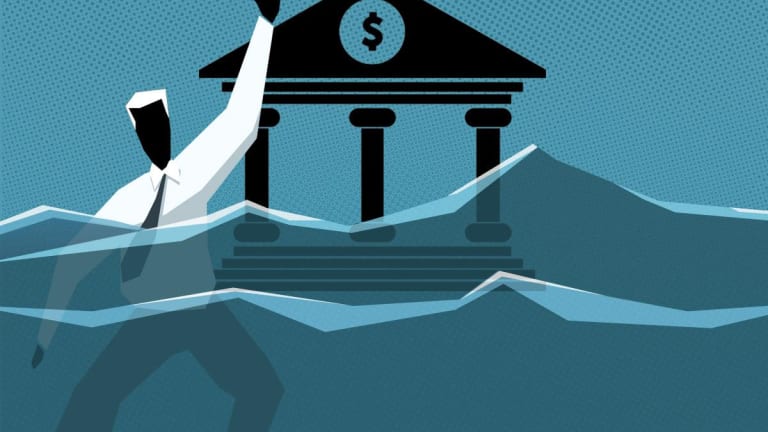 Junk Loans, Now at $1.2 Trillion, Could Haunt U.S. Banks, Top Regulator Warns
A rapid increase over the past decade in the amount of loans taken out by corporations with poor credit ratings could come back to haunt U.S. banks, Comptroller of the Currency Joseph Otting warns.
Loans to companies with poor credit ratings have mushroomed over the past decade to about $1.2 trillion, and much of that growth has been fueled by demand for juicy yields from investors led by big private-equity firms like Blackstone (BX) - Get Blackstone Inc. Report and Apollo Global Management (APO) - Get Apollo Global Management Inc. (New) Report .  
But a top U.S. regulator warned senators at a hearing Wednesday that banks like JPMorgan Chase (JPM) - Get JP Morgan Chase & Co. Report and Citigroup (C) - Get Citigroup Inc. Report aren't immune from the risks, even as executives at the firms insist that they no longer hold the loans to the extent they had in years past.
Joseph Otting, who heads the U.S. Office of the Comptroller of the Currency, said in written testimony to the Senate Banking Committee that underwriting standards have declined on these junky loans, meaning investors will likely get less of their money back in the event of a default. That could spell big losses in an economic downturn, since many of the borrowers likely would suffer a sales decline.   
Banks bear "indirect risk" from the junk-lending frenzy because they lend to companies and investors who buy the loans once they're made, according to Otting.
"Although less transparent to the federal banking agencies, we will continue to monitor nonbank leveraged lending activity and its potential impacts to the extent possible," Otting said. The banks also lend to companies "that may have critical suppliers or vendors that are highly leveraged." Regulators and banking executives often use the delicate term "leveraged" to describe a company that is highly indebted.
Many of the junky loans are being packaged into bonds known as collateralized loan obligations. Lawmakers including Elizabeth Warren, a Massachusetts Senator and Democratic presidential candidate, have likened the instruments to the subprime-mortgage-backed bonds that caused the 2008 financial crisis.
Otting's comments come amid a raging debate between President Donald Trump's administration, which recently proposed to exempt big nonbank firms like Blackstone from the strictest regulations, and current and former regulators who say that such a loophole would leave the U.S. financial system vulnerable to the risk of a Lehman Brothers-style meltdown. 
Lehman Brothers had to declare bankruptcy during the financial crisis partly because it wasn't designated as a bank holding company -- and therefore couldn't tap emergency funds from the Federal Reserve. Rival brokerage firms Goldman Sachs (GS) - Get Goldman Sachs Group Inc. (The) Report and Morgan Stanley (MS) - Get Morgan Stanley Report had to convert into banks on an emergency basis in late 2008 so they could access the Fed's liquidity -- and avoid running short of cash.
Trump administration officials led by Treasury Secretary Steven Mnuchin proposed in March to exempt nonbank companies such as Blackstone and Apollo from the "systemically important financial institution" label, which would subject designated firms to strict regulation by the Federal Reserve. 
The designation was authorized under the 2010 Dodd-Frank Act as a way of preventing a repeat of the 2008 crisis, when surging defaults on subprime mortgages quickly cascaded and would have led to the failures of big banks around the world were it not for the infusion of trillions of dollars of bailout money from governments and central banks.  
Instead, the Treasury-led Financial Stability Oversight Council would use an "activities-based approach" to rein in "potential risks and emerging threats on a system-wide basis." Those activities could include junky lending by nonbank firms like Blackstone and Apollo to junk-rated companies.
Yet the proposal has brought stiff pushback from former Treasury secretaries Tim Geithner and Jacob Lew as well as former Federal Reserve chairs Ben Bernanke and Janet Yellen. 
In a joint letter submitted to the council on Monday, they wrote that the "activity-based approaches cannot address risks that are tied to the funding, leverage and combination of activities within a corporation."
In the case of Lehman Brothers, for example, the problem wasn't just subprime mortgage lending but a series of activities that also included real-estate financing, credit derivatives and the sale of short-term debt in commercial-paper markets, they wrote.
"The designation authority enables the tools of safety and soundness, and the nature of safety and soundness oversight is that it applies to the operations of a firm as a whole," the former officials wrote.
There's also the problem of the lethargic pace of U.S. regulations. Rules focusing on financial "activities" could take six years to implement, given the time required for public input and internal deliberations, and the need to give firms time to comply, they estimated.
Geithner, it should be noted, now serves as president of the private-equity firm Warburg Pincus, a smaller competitor to Blackstone and Apollo.
Otting, who worked closely with Mnuchin at his former employer, OneWest Bank, is a voting member of the Financial Stability Oversight Council that proposed to exempt the big firms from the stiffest regulation. 
JPMorgan, Citigroup and Goldman Sachs are holdings in Jim Cramer's Action Alerts PLUS member club. Want to be alerted before Jim Cramer buys or sells the stocks? Learn more now.