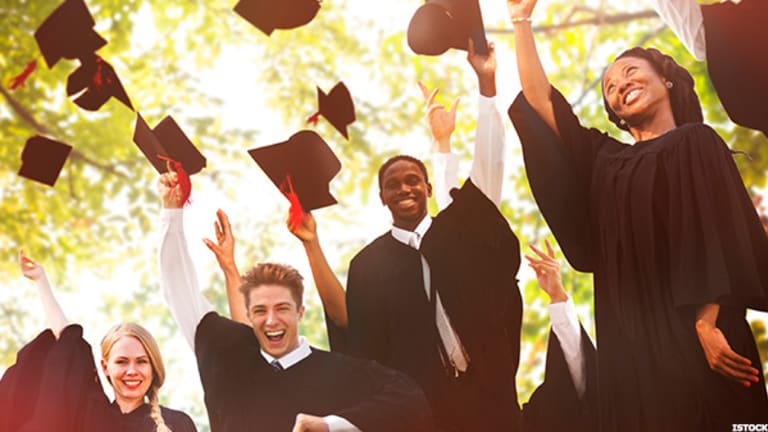 Publish date:
Top Executive Recruiters Tell New College Grads How to Reach the C-Suite
How do new grads figure out which first job to take if the road to C-Suite success looks more confusing than imaginable?
How do new grads figure out which first job to take if the road to C-Suite success looks more confusing than imaginable?
NEW YORK (TheStreet) -- As 2016 college graduates leave the comfort of campuses nationwide and turn onto the mean streets of the working world, finding that first job starts feeling a lot like queuing up at the starting line - for a marathon they never trained for. Many of these fresh new minds look to be the future executives of tomorrow, but right now they still don't know too much about a 401K.
So how do they - no matter how smart, no matter what school, no matter the pedigree - figure out which first job to take if the road to C-Suite success looks more confusing than imaginable? For starters, consider the advice of three top-flight executive recruiters who work with major CEOs throughout the U.S. and abroad. They know where you want to end up, and they certainly know the best place to get a jump start and chart the path ahead.
In a world full of start-ups, it can be easy to think that any experience is good experience. Don't forget that classic companies still look great on a resume. "As we work with some very high quality professionals, it's typical to see a 'big' brand name on candidate resumes," said Vivienne Dykstra, Business Development Director and Global Graduate Lead for Futurestep at Korn Ferry (KFY) - Get Report , based in Los Angeles.
There's a reason for it. These bigger companies have the means to make you a better employee, and fast. "They often have formal graduate training programs and therefore give a good grounding and training," Dykstra added.
Importantly, open your eyes to learning opportunities beyond formal training programs. "In your first job you're going to be learning a ton regardless of what you're doing," said Nada Usina, Managing Director and lead of the technology sector at New York-based Russell Reynolds Associates. After nearly 2,000 hours in class, you know a thing or two about Plato or physics - but you don't know much about being an employee just yet.
Make sure your first job is the one that will help you become a better, smarter person, not just the one that will rake in the most cash. "Graduates should focus on the potential to develop and expand their thinking and capabilities," said Ted Jadick, Vice Chairman at Heidrick & Struggles (HSII), based in Chicago.
The job where you'll learn the most is usually also the one that frightens the living daylights out of you. Try embracing that fear. Usina said that executives look back fondly on the risks they've taken, even if they were scary at the time. "Those are roles where they were stretched out a little bit over their skis, where the job was a bit of a rush and had a serious requirement to learn."
Of course, you might end up crashing at the bottom of the hill with your skis splintered in half. But even those failures will help you down the road. "We learn from adversity and even failure - 'scar tissue' is important and helps build resilience as well as fresh thinking," Jadick said.
Perhaps more important than risks and stretching is the people at the company. "Young professionals learn the most when they have the right kind of bosses, co-workers and mentors who take the time to assist in their ongoing development," Dykstra said.
Russell Reynolds Associates' Usina suggests looking online to learn more about an employer. From Yelp (YELP) to Glassdoor.com, there's no shortage of places where you can find reviews from real employees giving the inside scoop on their bosses and the culture. Figure out what kind of people and atmosphere make you tick, and go from there.
As you research, make sure the company is somewhere you can shine. Doing well in every job, even your first, matters if you want to be successful. "Our clients look for indications that a candidate has considerable 'runway' ahead-in other words, the potential to grow into even bigger roles with broader leadership responsibility," Jadick said. The best way to see if a potential hire will succeed is if they've been able to do so in prior roles.
Therefore don't cut yourself off at the knees by choosing a company where you know you'll fall flat-like the one where everyone eats lunch hunched over their keyboards if you're the type of person who needs fresh air and sunshine at noon.
And if you never took a single accounting class in college, now might not be the time to accept a job as a junior accountant. "It's fine to 'try on' some different roles during college," Korn Ferry's Dykstra said. "However, by the time you are ready to graduate you are expected to have a reasonable idea of what you want to do."
You don't need to know the exact title, company, location and cubicle number you'll be elbowing for post-grad. Just know what you're good at and where your skills lie. "Big employers look to see that the candidate has thought through whether or not his or her skills and aptitudes match the role and industry they are applying to," Dykstra added.
Keep in mind, the first job isn't forever. "Careers are longer today," Usina said, "and a lot more interesting than the kinds of careers our grandparents or even our parents had. More often than not, people undergo several shifts over one career."
But that doesn't mean you should switch careers as often as you change shoes. "Most companies look for length of tenure on a new hire's resume," Dykstra said. "However, if they do switch jobs often, the resume should state a clear rationale for doing so." If you pick an industry and decide to drop it like a hot potato after just one year, be prepared to explain yourself.
If you still don't know where to start in the search for that perfect first job, consider the tech sector. "Digital experience is especially important today," Heidrick & Struggles' Jadick said. Don't worry if you can't tell Java from a Starbucks latte: tech has a little something for everyone. "Tech has variety, from massive organizations to smaller companies looking to take over the field," Usina said. "Roles in technology can vary widely based on age and stage of the company." Take a closer look at tech, because chances are there's a job there you'll love.
If all else fails? Grad school!