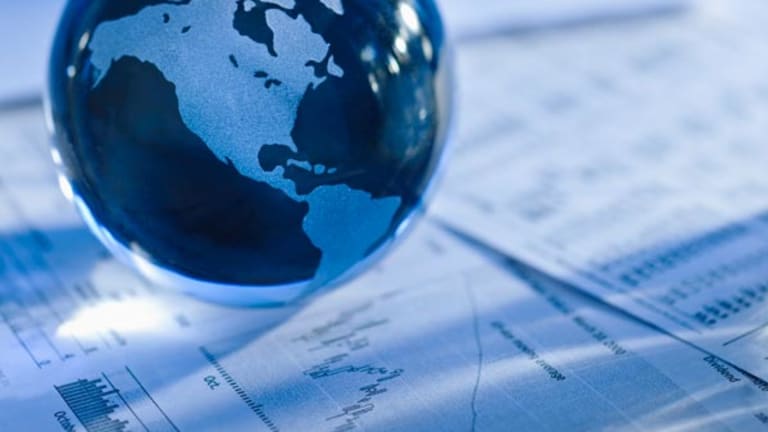 Top China Stocks: Year-End Review
These U.S.-listed China stocks posted incredible returns in 2009 and could rise even more in the coming year.
These U.S.-listed China stocks posted incredible returns in 2009 and could rise even more in the coming year.
Some U.S.-listed China stocks have posted positively scorching returns over the past year.
Among the best performers were
Gulf Resources
( GFRE),
China Agritech
( CAGC),
New Energy Systems
(NEWN.OB)
,
Hong Kong High Power Technology
(HPJ) - Get Report
and
Orient Paper
(ONP)
. All have had returns of more than 1,000%. (Yes, that's 1,000%!)
Obviously, not all U.S.-listed China stocks were winners this year. But more than 70% of the 400 such stocks I track had positive 52-week performance. And if you invest in a basket of these stocks, the stellar returns of the winners can more than make up for the dogs.
On any given stock, you can lose only 100% of your initial investment (assuming no leverage), but on the winners, the returns can be several hundred -- even several thousand -- percent.
As a result, the mean return for my investment universe of 378 stocks is an astonishing 130%. If you didn't make money in U.S.-listed china stocks in 2009, you must have been asleep at the switch.
The obvious next question is whether there's more room to run for some of the top names.
The quick answer is that my favorite stock going into the new year is Orient Paper. I see it as a double in the near term. Meanwhile, the stock that needs the most homework is New Energy Systems, which has gone through a series of acquisitions and financings.
Now let's take a detailed look.
It's important to note that with these stocks there has been an unmistakable pattern to their valuation expansion:
An unknown Chinese company with great fundamentals lists in the U.S. on the OTC Bulletin Board at a dirt-cheap valuation (usually about 5 times earnings).
The company delivers several quarters of impressive growth and has a good growth story.
The company undertakes what I call "the big jump": In a short period of time, it conducts a reverse split of its stock, appoints an independent board, selects a well-known investor relations firm and then lists on Nasdaq or the American Stock Exchange.
The valuation trades in line with well-known peers, typically in the midteens (i.e., a tripling of its price from when it was unknown).
China Agritech and Gulf Resources followed this pattern to the letter and uplisted in September and October, respectively.
I dabbled in China Agritech, but I was turned off when I could not secure an interview in Beijing with the company's management. I live in Beijing and offered to meet the company's executives and tour their facilities at a date and time convenient for them, because I was very bullish on the stock.
I did get a bit of email from the company, but I was never able to get a close look at the management or operations. Thus, I didn't dive in with the big bucks.
The company may still have further upside potential, but I don't see myself investing in its shares until I get my interview and tour. If I ever do, I will be sure to post a transcript and photos here.
Even after a rise of more than 1,000%, Gulf Resources still looks to be a solid investment. The company has delivered solid and consistent growth and has performed well since it being uplisted.
One factor that gives me great confidence is that the company just raised $25 million in PIPE financing yet the stock barely budged even though the offering came during the less liquid preholiday weeks. Normally, I would have expected the stock to tank on such a financing, but that clearly didn't happen.
I started talking about Orient Paper a few months back and have more than doubled my money on a sizeable investment since then. I fully expect to double my money again, and my medium-term target is $20, vs. the current price of about $10.
Orient Paper has also followed the textbook formula for a high-return stock, and I expect it to continue on this path.
Earlier this year, the company conducted a 1-for-4 reverse split, appointed BDO as its new auditor, restructured its board, appointed "uplist specialist" CCG to manage its investor relations effort and then successfully uplisted to the Amex.
In the last quarter, growth exceeded 100% with expanding margins. Based on recent acquisitions, which have successfully closed, I see Orient Paper positioned for huge growth going forward, with gross margins in excess of 60%.
On the qualitative side, I like Orient Paper because the company is very easy to communicate with and is very open with investors. After the company's recent acquisition and financing earlier this year, I was able to get CFO Winston Yen on the phone within 30 minutes, and he spent as much time as needed to answer all of my questions. Subsequently, I met with Chairman Liu in Beijing, who also spent several hours with me discussing the business.
Now the company is practically insisting that I come to visit its facilities, and I have agreed to do a multimedia video tour, which I plan to post here on
TheStreet.com
. With the company so insistent on my visiting, I am expecting to see something impressive.
On the valuation side, Orient Paper skyrocketed nearly 30% after posting exceptional quarterly results. The stock has been trading between $9 and $10 on a backward-looking price-to-earnings ratio of about 8 and a forward PE of about 4.
It is notable that this stock got basically no pop whatsoever from its recent uplisting to Amex. I attribute this to several factors. First, the uplisting came too soon after earnings. The massive price jump that followed earnings was enough to keep investors cautious, and they did not play the uplisting potential.
Second, the uplisting came too close to the end of the year. People are now in the process of tax-loss selling as well as locking in gains. In other words, people are looking for excuses to sell, not to buy.
In any event, I am long and strong on Orient Paper and hope to be writing about it as a top performer in my next year-end review.
I have been an off-and-on fan of New Energy Systems this year.
On the positive side, the company has delivered very solid results, and its stock rose from less than $1.00 (split adjusted) to more than $10.00 at one point. Shares currently trade for about $7.00 and are up 1,670% from this time last year.
I have met with management and toured operations, and I like what I see. When I have questions I can get interim CFO JunFeng Chen on his cell phone in minutes, and he is exceptionally responsive.
I am keeping New Energy Systems on the sidelines (holding a modest position) for the moment because it will take a lot of work to properly digest the company's two recent acquisitions and substantial equity issuance.
I expect that revenue growth for this lithium-ion battery maker will be massive following its two recent acquisitions, but it remains to be seen how this will translate to earnings per share given the significant and not fully transparent issuance of equity.
As a strong positive, this company has also been very insistent that I go and tour its new facilities, so I am guessing it has some impressive new operations that management is eager to show off.
I hope to make such a tour in January and meet the company's new chairman, Weihe Yu. In short, the valuation on this stock is currently cheap, but for good reason.
I view the appointment of Weihe Yu (formerly CEO of the company's recent acquisition target) as a positive, but I caution readers that the company still does not have an independent board, making it ineligible (for now) for listing on Nasdaq or Amex and leaving open the possibility of less than optimal (from a shareholder perspective) terms on acquisitions and financings.
On the other hand, if New Energy Systems is able to execute with the same level of success as Hong Kong Highpower Technology, it will have the potential for explosive growth.
The two companies are in identical businesses and are neighbors in the same Shenzhen business park.
Rodman & Renshaw analyst Amit Dayal initiated coverage on this stock in August when the price was $1.17 and the daily volume was only about $20,000. His target was $5.00, which I strongly questioned at the time because my own target being only about $3.50. When shares stabilized in the $5.00 range I called him to congratulate him on the great stock pick and for his better understanding of the battery business than my own.
When the stock hit $8.00, I stopped referring to him as "Amit" and started asking for "Mr. Dayal" when I called. The pick was gutsy for two reasons. First, openly predicting a 4-bagger when initiating coverage takes a lot of conviction.
Second, many Wall Street analysts will ignore stocks which trade with such low volume, assuming there is limited opportunity for their clients to actually establish a position. Even worse, it can be very tough to get out of such illiquid positions.
But Mr. Dayal was correct in assuming that liquidity would follow performance, and now the stock trades nearly $3 million per day. So for those patient enough to get in with small dribs and drabs in September, the payoff has been 5 times in only four months.
At the time of publication, Pearson was long Hong Kong High Power Technology, Orient Paper and New Energy Systems.
Rick Pearson is a Beijing-based private investor focusing on U.S.-listed China small-cap stocks. Until 2005, Pearson was a director at Deutsche Bank, spending nine years in equity capital markets in New York, Hong Kong and London. Previously, he spent time working in venture capital in Beijing. Mr. Pearson graduated magna cum laude with a degree in finance from the University of Southern California and studied Mandarin for six years. He has frequently lived, worked and traveled in China since 1992.