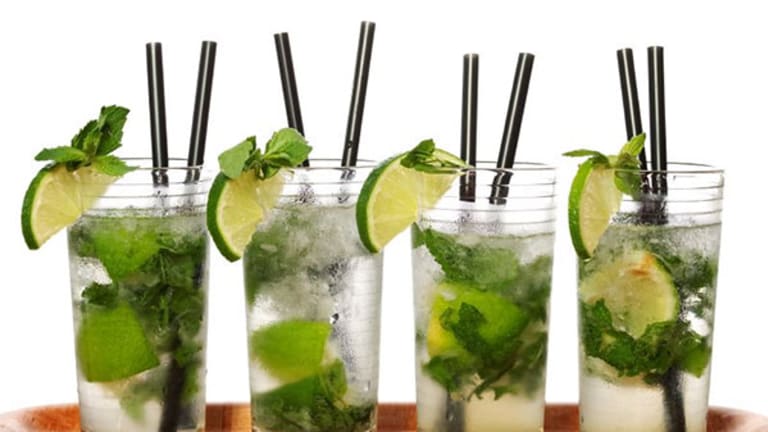 Top 10 Rum Drinks You Can Make In Your Kitchen
These are the 10 best rum cocktails and the recipes to make them.
NEW YORK (TheStreet) -- Rum is a beverage that calls to mind tropical locations, relaxation and memories of good times. After all, the stuff goes into so many of those tropical, fruity drinks that we enjoy on cruises, at beaches and at barbecues.
Rum can actually trace its lineage back to ancient India and China, where the first fermented drinks made form sugarcane originated. Understandably, the drink then spread throughout the world until it surged in popularity in colonial America in the 1600s. The British established the first rum distillery in the American colonies on present-day Staten Island in 1664, and some estimates hold that the average rum consumption per person per year in the colonies before the American Revolution was 14 liters!
Eventually, rum became so popular that it was an integral part of the slave trade in the 18th century. Our first president, George Washington, even demanded he have a barrel of Barbados rum on hand at his inauguration in 1789.
But enough history. What you really want to know is how to use that bottle of rum in your liquor cabinet to its maximum potential. Don't worry, we're here for you. These 10 recipes will provide you with the best rum drinks for your party, vacation or even just for yourself.
Master these drinks and before you know it, you and your guests will quote Captain Jack Sparrow himself when you ask "But why is the rum gone?"
Rum Drink #10:  Classic Daiquiri
The daiquiri is a basic rum drink that party hosts and bartenders should be able to make with no difficulty. It has only three ingredients, which makes it both cheap and easy to make. You'll need:
- 1 1/2 ounces light rum
- 3/4 ounce lime juice
- 1/4 ounce simple syrup
Pour the three ingredients into a cocktail shaker with some ice cubes and shake well. Simply strain the liquid into a chilled cocktail glass, garnish with a lime wedge on the rim and you're all set! For flavored varieties, place these ingredients in a blender with some bananas, strawberries or other fruit and mix them on high until everything combines.
Rum Drink #9:  Mojito
The mojito is another rum drink staple that any host or bartender worth his or her salt should have in the arsenal. For this one, you'll need:
- 10 fresh mint leaves
- Half of a lime, cut into four wedges
- 2 tablespoons sugar, or other amount based on your preference
- 1 cup ice cubes
- 1 1/2 ounces light rum
- 1/2 cup club soda
Place the mint leaves and one of the lime wedges into a strong glass. Use a muddler or similar object to crush the two ingredients, which will release the mint oils and lime juice. Add two more lime wedges and the sugar and crush again to release more lime juice. Do not strain this mixture.
Fill the glass nearly to the rim with ice. Pour the rum over the ice, then add the club soda. Stir the drink and taste it to determine if it needs more sugar. Garnish the rim with the final lime wedge.
This recipe is for one glass, but you can multiply it to make a pitcher for dinners or parties.
Read Also: Best Rum
Rum Drink #8:  Hurricane
The name of this drink actually belies its delightful, fruity taste. The dark, stormy name doesn't exactly mesh with the orange-red color or the various fruits at play. Nevertheless, it's a relatively simple drink to make, but it does require a few ingredients:
- 2 ounces light rum
- 2 ounces dark rum
- 2 ounces passion fruit juice
- 1 ounce orange juice
- Juice from half a lime
- 1 tablespoon simple syrup
- 1 tablespoon grenadine
- Orange slice and cherry for garnish
Squeeze the lime juice into a cocktail shaker filled with ice. Pour all the liquid ingredients into the container and shake well to combine. Strain the liquid into a Hurricane glass, which you can see in the above picture. Garnish the rim with the orange slice and cherry. Alternatively, you could use a pineapple wedge or another fruit.
Read Also: Best Rum
Rum Drink #7:  Pina Colada
Let's just get this out of the way, because I know you're all thinking it. "If you like pina coladas and getting caught in the rain..." Happy now? And for the record, "Escape" is by Rupert Holmes, NOT Jimmy Buffett.
Anyways, this coconut-flavored beverage is delicious and easy to make, so let's get to the recipe:
- 1 1/2 ounces light or gold rum
- 2 ounces coconut milk
- 2 ounces fresh pineapple juice
Pour all ingredients into a shaker over ice. Shake well to combine and strain into a Hurricane glass. Garnish with a pineapple wedge, a cherry and a tiny umbrella if you're in the mood. You can also make this drink by mixing all the ingredients with ice in a blender.
Read Also: Best Rum
Rum Drink #6:  Hot Buttered Rum
The name might be a bit off-putting, but trust us when we say this drink is delicious with a capital D and a capital ELICIOUS just for good measure. It's sweet and perfect for fall and winter holidays when a pina colada or mojito doesn't fit the bill. This recipe comes courtesy of Emeril "BAM!" Lagasse:
- 1 stick unsalted butter, softened
- 2 cups light brown sugar
- 1 teaspoon ground cinnamon
- 1/2 teaspoon grated nutmeg
- A pinch of ground cloves
- A pinch of salt
- 1 bottle dark rum
- Boiling water
Cream the butter, sugar, cinnamon, nutmeg, cloves and salt in a bowl. Refrigerate the mixture until it is almost firm. Spoon two tablespoons of the chilled mixture into 12 mugs. Pour approximately three ounces of rum into each mug, or fill about halfway. Add boiling water to fill the mug, stir well and serve immediately.
It's a little bit more work than the other drinks thus far, but it's worth the effort.
Read Also: Best Rum
Rum Drink #5:  Anejo Highball
The Anejo Highball is a relatively new creation, but a drink doesn't have to be old or classic to be delicious. The key to this drink is the Anejo rum, so make sure to get your hands on it before you attempt to make this cocktail. You'll also need:
- 1 1/2 ounces Anejo rum
- 1/2 ounce orange curacao
- 1/2 ounce lime juice
- 2 dashes Angosutra bitters
- 2 ounces ginger beer
- Lime slice for garnish
- Orange slice for garnish
Mix the rum, curacao, lime juice and bitters over ice in a Highball glass, which you can see in the above picture. Top off the mixture with the ginger beer and garnish the rim with the orange and lime slices.
Read Also: Best Rum
Rum Drink #4:  Rum and Coke
This one is a classic and is by far the easiest drink on this list to make. The name literally tells you all of the ingredients, except for ice. But just for the record, you'll need:
- 2 ounces rum
- Cola
- Lime wedge for garnish (optional)
You've probably figured this out already, but mix the two liquids in a Highball glass filled with ice. If you garnish with a lime wedge, then you've turned the drink into a Cuba Libre.
If you want to add a little extra flare to this simple classic, try different types of rum. Light, dark, gold and spiced rums will each bring a different flavor to the party and change the taste a bit.
Read Also: Best Rum
Rum Drink #3:  Mai Tai
The Mai Tai is another rum drink that likely makes you picture sandy beaches and blue waters. Luckily, this fruity drink is easy to make and contains two different types of rum. You'll need:
- 1 jigger (1 1/2 ounces) spiced rum
- 1 jigger (1 1/2 ounces) coconut rum
- 1 teaspoon grenadine
- 3 ounces pineapple juice
- 2 ounces orange juice
- 1 cup ice cubes
Pour all the ingredients into a shaker over ice and shake well. Strain the mixture into a glass filled with ice and garnish with a cherry and/or pineapple wedge if you wish.
Read Also: Best Rum
Rum Drink #2:  Caribbean Rum Punch
This drink is a traditional favorite from the West Indies. It's easy to make, but the real delight here is that you can experiment with different fruit juices to change the flavor. For this treat, you'll need:
- 1 cup fresh lime juice
- 2 cups simple syrup
- 3 cups amber rum
- 4 cups orange juice
- 4 dashes bitters
- Freshly grated nutmeg as needed
Combine the lime juice, simple syrup, rum and orange juice in a pitcher. Add the bitters and nutmeg to your preferred taste. Pour the drink into a glass over ice and serve chilled. Garnish with a lime wedge if you'd like.
Read Also: Best Rum
Rum Drink #1:  Classic Spanish Sangria
Sangria is primarily a wine drink, but the classic Spanish sangria contains rum, so we're stretching the rules a little and including it on this list because sangria is delicious. To make this party pleaser, you'll need:
- 1 lemon
- 1 lime
- 1 orange
- 1 1/2 cups rum
- 1/2 cup white sugar
- 1 bottle (750 milliliters) dry red wine
- 1 cup orange juice
Chill the fruit, rum, wine and orange juice before making the drink. Slice the three fruits into thin, round pieces and place them in a large pitcher. Pour the rum and sugar over the fruit and chill the mixture in the refrigerator for two hours. When ready to serve, mash the fruit lightly with a wooden spoon or other instrument. Mix in the wine and orange juice. Taste the drink and add more sugar if necessary.
----------
Did your favorite rum drink make the list? Do you have any recipes for these or other rum cocktails? Share them in the comments below.
Read Also: Best Rum
Read Also: 10 Dumbest States in America