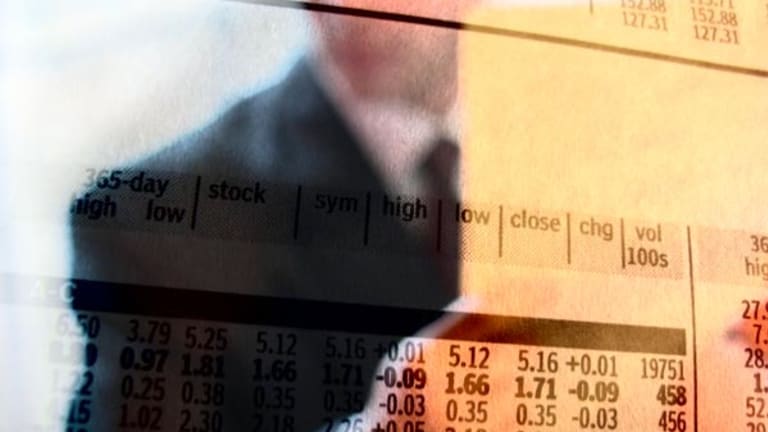 Today's Market: Yankees Fans and Dow Have Something to Cheer About
<LI>Amgen weighs down biotech stocks.</LI> <LI>Cisco drags on Nasdaq.</LI> <LI>Primedia sinks after About.com deal.</LI>
The
Dow Jones Industrial Average was looking like it was deserving its own tickertape parade, especially since today's gains come on the heels of a stellar 210-point move up on Friday.
Cisco
(CSCO)
was another story. It was sinking the tech-heavy
Nasdaq Composite Index after
Lehman Brothers
slashed its 12-month price target to the $60-to-$65 range from $90. That call from Lehman kicked off a downward slide for tech stocks today.
Cisco shareholders certainly weren't whooping it up with Yankee's fans who were lining Broadway in lower Manhattan to cheer the latest World Series winners. Cisco was lately losing 8.3%.
Howard Barlow, vice president of
WHB/Wolverine Asset Management
, said: "For Lehman to do what they did to Cisco is a lot more damaging than a downgrade because it's quantifiable. Their $90 price target was too high. We're talking about a 30% reduction in the price target. I still have some worries still about that stock."
Cisco reported in early August that its fiscal fourth-quarter profits topped analyst expectations, strengthened by strong sales to Internet service providers, cable and telephone companies. But the opticals and networking group has been under fire since last week, when
Nortel Networks
(NT)
warned of weakness in optical sales for the year. Tech stocks in general have gotten whacked this quarter as a slew of third-quarter earnings disappointments have investors worried that price-to-earnings valuations in the sector remain too high.
Barlow said Nortel opened a Pandora's box. "But it's taken its bruising consequently and there's not that much more bad news out there for that stock. This segment is not by any means cheap stocks. Cisco does have an issue with these acquisitions they have made. On a case-by-case basis I can have a bit more affection for some of these
networking, optical names now. That's from someone who didn't like Nortel in the $70s, but it's looking a lot better right now."
The Nasdaq was getting further socked by such big-cap tech stocks as
Qualcomm
(QCOM)
, down $7.88, or 10%, to $67;
Oracle
(ORCL)
, off $2.38 to $31.81; and
Amazon.com
(AMZN)
, $4.25, or 11.9%, lower to $31.38.
Intel
(INTC)
was down $2.38 to $44.
Biotech company
Amgen
(AMGN)
continued to fall. Last week, it said it was lowering its sales projections for two of its lead drugs. That message spread through the biotech sector. The
Nasdaq Biotechnology Index
was 4.7% lower.
The Dow was bouncing today, but not from any distinctive leader.
International Paper
(IP)
and
Alcoa
(AA)
were contributing the most to the blue-chip index. International Paper was rising on an upgrade to the paper sector by
Deutsche Banc Alex. Brown
. And on Friday, the
European Commission
cleared Alcoa's plans to buy
British Aluminum
.
Some economic data out this morning shows that both consumer income and consumption remain strong, which could be a sign that the threat of inflation hasn't disappeared.
Personal income in September rose 1.1%, compared with expectations of a 0.4% rise. It's the biggest gain since income grew 1.3% in October 1999. And consumers continue to shop. Spending in September went up 0.8%, compared to expectations of a 0.6% rise. That's the fastest rate of spending growth in six months.
To Every Season
The end of October brings an end to tax-loss selling by mutual funds, which has put considerable pressure on the market of late and has been responsible for much of the market's recent volatility. Tax-loss selling -- selling the weakest stocks at a loss to offset taxable gains on winners -- should continue through tomorrow, when the fiscal year ends for many funds.
Elsewhere in the market,
Primedia
(PRM)
, publisher of
Seventeen
,
New York
and
Modern Bride
, is down 25.8%, to $11.31, on news that it's buying
About.com
(BOUT)
in a $690 million deal.
Also,
Terra Networks
undefined
, which completed its merger with
Lycos
undefined
, jumped 9.8%, to $21. The combined company starts trading on the Nasdaq under the ticker "TRLY" tomorrow.
Market Internals
Breadth was positive on the
NYSE and negative on the Comp on active volume.
New York Stock Exchange: 1,570 advancers, 1,140 decliners, 635.7 million shares. 79 new 52-week highs, 47 new lows.
Nasdaq Stock Market: 1,417 advancers, 2,309 decliners, 941.5 million shares. 38 new highs, 96 new lows.
Back to top
Most Active Stocks
NYSE Most Actives
Nortel: 28.3 million shares. AT&T (T) : 19.2 million shares. General Electric (GE) : 10.97 million shares.
Nasdaq Most Actives
Cisco: 64.2 million shares. Microsoft (MSFT) : 33.3 million shares. Intel: 24.95 million shares.
Back to top
Sector Watch
Lehman Brothers
changed the weightings in its global portfolio, cutting investments in the financial sector to underweight, cutting defensives to neutral and raising its weighting for cyclicals. Investors were fast to snap up cyclical companies. The
Morgan Stanley Cyclical Index
jumped 4.6%. But the market seemed to pay less attention as far as financials were concerned. The
American Stock Exchange Broker/Dealer Index
was up 2.5%, while the
Philadelphia Stock Exchange/KBW Bank Index
rose 2.4%.
Paper stocks were flying after receiving the upgrade from Deutsche Banc Alex. Brown this morning. Both Dow component International Paper and
Bowater
undefined
were upgraded to strong buy from buy. International Paper was up 7.7% and Bowater was 9.7% higher and the
Philadelphia Stock Exchange Forest & Paper Products Index
was 6.4% higher.
Back to top
Bonds/Economy
The bond market shrugged off this morning's stronger-than-expected economic data, and the benchmark 10-year
Treasury note was lately up 1/32 at 100 6/32, pushing its yield to 5.723%.
Personal income and consumption
(
definition |
chart |
) for September were both higher. Personal income rose 1.1%, ahead of forecasts of a 0.4% rise; it was also above the prior month's increase of 0.4%. Personal consumption rose 0.8%, beating forecasts of 0.6% increase.
Back to top
International
European markets were down at the end of the day.
The
FTSE 100
in London was down 26.5 to 6340.
The
CAC 40
in Paris was barely lower, off 0.98 to 6267.95, while the
Xetra Dax
in Frankfurt was down 13.14 to 6911.54.
After economic data on Friday showed a slowing U.S. economy, the
battered euro was climbing. It was lately at $0.8428.
Big Asian technology and telecommunications shares started the week with a limp, taking the region's
equity markets to a lower close Monday.
In Tokyo, the
Nikkei 225
closed down 117.6 points, or 0.8%, at 14,464.6.
In Tokyo trading, the dollar traded up 0.33 yen to 108.70 yen. The greenback was lately at 108.87.
Hong Kong's
Hang Seng
index fell 102.6, or 0.7%, to 14,799.9, as
China Mobile
(CHL)
fell HK$1.75, or 3.3%, to 51.00 ($6.54) and
HSBC
(HBC)
fell HK$0.50, or 0.5%, to 107.00.
Back to top