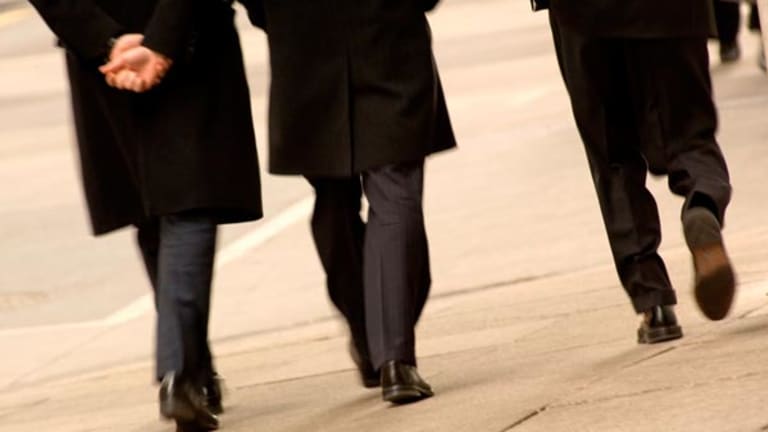 Today's Market: Worlds Collide and Dow Gets Caught Smack in the Middle
Earnings fears, triple-witching and rebalancings all in one day. Sheesh, enough already!
Rebalancing and an options expiration were the sparks that ignited today's broad-based selloff. And, with pre-announcement negativity added to the mix, even some strong earnings from tech couldn't give the stock market a lift.
It was a very special trading session, as today's triple-witching -- the expiration of equity options, index options and future contracts -- and
S&P 500 rebalancing brought in sellers of all sorts and jacked up the day's volume. Old and new economy stocks, which were already rocked earlier this week with profit warnings, foreign currency issues and skyrocketing energy prices, were weathering some severe volatility, and it didn't clear up in time for the weekend.
"There's a lot of cross currents, with the triple-witch, the S&P rebalancing and the European indices rebalancing, which affects ADRs that trade here," said Peter Boockvar, equity analyst at
Miller Tabak
. "But there's really no rhyme or reason. There is a massive amount of volume and volatility. And, with oil up two bucks, that is a major concern and that is panicking people."
At the closing bell, The
Nasdaq had been knocked down 78.63, or 2%, to 3835.23. Software giant
Oracle
(ORCL)
, slipped 6%, after posting its first-quarter earnings last night. The results, which handily beat Street estimates, didn't impress investors, who were looking for strong sales figures from the company.
Meanwhile, the
Dow Jones Industrial Average plummeted 160.47, or 1.4%, to 10,927. With the exception of
ExxonMobil's
(XOM)
, which popped 4.4%, most its components were in the red, with tech shaving off about 47 points from the index.
"There are a lot of stocks that have broken down, or are in the process of breaking down," said Sam Ginzburg, senior managing director of equity trading at
Gruntal
. "Large-cap tech is breaking down and we can see the 3600 level on Comp being reached."
But, in the wake of the tech stock takedown, and a triple-digit hack on the Dow, Ginzburg says that we could be poised for a pop at the opening bell, making for another short-selling opportunity. In short selling, an investor would sell stock that he or she does not already own so that they can buy the shares back at a lower price, thus betting that the stock is going to head south.
"Do we hold shorts over weekend? I don't thinks so because you could have another chance to short again -- we might see a bounce on Monday. We have been shorting into any strength in the Comp."
Elsewhere, the S&P 500 slid 15.08, or 1%, to 1465.79, while the small-cap
Russell 2000 shed 8.33, or 1.5%, to 530.88.
In economic news, The CPI fell 0.1% in August, its first drop in 14 years, but a 2.9% decline in energy prices was entirely responsible. The core CPI, which excludes food and energy and is a more stable barometer of inflation trends, rose 0.2%, in line with the average forecast. The sharp rise in oil prices over the last month is expected to produce a considerably less friendly September CPI.
The annual growth rate of the CPI edged down to 3.4% in August from 3.5% in July.
Maytag
(MYG)
put another turn in the side of investor, after warning that its second half would be 8% to 10% below the year-ago report. The appliance maker blamed the shortfall on a loss of business at
Circuit City
(CC)
and
Helig-Meyers
(HMY)
. The stock sank 6.1%.
But the surging price of crude left oil stocks richly rewarded. Crude oil futures, which tipped over $35 per barrel, shot the
American Stock Exchange Oil Service Index
up 3.4% to a new all time high of 555.61.
Chevron
(CHV)
bounced 3.3%.
For the week, the Dow fell 2.6%, the Nasdaq Composite fell 3.7%, the S&P 500 lost 1.9% and the Russell 2000 fell 0.9%. The Dow Jones transports slipped 2.3%, the
Dow Jones Utility Average
edged up 2.7% and the
American Stock Exchange Composite Index
up 0.4%. TheStreet.com Internet Sector index inched down 0.6% in the latest week.
Market Internals
Breadth was negative on extremely heavy volume.
New York Stock Exchange: 1,091 advancers, 1,740 decliners, 1.2 billion shares. 141 new 52-week highs, 69 new lows.
Nasdaq Stock Market: 1,447 advancers, 2,507 decliners, 1.7 billion shares. 78 new highs, 84 new lows.
Back to top
Most Active Stocks
NYSE Most Actives
Lucent (LU) : 29.9 million shares. Xerox (XRX) : 27.6million shares. General Electric (GE) : 20.2 million shares.
Nasdaq Most Actives
Intel (INTC) : 73.5 million shares. Cisco (CSCO) : 73.5 million shares. Oracle (ORCL) : 60 million shares.
Back to top
Sector Watch
The
Dow Jones Utility Average
was soaring again, popping 1.5%. Spiking energy price shot
Peco
(PE)
to another all-time high of 59 3/16.
The
Philadelphia Stock Exchange Oil Service Index
also lifted 1.6%, Due to the high price of oil, companies are increasing their capital spending budgets in order to extract more oil, giving oil services companies even more business.
Back to top
Bonds/Economy
The Treasury market continued the trend started earlier this week, favoring short-term securities at the expense of long-term ones, based on the view that the Fed is finished raising interest rates and may contemplate cutting them if global growth hits a series of speed bumps.
Lately, the 10-year Treasury was down 12/32 to 99 9/32, yielding 5.848%.
Back to top
International
In late trading, European markets were seeing technology and telecom struggle to hold on to Thursday's gains after new rises in oil prices re-ignited inflation worries.
The
FTSE 100
tumbled 138.2 to 6417.3 after turning around a weeklong losing streak yesterday.
Across the channel, the
CAC 40
in Paris was down 23.26 to 6614.65, and the
Xetra Dax
in Frankfurt was off a more mild 7.59 to 7040.91.
The embattled euro was lately trading at $0.8593.
Asian markets were flat to lower today, as selected telecom and electronic stocks fell lower on profit-taking before the weekend.
Korea took a beating, however, with the key
Kospi
index falling more than 3% after U.S. auto giant Ford said it was pulling the plug on its planned buyout of troubled
Daewoo Motor
. Korea's
Kospi
index slid 21.94, or 3.4%, to close at 628.20.
Hong Kong's
Hang Seng
index shed 145.90 to finish at 16,249.53 and Taiwan's
TWSE
index rose 3.16 to stand at 7155.45. Tokyo markets were closed for a public holiday.
The dollar was lately trading at 107.35 yen.
Back to top
As originally published, this story contained an error. Please see
Corrections and Clarifications.