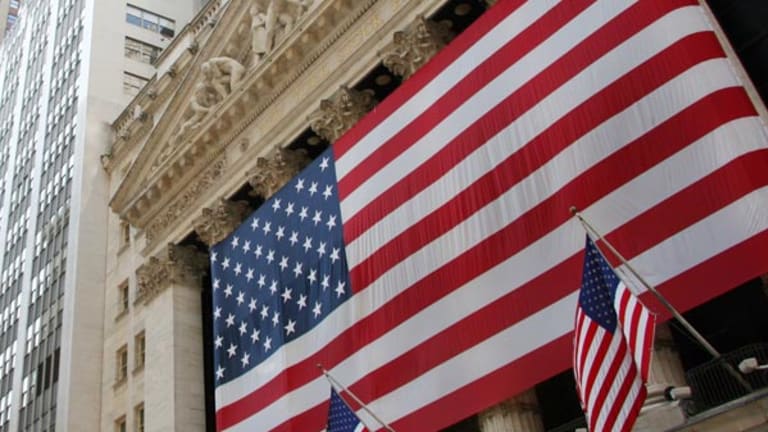 Today's Market: With Move to Upside, Bulls Keep Bears Under Hoof
<LI>Dow jumps higher.</LI> <LI>Nasdaq also gains.</LI><LI>PMC-Sierra falls on earnings warning.</LI>
<LI>Dow jumps higher.</LI> <LI>Nasdaq also gains.</LI><LI>PMC-Sierra falls on earnings warning.</LI>
(Updated from 9:33 a.m.)
The bulls are managing to keep the bears under hoof, helped by positive sentiment and gains overseas.
Also benefiting stocks this morning was
Lehman Brothers'
global strategist Joseph Rooney, who raised his weighting in global equities by 10% to 70%, reducing cash from 5% to zero and cutting debt by 5% to 30%.
But it's going to be a tough battle.
It's far from certain whether last Thursday's 300-point downdraft and late-day snapback on the
Dow marked a market bottom and signaled the end to a yearlong stock market selloff. The bears say the late Thursday reversal and the rally Friday lacked a catalyst, leaving support for a bottom fissured and tenuous. After all, the earnings outlook is still hazy, and the economic picture hasn't shown convincing signs of improvement. The Dow was gaining 107 to 9,611 this morning.
The
S&P 500 was also gaining, up 13 to 1152, while the Nasdaq was adding 20 to 1948.
The
bulls argue that the end-of-the-week rally was lead by significant institutional buying, that piles of cash remain on the sidelines and nuggets of good news might be right around the corner,
among many other things. They say that positive comments from
Federal Reserve chief
Alan Greenspan, passage of Bush's tax-cut proposal or professions of
visibility from bellwether companies could spark a fire under the market.
Meanwhile, some of this buying could be inspired by window dressing, which is when fund managers tidy up their portfolios in preparation for end-of-quarter reviews.
"Obviously, the question is whether this is a bear market rally or not," said Tony Cecin, manager of
Nasdaq trading at
U.S. Bancorp Piper Jaffray
. Cecin said he wants see several days of up action before he believing that the buying is for real. And that's up action, not screaming blowout rallies. The more measured the buying, the more likely it is to stick.
Chipmaker
PMC-Sierra
(PMCS)
wasn't giving the bulls any ammunition this morning. It was off 6.2% tpo $31.90 after the company said first-quarter revenues and earnings would
fall short of targets. It announced plans to cut 230 jobs. The company dropped revenue target to $118 million to $120 million and slashed its earnings per share target to 2 cents to 3 cents per share. Estimates from earnings tracker
Thomson Financial/First Call
for the quarter were 12 cents per share. Even so, chipmakers have been shrugging off bad news for over a week now. The sector led the Nasdaq last week, helping the tech index finish the week higher for the first time in almost two months.
Nortel
(NT)
won't be a catalyst, either. The networker saw its 2001 and 2002 earnings estimates cut this morning by Lehman Brothers. Analyst Tim Luke dropped his estimates to 17 cents below the current consensus expectations among a group of analysts. "Following the Feb. 15 resetting of guidance, checks suggest demand may remain challenging through the first half of 2001 with only modest uptick in the late second-half of 2001 and calendar year 2002," Luke said. It was up despite the news, rising 0.6% to $17.50.
Retail drugstore chain
Walgreen
(WAG)
this morning reported earnings in line with estimates of 28 cents per share. Boxmaker
Micron Technology
(MU) - Get Report
will issue fiscal second-quarter results later today. And pharmaceutical giant
Johnson & Johnson
(JNJ) - Get Report
is in talks to acquire drugmaker
Alza
(AZA)
in a
$12 billion stock deal. The deal would qualify as J&J's biggest buy ever and bring several new drugs and biotech research to the pharmaceutical giant. But this news is unlikely to move the market as a whole today.
After a brief tangle in the clutches of the bear last week, the Dow managed to close the week out of bear territory. The
blue-chip index closed up 1.23% to 9504.8 Friday, over 100 points above its bear country dividing line of 9378. The Nasdaq remains some 62% off its high -- hit March 10, 2000 -- while the S&P 500 is down 25% from its peak. An index is said to be in a bear market when it is 20% off its highs.
Back to top
Bonds/Economy
Bond prices were slumping again this morning in anticipation of another rally in equities. The benchmark 10-year
Treasury note was down 9/32 to 101 5/32, yielding 4.851%.
Treasury values ended last week with a loss as stocks attracted buyers and investors decreased fixed-income investments. The long end of the market proved to be the most vulnerable, and a decline of about a half-point in that area flattened the yield curve. Yields inched up from 30-month lows.
Back to top
International
European markets are surging, led by technology and telecom stocks as overseas investors eyed the U.S. futures market and bet on another rally.
London's
FTSE 100
was rallying for a second straight day, rebounding from the 29-month low it hit Thursday. It was lately climbing 154.7 points, or 2.9%, to 5557.0. Across the channel, the Paris
CAC 40
was up 152.9, or 3.1%, to 5104.0 and Frankfurt's
Xetra Dax
was up 183.9, or 3.3%, to 5728.5.
The euro was lately trading at $0.8936.
Asian markets also rallied overnight. Hong Kong finally turned its luck around, rebounding after several days of severe losses. After hitting a 17-month low Friday, the key
Hang Seng
index closed up 2.9%, or 367.1 points, to 12,950.5. Tokyo's
Nikkei 225
rose 647.8 points, or 4.9%, to 13,862.3.
The dollar was trading at 123.2 yen.
Back to top