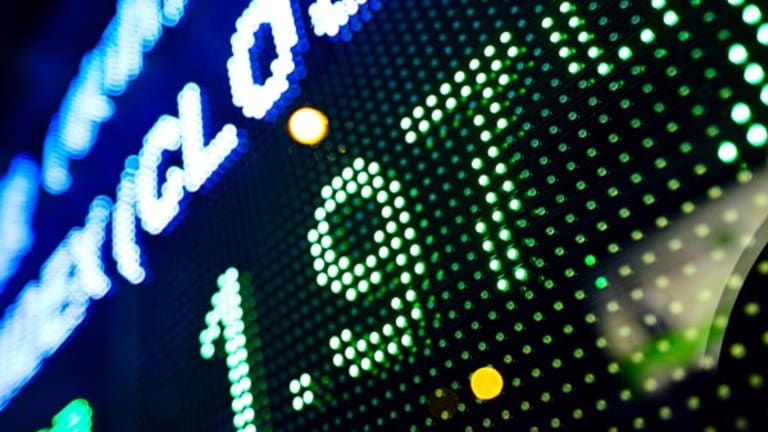 Today's Market: With Few Catalysts, Tech Stocks Have Soggy Start
<LI>Cisco falling ahead of earnings.</LI> <LI>Tosco flies on Phillips news.</LI> <LI>Chip stocks weaker after CSFB note.</LI>
(Updated from 9:32 a.m.)
Now that the
Federal Reserve's highly expected interest rate cut and the bulk of fourth-quarter earnings season are in the bag, there are few major catalysts to take stocks higher in the near term.
Investors will likely play it especially safe ahead of
Cisco's
(CSCO)
earnings report Tuesday and fourth-quarter
productivity numbers Wednesday. Cisco almost always beats earnings by a penny, but investors want to see if the networker can pull it off in this lousy earnings environment. And improved productivity has been a major factor allowing for the extended economic expansion of recent years.
The
S&P 500, which tracks the broad stock market, was 2 points lower this morning to 1348. Weakness inthe tech-weighted
Nasdaq was pulling it 33 lower to 2628. But the blue-chip
Dow Jones Industrial Average is moving 17 higher to 10,882.
General market sentiment may remain a bit soggy after Friday's
employment report softened investor expectations about how aggressive the Fed might be with further rate cuts. On Friday, the Nasdaq shed 4.4%, the S&P 500 dropped 1.75% and the Dow fell 1.09%.
While the unemployment rate ticked higher to 4.2%, the report also showed
surprising strength in job creation during January. The number signals the economy may be a bit more solid than believed, which could bode poorly for more rate cuts sooner rather than later.
And the market hungers for rate cuts.
Corporate earnings are in bad shape and headed towards a recession of their own, according to a report out of earnings tracker
I/B/E/S
this morning. And one of the only things that can help get earnings back in shape are more rate cuts. In early January, the Fed dropped benchmark interbank lending target for the first time in a year and a half. Following that half-point cut, it lowered rates by another half point last week to 5.5%.
I/B/E/S' Joseph Kalinowski said, "We are heading into a profits recession for the
Nasdaq 100
, and there is a great possibility that the S&P 500 is heading there as well." On average, analysts are expecting Nasdaq 100 earnings growth of 1.6% for 2001, which means "negative growth" for the entire year is a "viable risk", the report said.
Still, Kalinowski says the velocity of consensus revisions to earnings estimates is slowing, and 2001 earnings could get a "late boost from a solid fourth quarter."
Networker Cisco is important in this scenario, because the generally unflappable company looks a bit more wobbly in fourth quarter's earnings waltz. The company recently
warned that its business in January was a lot tougher than expected. Some pros say Cisco's earnings will drive perception of the health of the ailing tech infrastructure sector. The company, which is expected to report earnings of 19 cents a share, was 3.7% lower.
Oil stocks may grease investor wheels a bit today, however. Crude oil prices rallied 4.6% Friday, the biggest gains in two weeks. And they were rising again this morning, lately trading at $31.08. Several energy companies have reported strong fourth-quarter earnings recently due to the strength of oil prices.
Williams
(WMB)
was the latest of these. The company reported fourth quarter earnings per share of 57 cents this morning, well above the 22-cent estimate of analysts polled by
First Call/ Thomson Financial
. The company expects to meet existing performance expectations for 2001.
But
Phillips Petroleum
(P)
looks like it won't participate in that party. The stock was falling in preopen trading after announcing yesterday that it had agreed to buy
Tosco
undefined
for $7 billion in stock. Tosco was trading 14.4% higher in early action, as is customary for a company that is being bought. It was lately halted. Phillips was off 10.5% in preopen trading but was halted in postbell action.
And the semiconductor industry is still in sorry shape, analysts at
Credit Suisse First Boston
wrote this morning. Citing data from the
Semiconductor Industry Association
, the firm said inventory levels have worsened in recent months (that is, they've grown at a time when demand is shrinking) and could likely take to the end of the second quarter to burn off.
Plus, "normal first quarter seasonal weakness is being aggravated by economic slowdowns in demand; visibility is as impaired as we've seen it since the eighties." They believe valuations are too high and another wave of downward revisions could occur in the next two months.
Semiconductor heavyweight
Intel
(INTC)
was trading 1.6% lower.
Another stock in the spotlight today is business-to-business play
PurchasePro.com
(PPRO)
, after a
Barron's
article this weekend said the company might be overvalued. It was off 14.7%.
Back to top
Bonds/Economy
Treasuries were flat this morning, with the benchmark 10-year
Treasury note up 1/32 to 104 14/32, yielding 5.154%.
Treasury prices ended last week in retreat as traders lowered their expectations of another intermeeting cut in interest rates. The resulting rise in yields was more pronounced among longer-term securities.
The money market had been rallying for three consecutive days as the Federal Reserve announced a half-point lowering in the
fed funds rate on Wednesday.
Back to top
International
European indices were mixed but weak. London stocks were struggling to move ahead as strength in oil shares battled weakness in telcos, and the
FTSE 100
was lately up 7.5 to 6263.9. Paris'
CAC-40
lately dropped 15.11 to 5811.26, and Frankfurt's
Xetra Dax
was off 19.37 to 6618.83.
The greenback was slipping back against the euro again, lately trading at 0.9432 euro.
Asian markets suffered a nasty setback overnight. Tokyo's
Nikkei 225
lost 318.11, or 2.3%, to end at 13,385.52. Hong Kong's
Hang Seng
lost 240.45 to close at 15,830.84, while South Korea's
Seoul Composite
dipped 29.32 to a finish of 579.16.
The dollar was lately trading at 115.27 yen.
For more on world stock markets, check out
TheStreet.com's
global indices information.
Back to top