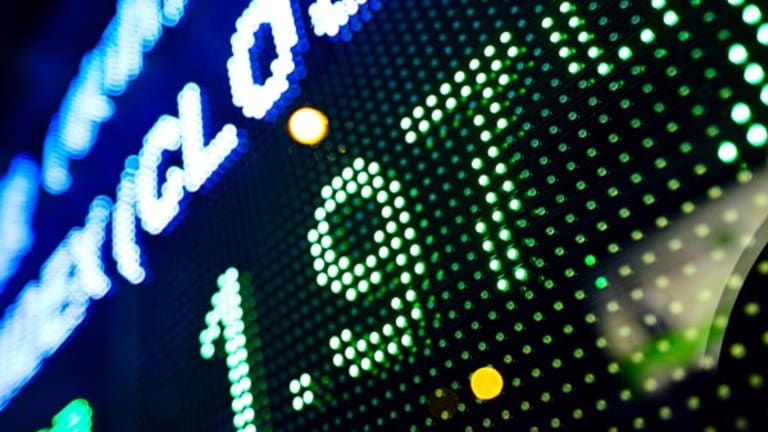 Today's Market: With Election in Doubt, Few Sectors Posting Meaningful Changes
To this point, the market seems to believe that Bush is the winner -- and Bush-friendly sectors are showing it.
Be it the finish line or the bottom-line, it all comes down to Florida.
The Presidential election remains a jump ball, with fewer than 1,800 votes separating George W. Bush and Al Gore in Florida, which, by law, must recount the ballots when the tallies are that close. As a result, no decisive winner will be decided until maybe tomorrow afternoon, when the recount is completed.
Wall Street was handcuffed by uncertainty, but leaned towards sectors that are seen as favorable if Bush wins the election. Volume remained tepid for the second-straight day. Eyes were split between the trading screen and the television screen. Breaking news was scarce.
The
Dow Jones Industrial Average
was last up 22 to 10,975, helped out by advances in healthcare and pharmaceutical companies.
Merck
(MRK) - Get Merck & Company Inc. Report
and
Johnson & Johnson
(JNJ) - Get Johnson & Johnson Report
added a combined 38 to the Dow's plus side. Of course, those gains were offset by big losses in financials
American Express
(AXP) - Get American Express Company Report
,
Citigroup
(C) - Get Citigroup Inc. Report
and
J.P. Morgan
(JPM) - Get JP Morgan Chase & Co. Report
.
"A Bush election would be favorable to business and he has expressed concern over the potential cost of regulating healthcare," said Roberta Goodman, managed care analyst for
Merrill Lynch
. "That would be a positive for healthcare stocks."
As a result of this view -- which tends to be quite prevalent among traders of pharmaceutical and healthcare names -- those stocks were having a good day, as the market reacted to Bush's Floridian edge over Gore. The
S&P Health Care Index
rose 2.7%, while the
American Stock Exchange Pharmaceutical Index
rose 2.9%.
Another reason for the Bush favoritism: "Recounts very rarely end up reversing the initial decision," said Goodman.
The 'Soft Parade
Over on the Nasdaq,
Microsoft's
(MSFT) - Get Microsoft Corporation Report
modest gain and the
Nasdaq Composite Index's
drop of 100 to 3315 were making the most waves.
Early in the morning, Microsoft jumped out of the gate, hitting a session high of $72.38, a gain of $1.88 from where it closed yesterday. A trio of factors helped the stock. One,
Lehman Brothers
upped the company's price target to $115. Two, the market has a prevailing bias that a Bush presidency would be favorable for Microsoft and its antitrust dispute with the government. And last, no matter who gets elected president, the
Justice Department
will likely be overhauled and that could certainly disrupt the proceedings against the company.
As a result, the company flew out of the opening bell, but it seems that a certain amount of reticence has set in as other large-cap techs have pulled their caps down a little lower. Semiconductors, dot-coms and boxmakers were taking big hits. The
Morgan Stanley High-Technology 35 Index
, a collection of some of the biggest technology names and a good bellwether for movement in widely-held stocks, was off 3.3%.
Overall, market volume was moderate to light. On the
New York Stock Exchange
, where winners took a slight edge on losers, volume was 479 million. By midday, 600 million shares have usually traded, since fall and summer were extremely active. On the
Nasdaq Stock Market
, where losers were handily beating winners, 841 million shares traded. Usual midday volume tops 1 billion.
Whoa, Nellie!
With Florida up in the air, analysts have sent out briefings to help people react. Many are advocating that investors take a wait-and-see approach, which makes sense considering how close both the presidential election is and the balance of power in the Senate. The House favors Republicans by a slim margin.
Many major news outlets have announced that the balance of power in the Senate is even, with both parties having 50 Senators. This means that if Bush wins, then Dick Cheney, as Vice President, would cast the deciding vote in the event of a deadlock. But if Gore wins, then Sen. Joseph Lieberman, who won his re-election yesterday, would become Vice President and his seat would be vacated, leaving Gov. John Rowland, the Republican leader of Connecticut to fill his vacant seat with a Republican, thereby tipping the balance 51 to 49 in favor of the Republicans.
"We believe other recounts are likely," wrote Kim Wallace of
Lehman Brothers
. "These procedures will affect the White House and possibly Congress. It could be until later this week before the final results are known. While these are uncertain hours, this type of suspense should not concern markets."
And many of Wallace's peers agree.
"Uncertainty is the message, and we're a little surprised the markets haven't been more concerned," wrote
International Strategy & Investment's
analyst duo, Tom Gallagher and Andy Laperriere. "As investors learn a little more about Electoral College rules, they could get more nervous."
Market Internals
Volume was far thinner than usual, while losers dominated the four-lettered stocks on the 'Daq.
New York Stock Exchange: 1,396 advancers, 1,166 decliners, 462 million shares. 69 new 52-week highs, 19 new lows.
Nasdaq Stock Market: 1,361 advancers, 2,090 decliners, 815 million shares. 41 new highs, 53 new lows.
Back to top
Most Active Stocks
NYSE Most Actives
Nasdaq Most Actives
Back to top
Sector Watch
Drugs, healthcare, chemicals, biotechs -- anything even remotely hospital-related got a boost as industries that a Bush presidency favors did better than their pro-Gore counterparts.
The
S&P Chemical Index
rose 2.3%, while the
American Stock Exchange Pharmaceutical Index
rose 2.9%.
Meanwhile, financials took a hit. The
American Stock Exchange Securities Broker/Dealer Index
fell 3.3%, while the
Philadelphia Stock Exchange/KBW Bank Index
fell 2.2%.
Over in tech, the predominant color was red and a lot of big names got hit hard. The
Morgan Stanley High-Technology 35 Index
, a big indicator of how the large-cap tech issues fare, fell 3.2%. The semiconductors, boxmakers and dot com stocks also fell precipitously. The
Philadelphia Stock Exchange Semiconductor Index
fell 3.8%, while the
Philadelphia Stock Exchange Computer Box Maker Sector
fell 3.5%.
Back to top
Bonds/Economy
The bond market is very much concerned by the Presidential impasse and is moving erratically. Bush is seen as a negative for bonds while a Gore victory would probably have a positive effect. Yesterday the market lost ground ahead of the election and so far it is sliding again.
The benchmark 10-year
Treasury note is at 99, off 4/32, to yield 5.887%.
The 30-year
Treasury bond is unchanged at 104 29/32, yielding 5.897%.
Bond prices have slipped sharply over the past few days, albeit on light volume, and some say they have been attempting to account for a Bush win ahead of time. Bush is seen as negative for bonds, while a Gore victory would probably have a positive effect. Yesterday, the market lost ground ahead of the election, and so far, it is sliding again.
TheStreet.com
recently took a close look at how the bond market should
respond to the election .
A few pieces of economic data came out this morning, including the
Mortgage Applications Survey
and
import price
index.
The Mortgage Applications Survey for the week ended Nov. 3 fell to 651.2 from 654.6 in the previous week. The Purchase Index rose to 310.5 from 304.6. The import price index for October, meanwhile, fell 0.5% after a rise of 1.2% in September. The export price index slipped 0.1% after a rise of 0.5% in the prior month.
Back to top
International
European markets were mixed in late action on uncertainty over the outcome of U.S. presidential elections. Volume, not surprisingly, was thin.
After posting a swift 48-point gain in early trading, the
FTSE 100
ended up just 10.50 at 6477.40. On the Continent, the
CAC-40
in Paris was down 50.04 at 6336.03 and the
Xetra Dax
in Frankfurt was 47.95 lower at 7028.33.
The euro, shrugging off recent efforts by the European Central Bank to support the beleaguered currency, was lately slipping to $0.8517.
Asian
equity markets ended higher Wednesday, as the outcome of U.S. presidential election remained uncertain. While Japan, South Korea and Taiwan all rose, Hong Kong, which closes later, finished lower.
In Tokyo, the
Nikkei 225
closed up 59.3 points, or 0.4%, at 15,399.6. In Tokyo currency trading, the dollar slipped about 0.42 to 107.04 yen. The dollar was lately trading higher at 107.39 yen.
Taiwan's
TWSE
index continued its rally from Monday, surging 190.2, or 3.2%, to 6067.9. Taiwanese stocks jumped after
Morgan Stanley Capital International
increased the country's weighting for the country in its indices. Chipmaker
United Microelectronics
(UMC) - Get United Microelectronics Corporation (NEW) Report
rose 2.3% to TWD$67.00 ($2.08).
Hong Kong's
Hang Seng
index fell 166.7, or 1.1%, to close at 15,654.1
Back to top
Back to top