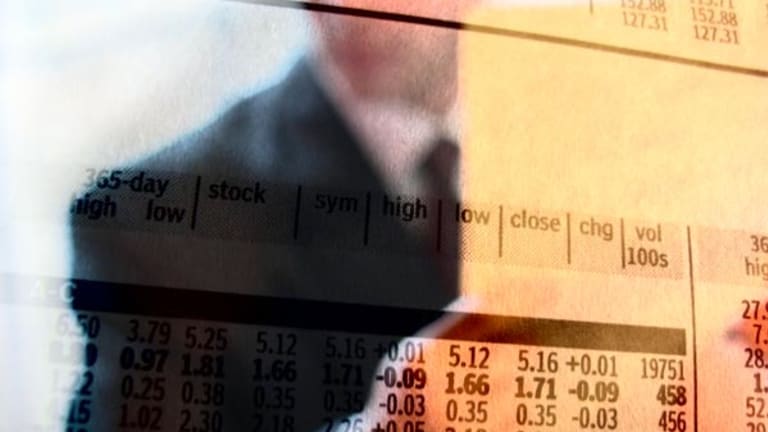 Today's Market: Wintel Still Rocks & Rolls! Microsoft, Intel Top Estimates
<LI>Microsoft beats by 2 cents, Intel by a penny.</LI> <LI>Nasdaq, Dow end trading session lower.</LI><LI>CPI shakes Wall Street.</LI>
(
Updated from 4:08 p.m. EDT
)
After nearly a week of uninterrupted gains in the
Nasdaq Composite Index and a steady advance in the
S&P 500, investors decided they'd had enough -- for one day, anyway. Players took the opportunity to "sell the news," taking some profits both after strong earnings releases and prior to the post-close reports from tech stalwarts
Microsoft
(MSFT) - Get Microsoft Corporation Report
and
Intel
(INTC) - Get Intel Corporation Report
.
Intel finished down 2.3% today, after the stock reached a new high Friday. With the chipmaker's earnings released after the close, the market engaged in a little skimming off the top before the release. Intel reported pre-split earnings of $1 a share, excluding acquisition-related costs, compared with estimates for 98 cents per share.
Microsoft reported earnings of 44 cents a share, besting the estimates for 42 cents a share, after the close. The stock finished the regular session up 5/16 to 78 1/2. Despite a number of prominent earnings warnings in the software sector, Microsoft generally reports solid earnings.
TheStreet.com/NYTimes.com
covered Microsoft's report in an earlier story and discussed why the company's revenue is more important than its profits in
another story.
Microsoft and Intel's conference calls could determine the strength and direction of the market for the coming days. Early headlines reported that Intel was confident about prospects for growth for the second half of the year, but Microsoft officials were more guarded. That's not strange -- Microsoft has a nagging tendency to massage its earnings expectations lower.
"Microsoft always figures out a way to get it done," said Ronny Kraft, CEO of
Merchant Intercapital
. "You can make a good case for Intel
growth, but Microsoft hasn't been able to decouple itself from the greater PC industry, so
coming quarters will be very interesting."
The Comp lost 97.50, or 2.3%, to 4177.17, and
TheStreet.com Internet Sector
index dropped 28.62, or 3.2%, to 867.78. The
Dow Jones Industrial Average meanwhile, fell 64.35, or 0.6%, to 10,739.92; the S&P 500 dropped 16.75, or 1.1%, to 1493.74; and the
Russell 2000 ended 8.9 lower, or 1.6%, to 536.28.
Semiconductors and Internet stocks, which have performed well of late, were subject to the heaviest selling pressure, but because of the recent outperformance in tech, strategists were having a hard time getting worked up about the decline. This morning's
Consumer Price Index
was a negative, but it wasn't the primary reason for selling.
"It's just some investors taking chips off the table," said Ciaran O'Kelly, trader at
Salomon Smith Barney
. "Technology and the semiconductors have had a nice rebound...the feeling is that the group is susceptible to some profit-taking on any negative earnings guidance that comes out tonight."
Several Dow components reported today, including
Merrill Lynch
(MER)
and
General Motors
(GM) - Get General Motors Company Report
, both of which bested the Street's estimates.
TheStreet.com/NYTimes.com
wrote about both
GM and
Merrill earlier today. Dow component
Honeywell
(HON) - Get Honeywell International Inc. Report
also reported in line with expectations. GM finished slightly higher, but the others ended in negative territory, with Merrill losing 2.8%.
The sense among strategists is that the market is overbought. Last week's rally was a collective realization by the market that the indices didn't reflect the strength in earnings and economic fundamentals.
Now, just a week later, people believe the rally has gone too far and was ripe for a bit of a correction. Earnings season is a nice time to do it, especially in the sectors that have led the market, like financials and semiconductors, which have provided strong leadership during the last few weeks.
"In just a very short time, we've gone from the mentality that earnings were going to disappoint, to that earnings are solid, and so they're marking up stocks before they sell 'em," said Tony Dwyer, chief market strategist at
Kirlin Holdings
. "It's a psychological shift."
The shift could be witnessed in the performance of companies that issued strong reports, like
Lattice Semiconductor
(LSCC) - Get Lattice Semiconductor Corporation Report
, losing 4.9%, and
Novellus Systems
(NVLS)
, off 8.6%. The
Philadelphia Stock Exchange Semiconductor Index
dropped 4.6%.
"When it's time to take profits and the market is a little extended, they'll find a reason," said Dwyer.
In recent weeks, the semiconductors came under pressure after a negative report by
Salomon Smith Barney
about the sector, and investors have been generally worried about slowing growth in PC sales for a while.
Report Earnings, and Die!
Copper Mountain
(CMTN)
was one of the Nasdaq's biggest losers today. The stock dropped 23.9% after reporting earnings of 24 cents a share for the second quarter, ahead of the 23-cent
First Call/Thomson Financial
consensus estimate. But, negative analyst comments had the stock slumping.
ISS Group
(ISSX)
, an Internet security company, dropped 17.5% even after earning 9 cents a share, compared with estimates of 8 cents. An analyst told
Reuters
the stock was declining in part on concerns that it wouldn't see significant income immediately from certain new products.
Unisys
(UIS) - Get Unisys Corporation Report
was the
New York Stock Exchange's most active after reporting earnings of 18 cents a share, falling short of the 19-cent estimate. The company's expectations had been previously lowered when it issued a profit warning last month. The stock tanked today, dropping 19.5% on 24 million shares.
This morning's CPI release was viewed as mildly negative. The overall CPI rose 0.6% in June, while the core, which excludes food and energy prices, gained 0.2%. That increase was in line with the average forecast, and the annual core CPI rate held steady at 2.4%, not far off its cycle low of 1.9%. The annual rate spiked to 3.7%, matching its March pace, which was the fastest since August 1991, but energy prices were largely to blame.
TheStreet.com/NYTimes.com
joint newsroom took a closer look at the data in an earlier
story.
The report doesn't really modify the market's outlook regarding the
Federal Reserve's Aug. 22 meeting. Traders of
fed funds futures contracts on the
Chicago Board of Trade
still view the chances of an August hike at nearly 50%. Recent employment data shows a mild loosening of the labor markets. The inflation data also hasn't spun out of control yet, although it's a little more nebulous.
Market Internals
Breadth was negative on active volume.
New York Stock Exchange: 1,164 advancers, 1,679 decliners, 910 million shares. 43 new 52-week highs, 35 new lows.
Nasdaq Stock Market: 1,550 advancers, 2,481 decliners, 1.46 billion shares. 61 new highs, 54 new lows.
Back to top
Most Active Stocks
NYSE Most Actives
Nasdaq Most Actives
Back to top
Sector Watch
Drugs ended lower today, with the
American Stock Exchange Pharmaceutical Index
stumbling 1.1%.
Guidant
(GDT)
, which is not a component of the index, fell earlier but ended up 0.8%. Guidant's 40-cent second-quarter profit was in line with the 29-analyst estimate.
Aetna
(AET)
ended down 10.4% today, after warning that it would miss second-quarter earnings big time. The insurer was faced with downgrades from several brokerages, including
Salomon Smith Barney
, which defended other names in the group. But despite Solly's efforts, HMOs were hurt.
Cigna
(CI) - Get Cigna Corporation Report
dropped 3.4%, while
UnitedHealth
(UNH) - Get UnitedHealth Group Incorporated Report
fell 4.2%.
The
S&P 500 Insurance Index
skidded 0.7%.
OPEC's
president told members of the group of oil exporters to expect to raise crude-oil output later this month, an endorsement of Saudi Arabia's decision to supply an extra 500,000 barrels a day. Recent promises from Saudi Arabia regarding output increases haven't managed to reduce oil prices at the pump below $30 a barrel -- oil was lately trading at $31.80.
Oil service provider
Schlumberger
(SLB) - Get Schlumberger NV Report
bounced 4.6% on better-than-expected second quarter earnings and its announcement that it increased spending on exploration and production. The
Philadelphia Stock Exchange Oil Service Index
was lifting 4.3%. The
American Stock Exchange Oil & Gas Index
slipped a bit, off 0.2%.
Back to top
Bonds/Economy
Treasuries were little changed following the release of the June CPI, which does little to alter expectations about the outcome of the next Fed meeting on interest rates. Market participants are divided on that score: about half expect the
Federal Open Market Committee to leave the
fed funds rate unchanged on Aug. 22, and about half expect a hike in the rate to 6.75% from 6.5%.
That may shift Thursday, when Fed Chairman
Alan Greenspan gives his semiannual
testimony on the economy and monetary policy to Congress.
The benchmark 10-year Treasury note lately was up 1/32 at 102 17/32, yielding 6.146%.
Back to top
International
The large European bourses closed lower following today's U.S. selloff.
London's
FTSE
dropped 75, or 1.1%, to 6450.50. Across the channel, the Paris
CAC
had dropped 104.71, or 1.5%, to 6514.54, while Frankfurt's
Xetra Dax
was almost even, down 3.70, or 0.05%, to 7427.00.
The euro was trading down at $0.9257.
Asian markets slipped lower overnight ahead of the release of key U.S. inflation data this morning.
Despite the
Bank of Japan's
decision not to raise interest rates Monday after the market close, stocks were weaker overnight on fears of further corporate bankruptcies and some profit-taking in large-cap technology stocks. Bankruptcy fears were reignited because the BOJ stated it decided not raise interest rates partly due to concerns over the failure of department store operator
Sogo
. The
Nikkei 225
index closed down 341.76, or 2.0%, to 16,945.07.
The greenback fell slightly against the yen in Tokyo trading to 107.83 yen, but has recovered to 108.23.
Hong Kong
Hang Seng
index fell 393.95, or 2.2%, to 17,440.83, dragged down by a slump in Tokyo and local telecom shares.