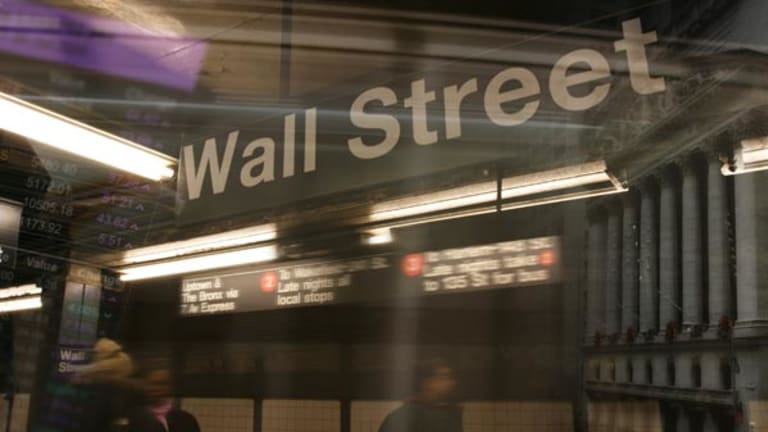 Today's Market: Wild Week Ends on Up Note; Honeywell, United Technologies in the Fore
Are they merging or aren't they? By the end of the day it seemed like the answer was no.
Volatility was the word of the week for the stock market, with its 400-point dips and its 200-point gains.
So, it should have come as no surprise that the just-announced merger talks between
United Technologies
(UTX)
and
Honeywell
(HON)
, which everyone was so juiced about, apparently ended before they really got good.
United Technologies said in a statement on its Web site that it ended the talks after Honeywell told the company it was considering an alternative merger proposal received this morning. News reports say possible suitors could be
General Electric
(GE)
,
Siemens AG
undefined
and
Tyco
(TYC)
.
United Technologies was to have offered $40 billion, or a 40% premium over Honeywell's closing price yesterday. Shares of United Technologies were down 10.3% before trading was halted in that stock and Honeywell around 2:40 p.m. EDT. Honeywell was up 14.6% when it was halted. When it was resumed at 3:44 p.m. EDT, United was at 4.4%. Honeywell jumped 28.2%, after it was resumed at 4:07 p.m. EDT.
TheStreet.com
wrote about the discussions in a
story last night.
This morning, investors' reaction to the news was to take down United Technologies, which in turn tanked the
Dow Jones Industrial Average. It also had some help from
Coca-Cola
(KO)
, which
narrowly beat earnings forecasts and said a weak euro could put pressure on future earnings. The soft-drink giant took away 14 points from the index.
Around midsession, though, other blue-chips, including Honeywell, were able to strong-arm the index into positive territory.
Earnings have been the cause of all pain and joy this week on the Street. David Bailey, equity research analyst at
Gerard Klauer Mattison
, said the week started out with people fearing the great unknown, which this week was earnings. Investors were concerned with PC demand and economic slowdown.
"When
IBM
(IBM)
reported earnings earlier in the week, it kind of fueled those concerns. However, when
Sun Microsystems
(SUNW)
,
EMC
(EMC)
and
Microsoft
(MSFT)
reported very strong results, it allayed some of those concerns," Bailey said. "People's perceptions had gotten so negative, and this restored some of the confidence back in the market."
Positive earnings news pushed
Merck
(MRK)
up 5.6%. It added almost 26 points to the Dow.
Dow-component Microsoft, still benefiting from its shining post-close earnings report Wednesday, contributed about 20 points to the Dow's upside today.
That also helped buoy the
Nasdaq Composite Index.
And one of Microsoft's partners,
Commerce One
undefined
was also basking in the warm glow of investor optimism and was 9.6% higher. After Thursday's close, Commerce One posted a loss that was
less-than-expected.
The Nasdaq's most-active stock today was mobile-phone giant
Ericsson
undefined
, down 16.5% after it cut its
sales and profitability forecasts, citing mobile-phone losses. The stock was downgraded by
Lehman Brothers
this morning.
Ericsson's announcement put a damper on telecoms, but
Nokia
(NOK)
and
Broadcom
undefined
were able to sustain the rally they got rolling after each reported better-than-expected earnings earlier this week.
TheStreet.com
earlier wrote separate stories on both
Broadcom and
Nokia.
Also,
SDL
undefined
which announced last night it handily
beat estimates, was 17.3% higher. The news sent
JDS Uniphase
(JDSU)
, which is planning to buy SDL, up 13.8%.
Internet stocks got a boost on the heels of blowout earnings from
eBay
(EBAY)
last night.
Goldman Sachs
raised its EPS estimates for this year and the next on eBay, and
ABN Amro
raised its EPS estimates for this year and next on SDL.
TheStreet.com
wrote a separate story on
eBay's earnings.
TheStreet.com Internet Sector
index shot up 5.9%.
Market Internals
Breadth was positive on active volume.
New York Stock Exchange: 1,590 advancers, 1,226 decliners, 1.178 billion shares. 39 new 52-week highs, 74 new lows.
Nasdaq Stock Market: 2,347 advancers, 1,597 decliners, 2.131 billion shares. 65 new highs, 101 new lows.
Back to top
Most Active Stocks
NYSE Most Actives
Circuit City (CC) : 31 million shares. Honeywell: 27.4 million shares. AT&T (T) : 25.4 million shares.
Nasdaq Most Actives
Ericsson: 86.2 million shares. Microsoft: 79.4 million shares. Intel (INTC) : 58.4 million shares.
Back to top
Sector Watch
The
S&P Retail Index
was down 2.2%, after component
Circuit City
(CC)
warned is third-quarter earnings would be below expectations. The stock was hammered, 35.6% lower. The news also brought down
Best Buy
(BBY)
, which ended the day off 17.4%.
The
American Stock Exchange Broker/Dealer Index
rose 4.1%.
Bear Stearns
(BSC)
was up 10.4% on takeover rumors, while
Morgan Stanley Dean Witter
undefined
benefited from an upgrade and was up 5.7%.
Oil sectors were back in the game after November crude oil futures increased to $33.20 from $32.91last night, with the
American Stock Exchange Natural Gas Index
up 2%, and the
Philadelphia Stock Exchange Oil Service Index
up 3.3%.
Back to top
Bonds/Economy
The bond market was little changed today. With no economic releases today, there's little new to cause any change in the market's view.
The benchmark 10-year
Treasury note was lately at 100 27/32, up 3/32 to 5.636%, and it's traded in a tight range today.
The 30-year
Treasury bondis at 107 14/32, 3/32 higher, to yield 5.726%.
Back to top
International
European markets were mixed at the close, as telecoms and media stocks lost steam on Ericsson's poor earnings report.
London's
FTSE 100
was up 57.40 to 6276.30.
The
CAC 40
in Paris was up 82.96 to 6149.94, while the
Xetra Dax
in Frankfurt was 10.42 lower to 6609.01.
The beleaguered euro continued to rise after the
European Central Bank
decided to leave interest rates unchanged yesterday. The euro was lately trading at 0.8416.
The major
Asian equity markets closed out the week Friday on a positive note, surging as technology shares were buoyed by a rallying Nasdaq and healthy third-quarter earnings from Finnish telecom equipment maker Nokia.
Tokyo booked the region's smallest gains as the country's 11th-largest insurer
Kyoei Life Insurance
filed for bankruptcy. But the
Nikkei 225
still finished up 387.7, or 2.6%, at 15,198.7.
In Tokyo trading, the dollar rose 0.3 to 108.20 yen. The greenback was lately trading higher to 108.84.
Elsewhere, resurgent tech shares ruled the day, as Hong Kong's
Hang Seng
index rose 622.0, or 4.3%, to 15,044.5, South Korea's
Kospi
index jumped 30.9 higher, or 6%, to 545.9 and Taiwan's
TAIEX
index surged 323.5, or 6.4%, to 5404.8.
Back to top