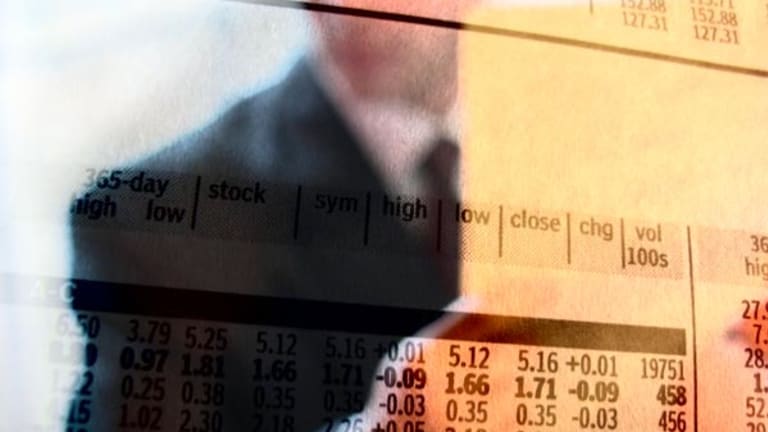 Today's Market: What Doom and Gloom? Dow's Big Day Ends on a Strong Note
<LI>Cisco beats the Street.</LI><LI>Productivity higher-than-expected, labor costs lower.</LI><LI>Verizon, Dial disappoint.</LI>
(
Updated from 4:22 p.m. EDT
)
Only one week removed from gloom and doom, the market is a rosier-looking place after today's session. This morning's
productivity numbers figures virtually slammed the door on a Fed rate hike at its upcoming Aug. 22 meeting, and the
Dow Jones Industrial Average broke out of its recent trading range and is grasping at the 11,000 mark. Investors will anxiously wait to see if
Cisco's
(CSCO) - Get Free Report
post-close earnings report can propel tech stocks to a similar rally tomorrow, as the company beat estimates by a penny, reporting 16 cents a share for the fiscal fourth quarter.
Traders and strategists, noting today's surge in cyclicals, retailers and bank stocks, sounded particularly optimistic after today's session. Today's move wasn't founded on pipe dreams or endless hyperbole, investors hoping against all odds that the market might regain its glory in January.
No, today's move seemed much more sober and rational. The 30-stock Dow gained 109.88, or 1%, to 10,976.89, supported by old-timers like
Alcoa
(AA) - Get Free Report
and newcomers like
Microsoft
(MSFT) - Get Free Report
.
The
Nasdaq Composite Index ended down, losing 14.43, or 0.4%, to 3848.56. The
S&P 500 was slightly positive, gaining 3.48, or 0.24%, to 1482.8. The
Russell 2000 fell 1.14 to 508.73.
TheStreet.com Internet Sector
index, the
DOT, which was climbing earlier in the day, ended down 2.89 to 760.85.
"The market looks very much as if its coming out of a recession," said Scott Bleier, chief investment strategist at
Prime Charter
. "What has happened over the last two months is that we've had a managing lower of expectations, i.e., the market was in a funk. What the market is now discounting six to nine months out is us coming out of a slowdown after the election, and that's why these stocks are going up."
It put a little life into some of the beaten-down retailers, such as
Sears
(S) - Get Free Report
and Dow component
Home Depot
(HD) - Get Free Report
, which helped the
S&P Retail Index
to a 3.8% gain.
The
Morgan Stanley Cyclical Index
rose 1.9% today. Although the financial indices dropped today, they've exhibited incredible strength, and some bellwethers still reached new 52-week highs, including
Merrill Lynch
(MER)
, a stock that's lately been without peer. The stock gained 1 11/16 to 138 27/32.
Another strong sector was the homebuilders, which have performed well despite declining new homes sales.
Toll Brothers
(TOL) - Get Free Report
rose 9.2%, after hitting a new high, while
Kaufman & Broad
(KBH) - Get Free Report
ended 7.1% higher.
"A lot of homebuilders are doing well, and the economy is settling," said Sam Ginzburg, senior managing director of equity trading at
Gruntal
. "The market's telling you something -- that they're not going to raise rates, and that things are calming down a bit."
But this market's had a tendency to go wobbly in from one day to the next.
"Are cyclical stocks going to lead and expand their multiple?" Bleier wondered. "I don't know if they're ready to do that."
Work Smarter, Not Harder
The productivity figures were the early catalyst today.
Productivity grew at a 5.3% rate during the second quarter, fastest since last year's fourth quarter, and far outpacing the 4.3% rate estimated by economists polled by
Reuters
. The release further closes the door on a possible
Fed rate hike Aug. 22, which most participants already viewed as remote.
Increased productivity has been central to the economic boom, as companies have offset incredible demand through greater efficiencies, whereas in the past they would have had to raise prices, leading to inflation. Meanwhile, unit labor costs actually fell at a 0.1% rate in the second quarter, compared to the average forecast for a 0.6% rate of increase.
Indeed, the year-on-year growth rate of productivity during the second quarter is 5.1%, fastest since the third quarter of 1983. (Yes, 1983 -- when
Return of the Jedi
was released.) Meanwhile, unit labor costs fell 0.4% year-on-year, the lowest reading since the fourth quarter of 1983.
Tech Stocks Still Suffer
The managing down of expectations still afflicts the technology stocks, however. While the Dow stocks, for a time, have been adjusting expectations for a slowing in economic growth, technology stocks responded much later to that, and only after a huge run that saw the Comp close at 5048.62 in early March, its highest level ever. It hasn't come close to that since.
Cisco was responsible for some of today's hesitancy, as the market was facing the company's earnings report. The stock, along with other big-cap stocks such as
Sun Microsystems
(SUNW) - Get Free Report
and
Dell
(DELL) - Get Free Report
, finished down today.
After the close, Cisco topped the Street by a penny, reporting earnings of 16 cents for its fiscal fourth quarter.
"The Comp was not getting through resistance, which is around 3875, and we were watching it to see if it could go through," said Ginzburg. "It's all based on the
Cisco numbers, and hopefully
tomorrow we'll get a good tone and a kick-start."
Earnings reports in the third and fourth quarter will be matched with last year's figures, producing some tough comparisons for those stocks. While the Dow managed to break out of a trading range today, the Nasdaq wasn't able to push through what traders identified as a support level around 3875.
Semiconductors, which provided singular leadership to the Nasdaq during its winter rally, have stalled lately, and haven't been much of a catalyst. The
Philadelphia Stock Exchange Semiconductor Index
was down 0.4% today.
"Technology stocks, for the most part, are in their own volatile world," Bleier said. "They continue to pay for all of the frivolity of the first quarter, and lots of stocks basically disappeared."
That doesn't include
Microsoft
(MSFT) - Get Free Report
, which rose sharply today, after
The Wall Street Journal
reported the company would resume stock buybacks to prevent dilution stemming from the exercise of stock options by employees. Microsoft rose 5.9% on 69 million shares.
The Following Stocks Stunk Today
Lernout & Hauspie
undefined
, a maker of voice-recognition software, fumbled substantially after questions were raised in a story in
The Wall Street Journal
about whether some of the company's Korean customers actually exist. The shares ended down 19.4%.
TheStreet.com's
Herb Greenberg recently took a look at
Lernout's financials.
Then there's
Verizon
(VZ) - Get Free Report
, formed recently by the merger of GTE and Bell Atlantic, which reported earnings well below estimates this morning and warned that it would miss its 2000 and 2001 earnings-per-share estimates. Earnings hit 72 cents per share vs. the estimate of 83 cents. Verizon dropped 12.1%.
TheStreet.com/NYTimes.com's
joint newsroom wrote about
Verizon in a separate story. Company management continues to negotiate with striking workers, another issue for the company.
It doesn't matter what kind of service
AT&T
(T) - Get Free Report
offers, the stock got its long-distance butt kicked today. The stock ended down 2.5% to 29 3/4, and hit a 52-week low today. Also hitting a 52-week low was AT&T spinoff
Lucent
, down 4% to 40 3/8. Another spinoff, former
Hewlett-Packard
undefined
division
Agilent
(A) - Get Free Report
, also nailed a 52-week low.
Other major technology indices were lousy today, including the
Nasdaq Telecommunications Index
, which lost 2.7%.
On the IPO front,
America Online Latin America
undefined
, a joint venture between
America Online
(AOL)
and Venezuela-based media firm
Cisneros Group
, bounced 5.5% to 8 7/16 in its trading debut.
TheStreet.com/NYTimes.com
joint newsroom wrote about this
story earlier.
Back to top
Market Internals
Breadth was mixed on moderate summer volume.
New York Stock Exchange: 1,587 advancers, 1,256 decliners, 992 million shares. 109 new 52-week highs, 30 new lows.
Nasdaq Stock Market: 1,842 advancers, 2,224 decliners, 1.43 billion shares. 63 new highs, 102 new lows.
Back to top
Most Active Stocks
NYSE Most Actives
Compaq

undefined

: 39.2 million shares. Verizon: 33.6 million shares. AT&T: 23.2 million shares.
Nasdaq Most Actives
Microsoft: 68.4 million shares. Cisco: 42.8 million shares. Worldcom

undefined

: 25 million shares.
Back to top
Sector Watch
After hitting a new intraday trading high and then falling back on some profit-taking in
Duke Energy
(DUK) - Get Free Report
and
Peco
(PE) - Get Free Report
, the
Dow Jones Utility Average
ended up 0.9%.
A number of commodity-related indices rose today. Oil service stocks represented in the
Philadelphia Stock Exchange Oil Service Index
gained 2%. The
Philadelphia Stock Exchange Forest & Paper Products Index
rose 3%. The
S&P Chemical Index
gained 1.7%.
Back to top
Bonds/Economy
Treasuries rallied on the better-than-expected
productivity and unit labor costs
data -- which are anti-inflationary -- and are gaining anew in the wake this afternoon's auction of new five-year notes.
The benchmark 10-year note was recently up 9/32 to 104 5/32, yielding 5.922%.
Nonfarm business productivity grew at a 5.3% rate during the second quarter, according to the government's preliminary estimate. Economists polled by
Reuters
were looking for a 4.3% rate, on average. It was the fastest pace since last year's fourth quarter, when productivity grew at an 8% rate. The high rate of productivity growth kept a lid on unit labor costs. Unit labor costs fell at a 0.1% rate, compared to an average forecast that they would rise at a 0.6% rate. In last year's fourth quarter, unit labor costs fell at a 3.5% rate.
Treasuries surrendered the gains they made on the productivity numbers ahead of the five-year note auction, the first leg of the so-called quarterly refunding. But after the auction they rallied anew. Dealers bought the Treasury's $10 billion of five-year notes at a yield of 6.06%, slightly lower than where five-year notes were trading at the 1 p.m. bidding deadline. Continuing the refunding, the Treasury will sell $10 billion of 10-year notes on Wednesday and $5 billion of 30-year bonds on Thursday.
Elsewhere in bondland, Bill Gross, manager of the world's largest bond mutual fund,
(PTTRX) - Get Free Report
Pimco Total Return, weighed in with his latest monthly commentary on the economy and interest rates, on Pimco's
Web site. The fund has one of the best long-term performance records among bond funds.
Expanding on a point he has been making all year, Gross explained why he believes this technology-driven economic boom will bankrupt the holders of all but the highest-quality bonds (that's Treasuries and federally guaranteed mortgage-backed securities), even as it enriches stock investors.
"Destruction," Gross writes -- as in creative destruction, the process by which an economy reinvents itself in order to cope with innovations such as the Internet -- "is no big deal for stock managers if there are a few Ciscos at 2000% appreciation to balance out the forgotten 'no names' which returned them nothing.
"But in the bond market there are no Ciscos, no Microsofts and no future standouts that will ever pay them more than par at maturity," Gross continues. "Because of this mathematical limitation and the certainty of 10 to 20 cents on the dollar at best for the losers, corporate bond investing in a New Age Economy is a dangerous proposition."
His words, and the words of others, are grave. A mid-July report by
Merrill Lynch's
chief high yield strategist Martin Fridson noted that 19.5% of the high yield bonds in Merrill's index are yielding 1,000 basis points more than Treasuries. That's 10 percentage points -- or about 16% or so, depending on what maturity they're being compared with.
That's an increase from the 11.2% of bonds yielding 1000 basis points more than Treasuries in February. That's a huge increase -- and augers that high yield defaults are likely to continue rising, Fridson wrote, and that more issuers won't be able to meet their interest payments on time.
Back to top
International
European markets had a mixed close this afternoon.
After spending most of the morning in the red, London's
FTSE
ended 29.70 lower, or 0.4%, to 6358.10.
Frankfurt's
Xetra Dax
finished up 41.20, or 0.5%, to 7154.42, and the Paris
CAC
was 13.40 higher, or 0.2%, to 6532.44.
The euro was lately trading higher at $0.9206.
Asian markets were hit with some profit-taking overnight.
After a public battle between the central bank and the government over the future course of interest rates, most Tokyo stocks closed lower as political unease kept investors on the sidelines. In addition, the unloading of cross shareholdings by local banks hurt index heavyweights today, traders added. The
Nikkei 225
index shed 182.60, or 1.1%, to 15,820.11.
In lethargic, pre-holiday Tokyo currency trading, the greenback edged slightly lower against the yen to 108.49. The dollar was recently trading at 108.60.
Hong Kong's
Hang Seng
index was hit with profit-taking, closing down 515.41, or 2.9%, at 17,211.84 following moves in local mobile phone operators.
Back to top