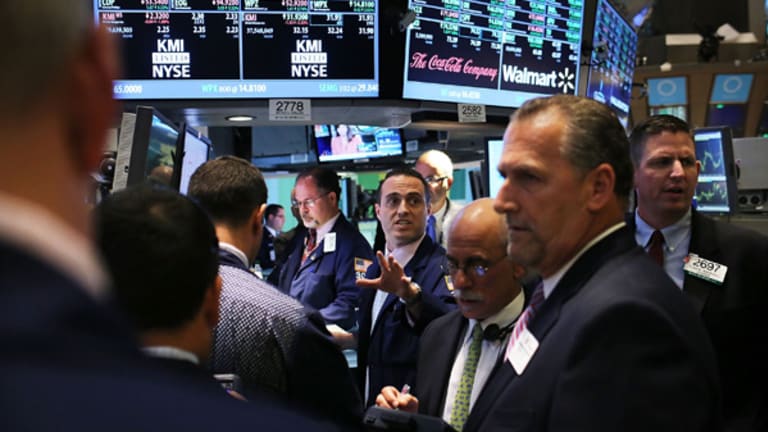 Publish date:
Today's Market: What Comes Around Goes Around -- Stocks Bouncing Back After Yesterday's Beating
The Dow was near its high for the day and even yesterday's nemesis, priceline.com, was posting a solid gain.
The Dow was near its high for the day and even yesterday's nemesis, priceline.com, was posting a solid gain.
The major indices were wearing green today
The
Dow Jones Industrial Average and the
Nasdaq Composite Index were getting back some of what they've lost in the past couple days.
This week, the indices have been hit by earnings warnings and other bad news. But, for today, investors seemed to shed doubts and were in the mood to buy.
Ken Sheinberg, head of listed trading at
SG Cowen
, said the market's testing some lows when
Intel
(INTC) - Get Report
preannounced last week, coupled with the selling off that earlier this week has gotten investors back into the market.
He said as long as there is no more negative news this week, we're going to see some more buying. Sheinberg said investors are thinking that it's perfectly acceptable to buy on the dips. Today, that buying has been fairly indiscriminate, hitting financials, drugs, techs and utilities.
The Nasdaq was up at midday despite a negative note this morning from
Sanford Bernstein
on
Cisco
(CSCO) - Get Report
and
Nortel
(NT)
. The firm cut both stocks to market perform from outperform.
Merrill Lynch
countered the note by reiterating its buy ratings on both stocks. For the
blow-by-blow of the different firms' impressions about the stocks, take a look at our earlier story.
Larry Rice, chief investment strategist at
Josephthal
, said the reason for the ballyhoo over the stock is because analysts are uncertain. "They've been stung on a lot of high-tech stocks lately." He said analysts are facing more pressure to know what's going on and an upcoming change in disclosure rules will only exacerbate that pressure.
Rice switched gears, though, to talk about the markets actions this week. He said the market oversold earlier this week largely because of
Eastman Kodak
(EK)
. However, he also said that September is historically a bad month and was acting in a manner typical for the end of the quarter.
Still, Cisco was feeling some squeeze today, down about 0.9%. Its pain was spreading to other fiber-optic names such as
Corning
(GLW) - Get Report
. Corning was lately off 0.2% to $309.44. Nortel though was feeling no pain and was actually jumping 4.8% to $62.44.
Telecom-equipment maker
Lucent
(LU)
was also rising. Lucent was 9.3% higher to $31.56, with traders suggesting that it put in a bottom yesterday.
The Internet sector was also making a comeback today after
J.P. Morgan
made positive comments on it. The firm said yesterday's selloff was unwarranted. Internet stocks had a lousy session yesterday after
priceline.com
(PCLN)
warned of an earnings miss. Priceline shares were bouncing back today, recently up 9.3% to $11.75.
Morgan was bullish on
America Online
(AOL)
, up 1.4% to $54.25;
eBay
(EBAY) - Get Report
, up 8.5% to $68.88; and
Yahoo!
(YHOO)
, up 5.3% to $95.19.
Meanwhile,
Hewlett-Packard
(HWP)
and
Procter & Gamble
(PG) - Get Report
were the Dow's rising stars. H-P was adding some 15 points of upside to the blue-chip benchmark, with P&G adding 24. Procter was getting a lift after it said this morning that it thinks double-digit EPS growth on the year is achievable.
Market Internals
Breadth was positive on the Big Board and the Comp.
New York Stock Exchange: 1,708 advancers, 985 decliners, 658 million shares. 116 new 52-week highs, 54 new lows.
Nasdaq Stock Market: 2,103 advancers, 1,600 decliners, 1.107 billion shares. 85 new highs, 193 new lows.
Back to top
Most Active Stocks
NYSE Most Actives
Lucent: 23.3 million shares. Nortel: 22.4 million shares. Motorola (MOT) : 11.9 million shares.
Nasdaq Most Actives
Cisco: 55.1 million shares. Intel: 38.4 million shares. WorldCom (WCOM) : 16.9 million shares.
Sector Watch
Green was all over the screen today. Financials, tobacco, biotech and boxmakers were all bouncing.
Financial were showing strength, with the
American Stock Exchange Broker/Dealer Index
up 2.5% and the
Philadelphia Stock Exchange/KBW Bank Index
2.2% higher.
Goldman Sachs
(GS) - Get Report
and
Morgan Stanley Dean Witter
(MWD)
were two of the biggest boosters in the broker sector, while
Bank of New York
(BK) - Get Report
and
State Street Bank
(STT) - Get Report
buoying banks.
A mixed bag of winners, with the
American Stock Exchange Tobacco Index
lifted 3.3%. The
Nasdaq Biotechnology Index
was up 2.4% and the
Philadelphia Stock Exchange Computer Box Maker Index
rose 2.7%.
The energy stocks were giving up some gains. The
American Stock Exchange Oil & Gas Index
was off 1.4% and the
Chicago Board Options Exchange Oil Index
1.6% lower.
Back to top
Bonds/Economy
Treasuries are narrowly mixed despite upward revisions to the
Consumer Price Index
(
definition |
chart |
), which were forecast
yesterday.
The
Bureau of Labor Statistics
this morning announced that in each month from January to August, the CPI was 0.1 higher than originally reported, except in May and July, when it was higher by 0.2. From January to August, prices rose 3.5%, revised from 3.4%, and the core prices, which exclude food and energy prices, rose 2.7%, revised from 2.6%, the BLS said.
The BLS revised the CPI after discovering that a software error had resulted in miscalculations.
The benchmark 10-year Treasury note lately was unchanged at 99 14/32, yielding 5.825%.
Back to top
International
Most major European markets sunk at the end of the day, slipping under the weight of weakness in tech and telecom. Defensives and financials were getting some play, however, as investors looked for a refuge for their cash.
In London, the
FTSE 100
ended the day off its lows, but still on the downside. It was off 5.20 to 6264.10.
Across the channel, the
CAC 40
in Paris was off 8.76 to 6311.03, and the
Xetra Dax
in Frankfurt lost 5.42 to 6808.64.
The euro was lately trading at 0.8833.
Asian markets finished modestly lower overnight.
Local fund managers scooped up selected technology shares early in the day, but the market slumped anyway.
The
Nikkei 225
index shed 12.99, to 15,626.96, marking a fresh 18-month low.
With every currency dealer waiting to see if Denmark accepts the euro or not, not much happened in the foreign exchange market. The dollar edged slightly lower against the yen to fetch 107.51 in Tokyo trading. The greenback was lately trading at 107.46 yen.
Hong Kong's
Hang Seng
index nudged 28.38 lower to 15,415.75, as traders seemed reluctant to make large trades before several large property and telecom firms announced their fiscal first-half results, which was due after the market closed.
Back to top