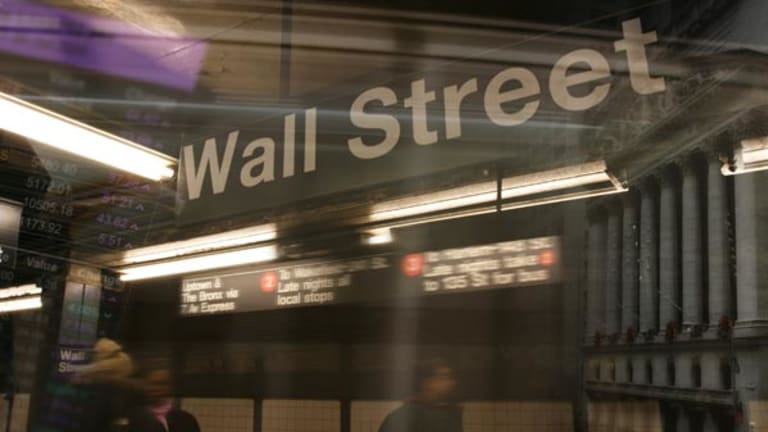 Today's Market: Ugly Day on Wall Street; Nasdaq Gets Beaten After Nortel Warning
To make matters worse, the WWF was on the Street and they didn't bring Haystacks Calhoun or Chief Jay Strongbow.
Remember glam band
Winger? Hopefully, today will be as forgettable as it was.
Today was miserable in the markets as
Nortel Networks
(NT)
and its cohorts kept the
Nasdaq Composite Index in the red all day. And the
Dow Jones Industrial Average struggled, but didn't have enough supporters to stay above the fray.
As you've probably already heard, Nortel, the optical giant that, warned yesterday of slowing sales for the year. It ended the day down 28.9% and was the most actively traded stock on the
New York Stock Exchange. Institutional investors like mutual fund managers and hedge funds bailed on it -- 80% of Nortel trades today were block trades, meaning those trades that move in lots of 10,000 or more shares. That's much higher than the norm -- 53% of trades on the NYSE in September were block trades.
Nortel revised its outlook for optical equipment sales for the year to $10 billion from a previous $12 billion.
TheStreet.com
took a closer look at the company's news in a
separate story.
Analysts
jumped off the stock and anything related, including fellow optical-networking leader
JDS Uniphase
(JDSU)
, which
reports earnings tomorrow, as well as
Micron
(MU)
, down 9.9%,
Applied Micro Circuits
(AMCC)
, down about 25.4%, and
Semtech
(SMTC)
, 15% lower. JDS Uniphase, the most actively traded stock on the Nasdaq exchange this afternoon, sunk 25.3%, or $24.06, to $71.
SDL
undefined
, which is being acquired by JDS Uniphase, fell 25.9%, or $81.81, to $234.19.
Dan Ament, associate vice president and investment executive at
Dain Rauscher
, said the issue isn't whether companies meet earnings expectations, because if you look closely most have met or exceeded estimates. However, there have just been some notable ones that haven't hit their numbers and have stolen the attention.
Ament said there are some nicely priced stocks out there, but finding them is like walking through a minefield.
But it wasn't just earnings killing the market today. He said strategists were expecting to come back and test lows. Ament also said that since it's almost the end of October, mutual funds are approaching the end of their fiscal year and dumping their losers, which is helping to increase volatility in the market.
"Seasonally, it's a very tough time of the year. Conversely, November through April is a great time in market," he said because investors are looking at the new year's fiscal outlook and not just the first quarter's outlook.
Still, he said, "for the year-end, one has to expect volatility, but for long-term investors, there are some great opportunities to be had as well. Just bring your Zantac."
He said investors also need to learn to cope in a lower growth environment.
Roses in the Thorns
Amidst all of this red, there was still some good news out there.
Amazon.com
(AMZN)
jumped 7.8%, or $2.31, to $31.88, after the online retailer reported a narrower-than-expected loss. The company expressed optimism about the crucial fourth quarter (you don't need your Palm Pilot to figure out that the current quarter overlaps with the holiday season). In a separate story,
TheStreet.com
took a close look at what its
earnings mean for Amazon.com.
Amazon's positive vibes had helped lift
TheStreet.com Internet Sector
index, but the gang of dot-coms became a victim of peer pressure from some of its other components, including
Yahoo!
(YHOO)
and
Lycos
undefined
and ended the day down 2.6%.
CNet Networks
(CNET)
, which was recently added to the index,
beat estimates and did its best to bring up the sector with Amazon. It rose 11.7%, or $3, to $28.69.
For investors in this volatile market, Ament recommended, "diversify, first of all, and not only by companies, but by economic sectors." He cited today's winners, which included consumer and healthcare stocks.
Ament said when tech is bad there is a "flight to quality" as was evident today in the Dow.
Strength in good old defensive stocks tried to counter weakness in techs and telecoms. Aircraft giant
Boeing
(BA)
-- up 2.6% -- and financial company
J.P. Morgan
(JPM)
-- up 1% -- were added to the Dow. Consumer companies
Johnson & Johnson
(JNJ)
and
Procter & Gamble
(PG)
were also strong.
Where was Bruno Sammartino?
Weird, wacky Wall Street event of the day:
World Wrestling Federation Entertainment
undefined
switched to the NYSE, taking the ticker "WWF," from the Nasdaq under the ticker "WWFE". To celebrate its move, the company brought some of its stars down for some "wrestling" to get the staid suits on the Street riled.
It even had some booming pyrotechnics to shake the canyons of lower Manhattan. Did the melee work? Well, the stock was up 2.1% at the end of the day, which is more than you can say for most stocks.
Back to top
Market Internals
Breadth was rotten on heavy volume.
New York Stock Exchange: 971 advancers, 1,892 decliners, 1.3 billion shares. 46 new 52-week highs, 94 new lows.
Nasdaq Stock Market: 1,258 advancers, 2,727 decliners, 2.128 billion shares. 44 new highs, 172 new lows.
Back to top
Most Active Stocks
NYSE Most Actives
Nortel: 123.7 million shares. AT&T: 42.1 million shares. Corning (GLW) : 38 million shares.
Nasdaq Most Actives
JDS Uniphase: 127 million shares. Microsoft (MSFT) : 83 million shares. Cisco (CSCO) : 66.8 million shares.
Back to top
Sector Watch
The
Philadelphia Stock Exchange Semiconductor Index
that tracks the chip industry dropped 7.2%, reeling from Nortel and
Compaq's
undefined
disappointing outlooks.
Linear Technology
(LLTC)
, down 13.6%, and
Lattice Semiconductor
(LSCC)
, 10.9% lower, were among the hardest hit.
The S&P Insurance Index was one of the sector winners today. It was up 1.8% today.
Aflac
(AFL)
, which announced better-than-expected earnings last night, was 5.4%, or $3.38, higher to $65.88.
Jefferson Pilot
undefined
and
Torchmark
(TMK)
were two of the sector's biggest gainers.
The
American Stock Exchange Pharmaceutical Index
was 2% higher, led by
Johnson & Johnson
(JNJ)
, up 2.5%, or $2.25, to $93.94 and
American Home Products
(AHP)
which lately was up 3.5%, or $2.19, to $64.38.
Back to top
Bonds/Economy
The bond market has reversed course. The 10-year
Treasury note is at 100 14/32, off 2/32 to yield 5.69%. The 30-year
Treasury bond is at 107 3/32, unchanged and yielding 5.748%.
The
Mortgage Applications Survey
(
definition |
chart |
source
) for the week ended Oct. 20, released today, rose to 587.2 from 498.6 in the previous week. Mortgage refinancings continue to rise, which typically happens when rates fall, while the purchase index slipped to 298.7 from 311.1.
Back to top
International
International
After rallying out of their doldrums yesterday,
European markets were in the dumps again.
The
FTSE 100
in London fell 70.6 to 6367.8.
The
CAC 40
in Paris was 45.8 lower to 6277.9, while the
Xetra Dax
in Frankfurt was down 54.6 to 6748.2.
The
euro tumbled below what currency traders were calling a key support level, lately trading down to $0.8271, which is a new low.
The major
Asian equity markets closed mixed Wednesday.
Most Japanese investors remained on the sidelines ahead of earnings reports from some of the country's big technology companies and Tokyo's
Nikkei 225
closed down 307.7, or 2%, at 14,840.5.
In Tokyo trading, the dollar traded down 0.42 yen to 107.91 yen. The greenback was lately inching lower, at 108.15.
Hong Kong's
Hang Seng
index rose 135.2, or 0.9%, to 15,061.2, as heavyweight
China Mobile
(CHL)
rose HK$1.25, or 2.5%, to 52.00 ($6.67).
Back to top