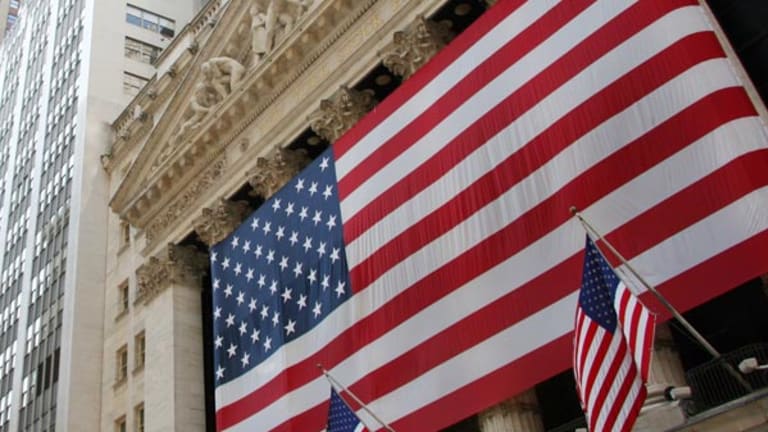 Today's Market: There Goes the Dow -- Again
<LI>Consumer prices rose more than expected in February.</LI> <LI>Profits drop at Lehman, Morgan Stanley.</LI>
<LI>Consumer prices rose more than expected in February.</LI> <LI>Profits drop at Lehman, Morgan Stanley.</LI>
(Updated from 9:33 a.m. EST)
Following yesterday's butt-kicking, investors were going for more selling at the open. Some market-watchers are starting to see a real turn in sentiment and have begun predicting that a rally is right around the corner. But don't count on it happening today. A real upturn could still be weeks or months off.
"Greenspan is now forcing a capitulation of the weak money," said an early morning report by market research firm
Fuji Futures
. "And what is left now is true long-term money -- and plenty of it. The folks we speak to are literally sitting on cash that has to be invested by the end of the month."
The
Federal Reserve's rate-cut disappointment yesterday knocked stocks further into the gutter. The
Nasdaq Composite Index and the
S&P 500 are now well into bear market territory -- more than 20% off their highs of last year -- and the
Dow Jones Industrial Average is fast approaching bear country -- now off 17% from its high. The market was hoping for a 75 basis-point cut from the Fed, but instead got a reduction of just 50 basis points.
Greenspan and his team have now dropped interest rates by 1.5% since Jan. 3, putting short-term rates at 5%.
The Dow was off 48 to 9671, while the Nasdaq was lately dipping 4 to 1854 and the S&P was 2 lower to 1140.
Investors weren't sure how to take this morning's report on the
consumer price index, released at 8:30 a.m. The headline and core numbers both came in a little higher than expected at 0.3% -- vs. consensus forecasts among economists of a 0.2% increase. Still, the headline number was only half of January's surprising 0.6% jump, which had sparked fears about stagflation -- that double brew of rising prices and a slowing economy.
The higher-than-forecast numbers may worry some that inflation remains a concern for this economy, which could deter the Fed from more aggressive interest-rate cutting. The CPI measures the change in cost of a representative basket of goods and services such as food, energy, housing, clothing, transportation, medical care, entertainment and education.
The well of corporate news, of course, continues to deliver. And investors are listening carefully to the tidbits to see if and when the sick companies begin to heal. Electronics manufacturer
Jabil Circuits
(JBL) - Get Report
was rising 4.3% to $18.90 issued some mixed news. The company posted second-quarter earnings of 21 cents a share, beating Wall Street estimates by a penny. But it also announced an undisclosed number of job cuts and lowered its outlook for the next two quarters.
Electronics manufacturer
Broadcom
was up 3.7% to $31.63 after it said it will have to revise its financial statements for the third quarter of 2000. Plus
Procter & Gamble
(PG) - Get Report
was 0.6% lower to $65.50 after it was reported the consumer products giant may be cutting up to 20% of its workforce.
Look for brokers to be active today.
Morgan Stanley Dean Witter
(MWD)
was off 2.1% to $55.30 after it said Wednesday that its first-quarter profit dropped 30% from the year-ago level, as a slump in stock market activity weighed on trading commissions and underwriting income. And
Lehman Brothers
(LEH)
was 2.7% lower to $64.10 after posted first-quarter results today that slightly exceeded Wall Street estimates, even as profits dropped nearly 28% from the year-ago period.
The Fed's statement about the economy that accompanied yesterday's action makes it likely the Fed will cut rates by another quarter-point before its May 15 meeting. The statement said the "economic situation could be evolving rapidly" and the Fed will need to "monitor developments closely." The
federal funds futures market -- a good proxy of the expected direction of interest rates -- is now pricing in a 100% chance the Fed will make such a cut before May 1. But as the market showed yesterday, some are saying the Fed is behind the curve, with investors fearing the economy and the stock market are due for more harrowing, downward spirals.
Still, others say the slowing in the economy is being caused by a crisis of confidence, and not liquidity. It's an uptick in consumer confidence we need, and another quarter-point cut wouldn't have changed anything, they say.
It may take a real turnaround in earnings to make stocks go up again. Earnings warnings and layoffs have not abated and are not likely to do so any time soon. And
low visibility -- by now a familiar tune -- is nonetheless a continuing problem. Add to that growing concern that the global economy will follow the U.S. into the gutter, and you've got a recipe for losses. Still, Japan pulled off an impressive rebound overnight, and that could give U.S. investors hope.
Back to top
International
In reaction to the
Bank of Japan's
efforts to bring the nation's economy back to life, stocks soared in Japan overnight -- the
Nikkei 225
racked up a surprising 913 point gain, or 7.49%, to close at 13,103.94. Hong Kong fared less well, with the key
Hang Seng
ending the day down 69.4 points, or 0.52%, to 13154.4.
European markets were selling vigorously as they approached midsession, however, partly on disappointment over yesterday's rate cut in the U.S. The major indices were all registering three-digit losses. London's FTSE 100 was down 133.3, or 2.36%, to 5513.5. The Paris
CAC 40
was off 158.7, or 3.09%, to 4979.7. And Frankfurt's
Xetra Dax
was losing 174.7, or 3.02%, to 5607.4.
In a note out this morning,
Merrill Lynch
attributed Japan's firecracker rally to a mix of aggressive year-end short-covering by funds as well as growing optimism over the BOJ's announcement on easing and the prime minister's international pledge to President Bush to make progress on the Japanese bad loan situation. Plus, two Wall Street firms recently went overweight Japan, the report said.
Merrill thinks it is still too early to upgrade Japan, however.
Back to top
Bonds/Economy
Bond prices were rallying again this morning in anticipation of some selling in equities. The benchmark 10-year
Treasury note was lately unchanged, though, at 101 26/32, yielding 4.766%.
Treasury prices moved inversely to equities in the wake of the Fed's half-point rate cut Tuesday. They ventured back and forth between positive and negative territories as stock prices slid, then came back up and then tumbled again. Yields of the notes were a little more volatile than those of the bonds, and all touched or recharted their two-year lows. But as stock losses mounted, gains in treasuries did, too.
Back to top