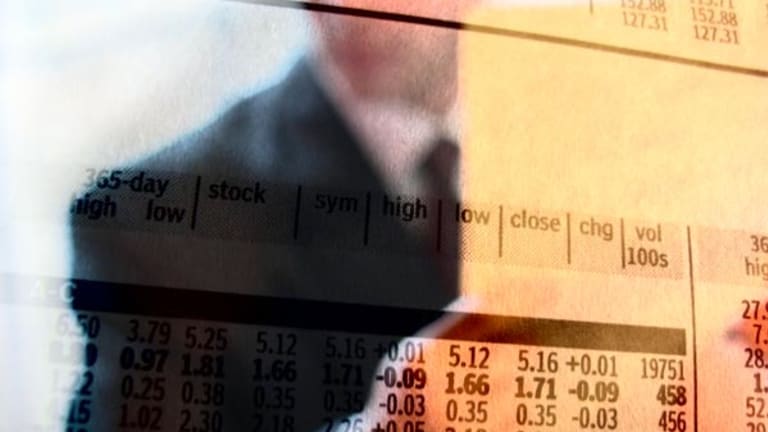 Today's Market: Techs, Telecoms Temper Tuesday Tech Bounce
<LI>Altera falls on warning about fourth-quarter growth.</LI> <LI>WorldCom tumbles on news of its own slowdown.</LI> <LI>Goldman cuts Q4 earnings estimates on MSDW, Lehman and Merrill.</LI>
(Updated from 9:39 a.m.)
Amid growing fears of slowing telecom and technology spending in the U.S., another beleaguered telecom warrior phoned in sick this morning. It was
WorldCom
(WCOM)
, which warned of slower revenues going forward and announced plans to spin off its long-distance unit, MCI.
That, plus a fourth-quarter revenue warning from semiconductor-equipment maker
Altera
(ALTR) - Get Altair Engineering Inc. Report
and a downgrade on French computer and phone-networks maker
Alcatel
(ALA)
was giving investors a post-Halloween spook.
Brokerages were also under fire after
Goldman Sachs
reduced its fourth-quarter earnings forecasts by 9% for brokerages
Lehman Brothers
(LEH)
,
Morgan Stanley Dean Witter
(MWD)
and
Merrill Lynch
(MER)
. Goldman cited softness in the IPO market and "less transparent businesses like private equity."
The
Dow Jones Industrial Average was lately off 18 to 10,953. The tech heavy
Nasdaq Composite Index, however, was dragging 51 lower to 3318. And the
S&P 500 moved 7 lower to 1422.
In fact, it looks like yesterday's surging optimism over tech companies and stock price valuations may have been very short-lived. Tuesday took the tech-laden Nasdaq up 5.58%, or 178.23 points, to 3369.63. The Dow rose 1.25%, or 135.37 points, to 10971.14 on the day -- an eager flirtation with the 11,000 mark. The blue-chip index had fallen below the 10,000 mark in mid-October.
So what's ailing WorldCom now? The U.S. telecom and data services company warned that pricing pressure and a strong dollar would cut into its fourth-quarter revenue growth. The company said revenues would grow only 7% to 9% year over year. The company also announced the creation of a separate tracking stock for its consumer-related business, MCI. But the move didn't have anyone convinced, and WorldCom was trading $3.69 to $20.06 in preopen action. WorldCom's spinoff of MCI is a strategic shift in business for the company, which has seen its shares pummeled over the past
three months and its planned acquisition of rival
Sprint
undefined
left at the altar. WorldCom was tumbling 18.4%.
Just last week, another troubled U.S. telecom,
AT&T
announced plans to split into
four different companies. Investors didn't give that stock any relief, either. Today, AT&T was off another 4.9%.
But the trouble was not limited to telecom this morning. Semiconductor capital-equipment makers were also tumbling on the heels of Altera's warning. The company said it expects fourth-quarter growth to be at the low end of October's estimates provided of 12% to 15%. The company was hit by bearish comments this morning.
Credit Suisse First Boston
, for one, said it thinks Altera and its primary competitor,
Xilinx
(XLNX) - Get Xilinx Inc. Report
, "will likely come under pressure given this news."
Altera also said in a release on its Web site that its resales for October were "slightly below management expectations." Altera was off 16%.
And then there was Alcatel.
Goldman Sachs
slashed its price target on the French computer and phone-networks maker to 85 euros from 110 euros this morning. Market research firm
Fuji Futures
attributed some of Tuesday's stellar rally on the Nasdaq to Alcatel's strong third-quarter earnings and optimistic outlook. Alcatel was 3.5% lower.
Elsewhere in the terrible land of telecom, broadband services provider
Covad
(COVD)
this morning announced that CEO and Chairman Robert Knowling had resigned. The move comes just two weeks after the company reported a wider-than-expected third-quarter loss. It was lately off 3%.
Alas. With September and October now behind us -- both historically horrendous months for stocks -- and earnings season headed into the finish line, some investors were hoping for a continuation of yesterday's rally. All the bad news must be out of the way, some market pros reasoned.
Mind you, there is still the October
National Purchasing Manager's Index
, due out at 10 a.m., to contend with. This report, known as the PMI, will give investors a peek at the pace of spending in the manufacturing sector.
This is an important number to watch, considering the growing concern about slowing business spending on plant and equipment. Yesterday's
Chicago Purchasing Manager's Index, often a good predictor of the PMI, showed slowing spending by manufacturers. The PMI is forecast to come in at 49.8 vs. the previous month's 49.9, according to
Reuters
consensus estimates. The PMI signals expansion when it is above 50 and a contraction when it comes in lower.
TheStreet.com
recently took a look at how slowing capital expenditures is
affecting stocks.
What
Federal Reserve Chairman
Alan Greenspan and Wall Streeters really want to see from economic data right now is strong productivity growth coupled with manageable inflation. And business spending is partly what allows for increased productivity.
Back to top
Bonds/Economy
Bond prices were rising moderately this morning. The benchmark 10-year
Treasury note was up 2/32 to 99 31/32, yielding 5.755%.
Back to top
International
The major European indices had turned tail into the red by midsession on the negative WorldCom news.
The
FTSE 100
in London was down 23.70 to 6414.70.
The
CAC 40
in Paris was 46.71 lower to 6350.95, while the
Xetra Dax
in Frankfurt was off 40.30 to 7037.14.
After economic data on Friday showed a slowing U.S. economy, the
battered euro continued to rise. It was lately at 0.8537.
Most Asian
equity markets closed with solid gains Wednesday, as technology shares from Seoul to Hong Kong rallied following the Nasdaq's strong performance Tuesday.
In Tokyo, the
Nikkei 225
closed up 332.8 points, or 2.3%, at 14,872.4.
In Tokyo trading, the dollar traded at 109.16 yen, up from Tuesday's close of 108.99 yen. The greenback was lately at 108.44.
Elsewhere, South Korea's
Kospi
index surged 34.3, or 6.7%, to 548.8, as
SK Telecom
(SKM) - Get SK Telecom Co. Ltd. Report
jumped 13,500 won, or 5.6% to 256,000 ($224.75) and
Samsung Electronics
rocketed 20,500 won higher, or 14.4%, to 163,000.
Hong Kong's
Hang Seng
index rose 453.7, or 3.1%, to 15,349.0, as heavyweights
China Mobile
(CHL) - Get China Mobile Ltd. Report
rose HK$0.25, or 0.5%, to 50.50 ($6.46) and
HSBC
(HBC)
surged HK$4.50, or 4.2%, to 113.00.
Back to top
Senior markets editor Ellen Braitman chats with Christopher Edmonds, columnist for RealMoney.com exclusively on TheStreet.com at 3 p.m. EST on Wednesday, Nov. 1. Join them with your market and investment questions by logging on the home page.