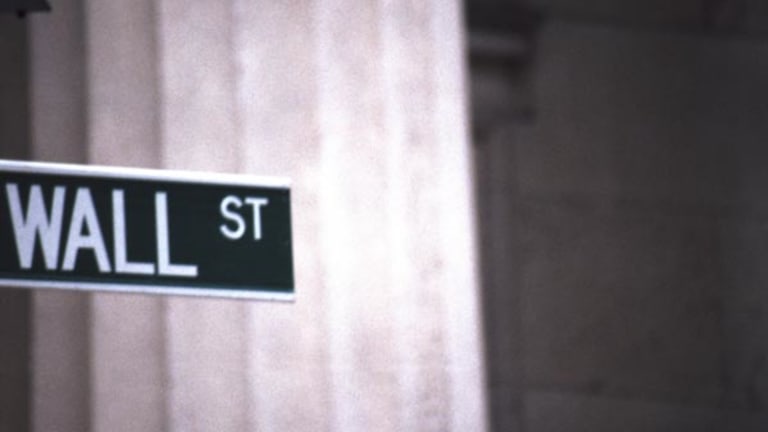 Today's Market: Tech's Struggles Continue; Dow Posts Modest Rebound
But, things don't look too good for tomorrow, as Intel announced they face a reveue shortfall.
Tech stocks crossed the finish line in the red, as investors gave old economy stocks a little more oomph. And, although some sectors looked stronger than others, stocks were still facing an upward climb, with profit warnings, rising energy prices and a weak euro.
It was a tough run for tech, as companies continued to confess that there earnings would be shy of Wall Street's expectations. And with oil's steep price plaguing big industrials and the weak Euro chasing down multinationals, investors were finding out that there is no where to hide in today's volatile market.
At the closing bell, the
Dow Jones Industrials managed to pull out a positive close, to lift 78, or 0.7%, to 10,766. Tech and financial shares put a damper on any real surge, but
3M
added about 30 points to the index, after it said that it sees earnings growth of 13% over the next three years. The manufacturer also said that it would post second-half earnings in line with analysts estimates due to strength in Asia.
Meanwhile, the
Nasdaq finished down 69 to 3829, after yesterday's positive close. In Nasdaq trading, Belgian-based
Lernout & Hauspie
(LHSP)
slipped to a new intra-day trading low of $12.56, after it said that the
Securities and Exchange Commission
launched a probe into the speech tech company's financial statement. The stock closed off 28.8%.
"It's kind of disappointing that we saw no follow through," said Brian Gilmartin, portfolio manger at
Trinity Asset Management
. "I though yesterday's recovery was a key reversal and I thought we'd see a much better day for the Nasdaq, like a 100-point gain."
Morgan Stanley Dean Witter
(MWD)
fell 6.7%, after failing to beat third-quarter consensus estimates. The investment bank posted third-quarter earnings of $1.09 a share, below the 14-analyst estimate of $1.17 a share but up from the year-ago 83-cent profit. The report surprised the market, especially after brokers ramped up strong gains this summer with the stabilization of invest rates and the pick up of the IPO calendar.
"It could indicate a company specific problem rather than a sector worry because the results are so disparate from their competitors," said Gilmartin.
In a research note,
Merrill Lynch
analyst Judah Kraushaar said that Morgan Stanley's big problem was weakness in its securities division. Kraushaar lowered his fiscal 2000 EPS to $5.10 from $5.35 a share and his 2001 estimate to $4.80 from $5.15 a share.
Overall, the financials slumped with the
American Stock Exchange Broker/Dealer Index
ending the day off 3.3%.
The buyers that were out there today took refuge in retails like
Wal-Mart
(WMT) - Get Walmart Inc. Report
, which closed 5% higher, and
Home Depot
(HD) - Get Home Depot, Inc. (HD) Report
which shot up 1.6%. It's not unusual to see retail stocks in fashion during a tech takedown.
The
S&P 500 Retail Index
bounced 3.5%.
Drugs stocks which have been under the weather due to uncertainty surrounding the upcoming political elections, were also healthier today, thanks to cash coming out of the tech sector.
Johnson & Johnson
(JNJ) - Get Johnson & Johnson (JNJ) Report
mounted 3.4%, while
Eli Lilly
(LLY) - Get Eli Lilly and Company (LLY) Report
shot up almost 5.3%.
Elsewhere, the broad
S&P 500 slipped 2 to 144, while the
Russell 2000 shed 7, or 1.3%, to 514.
But despite the recent volatility, Gilmartin says he's not worried, unless today's problems make there way into Q4 results. "This year is turning out to look a lot like last year. We didn't see a rally in the Nasdaq until Oct 15 and I'm not uncomfortable until we get towards October and we get surprise from conference calls."
Sector Watch
The
American Stock Exchange Oil & Gas Index
was lost 1.3%, with the price of oil falling slightly.
Texaco
(TX) - Get Ternium S.A. Sponsored ADR Report
slipped fractionally, while
British Petroleum
(BP) - Get BP p.l.c. Sponsored ADR Report
shed 1%.
The
Philadelphia Stock Exchange Oil Service Index
was also 2% lower, with
Halliburton
(HAL) - Get Halliburton Company (HAL) Report
off 1.2%.
Market Internals
Breadth was negative on heavy volume.
Back to top
New York Stock Exchange: 1065 advancers, 1722 decliners, 1.8 billion shares. 45 new 52-week highs, 116 new lows.
Nasdaq Stock Market: 1492 advancers, 2429 decliners, 1.5 billion shares. 62 new highs, 149 new lows.
Back to top
Most Active Stocks
NYSE Most Actives
Sprint PCS (PCS) : 27.4 million shares. Lucent (LU) : 22 million shares. Nortel Networks (NT) : 19.5 million shares.
Nasdaq Most Actives
Back to top
Bonds/Economy
Bonds posted modest gains on little news. Oil, which has been the main influence on bond prices in the last several sessions, is sharply weaker.
Congressional
t estimony by
Fed Chairman
Alan Greenspan did not address the economy or monetary policy, and the only major economic report, the
Philadelphia Fed Index
(
definition |
chart |
source
) for September, was more or less in line with expectations. It fell to 8.2 in September from 14.1 in August, indicating slower growth in the manufacturing sector.
Also, the Treasury Department conducted its latest
buyback, targeting $1.5 billion of 30-year bonds issued between 1987 and 1991.
The benchmark 10-year Treasury note lately was up 7/32 to 99 8/32 yielding 5.850%.
Back to top
International
European markets were lower. In London, the
FTSE
was off 80.7 to 6199.2. The French
CAC-40
lost 150.66 to 6254.77, and the German
DAX
was sliding 113.32 to 6651.91.
Asian markets ended lower.
The
Nikkei 225
index shed 147.26 to close at 16,311.05.
The euro managed to hit another low against the dollar, hitting 0.8474 during Asian trading. It was lately trading highter at $0.8587. The greenback also slid against the yen recently to fetch 106.63. For more on currenices, see the
separate coverage written by
TheStreet.com
.
Hong Kong's
Hang Seng
index slid 501.17, or 3.2%, to close at 15,164.45 largely due to shares of
Pacific Century Cyberworks
(PCW)
getting pummeled. PCCW fell HK$1.60, or a whopping 14.9%, to 9.15 ($1.17) after shares were suspended midday Wednesday at HK$10.75. Korea's
Kospi
index shed 10.09, or 1.7%, to close at 595.99
Back to top