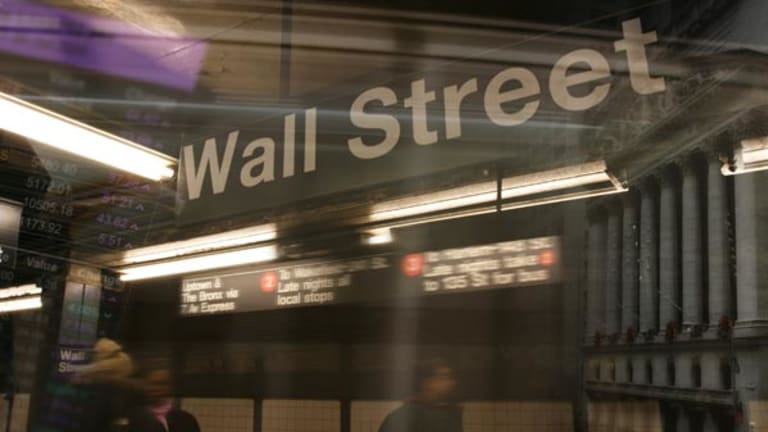 Today's Market: Tech's Late Slump Drags Down Nasdaq; Dow Ends Higher
Some of the value plays in the Dow profited from a bit of rotation out of tech.
Tech stocks -- you either love 'em or you hate 'em.
Today, they weren't getting much love and when that happens it hurts not only them, but the tech laden
Nasdaq Composite Index. That's not nice, now is it?
The poor, mistreated index started the day out getting some positive attention, but as the day went on yesterday's post-close warning from
National Semiconductor
(NSM)
sneaked into the sentiment. And weighed down on the Nasdaq, despite the fact that it's an
NYSE stock.
The company said that slowing demand may mean its second- and third-quarter earnings will fall below its first-quarter results. Then, this morning, it got smacked with downgrades from
J.P. Morgan
and
Morgan Stanley Dean Witter
. The company dragged down the Nasdaq-stock riddled
Philadelphia Stock Exchange Semiconductor Index
, down 7.4%.
Intel
(INTC)
-- off $1.31, or 3%, to $42 -- is one of stocks on the index and one of the biggest Nasdaq name.
Jack Holden, senior portfolio manager at
Fort Washington Investment Advisors
, said part of the selloff in the second half of the day could be at least partly blamed on a couple of big techs that were reporting after the closing bell, including
Nortel
(NT)
,
Compaq
undefined
and
LSI Logic
(LSI)
. The latter was especially garnering attention because of the National Semi warning.
Holden said, "Clearly, today, divergence
between the Comp and the
Dow Jones Industrial Average was really driven by
rotation into value plays." He cited
International Paper's
(IP)
bounce, which he said happened because it is considered a traditional value stock.
Such blue-chips as
DuPont
(DD)
,
General Electric
(GE)
,
Honeywell
(HON)
and
J.P. Morgan
(JPM)
also did well today. "It's just the game we're in. When tech does bad, money flows from that to what's safer, cheaper," Holden said.
You want evidence? Just look at
Kimberly-Clark
(KMB)
and Dow component
Procter & Gamble
(PG)
, which are typically safe havens. Kimberly jumped $5.06, or 8.6%, to $64, while Procter & Gamble rose $4.06, or 5.8%, to $73.63.
Still, the Dow started to slide about an hour before closing, it pushed its way back up before the closing bell, with most of the help coming from J.P. Morgan, which added almost 40 points. Procter & Gamble was also a big contributor, chipping in 24 positive points.
A rumor in blue-chip land rattled the Dow a bit.
Hewlett-Packard
undefined
took away about 35 points from the index on rumors that the company will preannounce missed earnings.
ExxonMobil
(XOM)
was the only other Dow component with 10 or more negative points.
ExxonMobil's loss was just one of the strange happenings in the market today, said Holden. ExxonMobil beat estimates today, as did a couple other oil stocks, but increased tensions in the Middle East continue to fuel uncertainty about energy prices.
Unlucky star of the day was the most active stock on the Nasdaq --
marchFIRST
undefined
. It fell 60% after
missing third-quarter estimates. In the past 52 weeks, investors have beaten this stock in ways that'd leave the fine folks of Salem, Mass., standing there breathless. At one point, this company, which helps Internet companies develop brands and business models, sat at $81.13, its 52-week-high. It closed today at $4.72.
Market Internals
Breadth was barely positive on the Big Board, but negative on the Nasdaq. Volume was moderate on both.
New York Stock Exchange: 1,562 advancers, 1,279 decliners, 1.157 billion shares. 49 new 52-week highs, 83 new lows.
Nasdaq Stock Market: 1,825 advancers, 2,130 decliners, 1.831 billion shares. 65 new highs, 107 new lows.
Back to top
Most Active Stocks
NYSE Most Actives
GE: 50 million shares. Lucent (LU) : 28.4 million shares. Honeywell: 26 million shares.
Nasdaq Most Actives
marchFIRST: 48.7 million shares. Microsoft (MSFT) : 46.3 million shares. Intel (INTC) : 45.9 million shares.
Back to top
Sector Watch
Paper stocks were up in the
Philadelphia Stock Exchange Forest & Paper Index
, which rose 7.2%. Components
Bowater
undefined
and
Smurfit Stone Container
(SSCC)
reported today. Bowater increased $3.69, or 8.1% to $49.38, after it posted earnings of 96 cents a share, matching the 11-broker consensus but below the year-ago 98 cent profit. Smurfit Stone beat estimates by a penny, but then warned about its fourth quarter. It managed to hop 69 cents, or 6.4%, higher to $11.38.
Financials -- which include brokers, bankers and insurers -- made gains, with the
American Stock Exchange Broker/Dealer Index
up 1.5%, the
Philadelphia Stock Exchange/KBW Bank Index
about 3% higher, and
S&P Insurance Index
up 2.7%.
Oil stocks sunk today, with the
American Stock Exchange Natural Gas Index
down 3.5% and the
Philadelphia Stock Exchange Oil Service Index
off 3.3%.
The
Philadelphia Stock Exchange Computer Box Maker Index
dropped 3.7%.
Unisys
(UIS)
was its only component on the upside.
Back to top
Bonds/Economy
After three days of gains, the bond market has pulled back today. Investors are less motivated to move to safe investments as recent Middle East unrest seems to be easing.
The benchmark 10-year
Treasury note opened lower at 100 27/32, and was down 8/32 to 100 29/32 and yielding 5.627% at press time.
BTM Weekly U.S. Retail Chain Store Sales Index
(
definition |
chart ) fell 0.2% in the week ending October 21 after a 0.5% rise in the previous period.
Back to top
International
European markets moved steadily higher today.
The
FTSE 100
in London was up 122.5 points to 6428.4.
The
CAC 40
in Paris was up 141.4 to 6323.7, while the
Xetra Dax
in Frankfurt was 181.9 higher to 6802.8.
The
euro was lately trading at 0.8356.
The major
Asian equity markets closed higher Tuesday, as technology shares in South Korea and Taiwan jumped, while most Japanese investors remained on the sidelines.
In Tokyo, shares remained under pressure ahead of the release of some big-name earnings. The
Nikkei 225
closed up 50.2, or 0.3%, at 15,148.2.
In Tokyo trading, the dollar slipped 0.62 to 108.33 yen. The greenback was lately trading down to 107.73.
Hong Kong went its own way Tuesday, as the
Hang Seng
index fell 176.4, or 1.2%, to 14,925.9. Internet and telecom company
Pacific Century CyberWorks
undefined
tanked 11.5% to HK$5.75 ($0.74) and
China Mobile
(CHL)
fell HK$1.50, or 2.9%, to 50.75.
Back to top