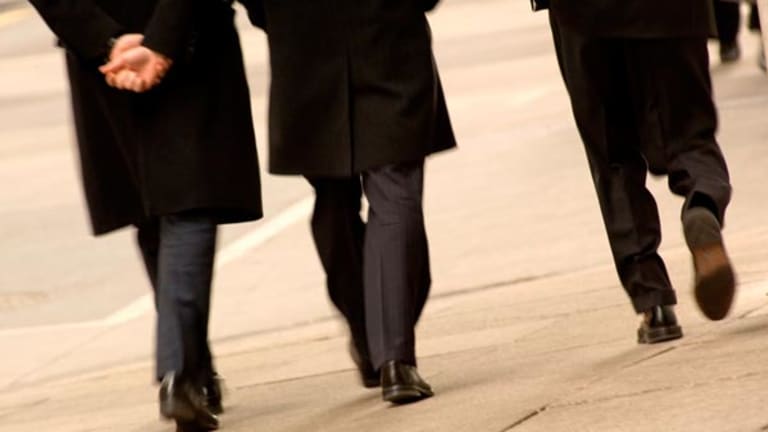 Publish date:
Today's Market: Tech's Bad Day Drags Down Dow and Nasdaq
Financials had a pretty good day, though, as merger rumors continue.
Financials had a pretty good day, though, as merger rumors continue.
The technology sector picked up where it left off last week, losing its footing and sending the major indices lower. Selling, confined to the
Nasdaq Composite Index for much of the day, picked up in earnest in the afternoon, as portfolio managers unloaded technology stocks for the safety of brokerages, energy stocks and retailers.
The tech sector's decline was incited by
Goldman Sachs
, which lowered earnings estimates for
IBM
(IBM) - Get Report
this morning, citing diminished earnings based on weakness in the euro. IBM fell sharply on the news, dropping $4.75 to $124.75 today, and contributing 28 points of negative drag to the
Dow Jones Industrial Average, which fell 25.16, or 0.2%, to 11,195.49.
Hewlett-Packard
(HWP)
also ended down, losing $8.06 to $113.56 on news that it was looking to purchase PriceWaterhouseCoopers' consulting business. Meanwhile, the
S&P 500 lost 5.24, or 0.4%, to 1489.26, and the Nasdaq dropped 82.06, or 2.1%, to 3896.35. The
Russell 2000 lost 2.08 to 533.62.
"Anytime we've made a recovery to the highs, the market's been vulnerable to a pullback," said Steven Goldman, market strategist at
Weeden
. "The Nasdaq punched out to a new recovery higher and we're vulnerable. Again, it's a decline that could last a few weeks, and the waning on the S&P is tied into that."
Meanwhile, the specter of inflation continues to scare the market, especially as oil prices climbed higher despite OPEC's announcement that it would increase daily oil production by 800,000 barrels. With the exception of commodity-related indices, which are dancing in the black gold, the rest of the market is worried. Sectors most directly affected by rising fuel costs -- transportation, airlines and chemicals -- had a poor day today, but Jim Volk, co-director of institutional trading at
D.A. Davidson
, said rising prices are a detriment to the health of the entire market.
"If oil prices are not going to come down, people wave the inflation flag," said Volk.
Technology Stinks it Up
Money managers brushed off blue-chip technology stocks like a fungus, dooming
Cisco
(CSCO) - Get Report
,
Sun Microsystems
(SUNW) - Get Report
and
Oracle
(ORCL) - Get Report
to significant losses. The usual reasons were mentioned for the weakness -- earnings, high valuations and the Nasdaq's strong August run.
"We're setting up for a good fourth quarter," said Jeff Phelps, portfolio manager of the
Chase Core Equity Fund
in Houston. "I don't know that anything is wrong. This is just the market being the market."
Being the market meant being lousy today. IBM's
problems regarding the euro zone currency aren't likely to be confined. Other companies, including
DuPont
(DD) - Get Report
last week, have already stated that their revenues would be hurt by the weakness in the euro. Earnings tracker
I/B/E/S
commented today that other multinationals, including those in the basic industries and technology sector, are likely to face earnings erosion due to the euro's weakness.
The
Nasdaq Telecommunications Index
lost 2.5% today, while the
Nasdaq Biotechnology Index
dropped 4%.
TheStreet.com Internet Sector
index lost 1.3%.
Meanwhile, the brokerage stocks were a haven for investors again.
Lehman Brothers
(LEH)
rose $12.13, or 8.2%, to $160.25, mostly in the last hour of trading, on (what else) rumors the company is going to be sold. Since the recent purchase announcements of U.S. firms
PaineWebber
(PWJ)
and
Donaldson Lufkin & Jenrette
(DLJ)
, various financial stocks have been boosted on takeover rumors. Today, it's Lehman; last week, it was
J.P. Morgan
(JPM) - Get Report
(which itself rose $5 to $169 today).
The
S&P Insurance Index
gained 2.7% today, another solid performance for those stocks. The
Philadelphia Stock Exchange/KBW Bank Index
rose 0.9%.
Outside of the financials and energy stocks, retailers strengthened today.
Wal-Mart
(WMT) - Get Report
got a shot in the arm from
Banc of America Securities
this morning, which initiated coverage on the stock with a buy rating and a $62 target. The Arkansas-based retailer responded, rising $2.19 to $54.31 today.
Home Depot
(HD) - Get Report
, another Dow component, gained $1.31 to $54.25 today, and the
S&P Retail Index
rose 2.6%. TSC wrote a
story about Wal-Mart earlier in the day.
Market Internals
Breadth was mixed on the Big Board; lousy on the Nasdaq, on mediocre volume.
New York Stock Exchange: 1,525 advancers, 1,295 decliners, 902 million shares. 192 new 52-week highs, 34 new lows.
Nasdaq Stock Market: 1,568 advancers, 2,433 decliners, 1.46 billion shares. 74 new highs, 70 new lows.
Back to top
Most Active Stocks
NYSE Most Actives
Nortel (NT) : 25 million shares. Lucent Technologies (LU) : 20.8 million shares. AT&T (T) - Get Report: 11.9 million shares.
Nasdaq Most Actives
Back to top
Sector Watch
OPEC's
decision to raise output by 800,000 barrels per day wasn't enough to drive down the price of oil, leaving oil stocks burning up. The
American Stock Exchange Oil & Gas Index
ended up 2.3%, to 544.79. Dow component
ExxonMobil
(XOM) - Get Report
climbed 1.8%, while
Chevron
(CHV)
ended up 3%. Oil's power was generating the
Philadelphia Stock Exchange Oil Service Index
, sending it up 4.6%.
Soaring energy prices caused the
Dow Jones Utility Average
to rise 2.4%.
Back to top
Bonds/Economy
Oil prices are back up, and the bond market doesn't like it.
In the wake of
OPEC's
decision over the weekend to boost output by just 3%, oil, which tumbled 5% on Friday, is back near the 10-year high of $35.39 a barrel it hit on Thursday. With no economic data on the calendar, the negative implications for inflation are hurting bonds.
The benchmark 10-year Treasury note lately was down 7/32 at 99 27/32, lifting its yield to 5.768%.
Back to top
International
Major European indices closed lower with London's
FTSE
down 18.7 to 6582. Paris'
CAC
was off 28.35 to 6675.01 and the
DAX
in Germany fell 53.32 to 7214.
The euro was trading at $0.8578. The dollar was trading at 106.03 yen.
Asian markets stumbled overnight.
Despite strong economic numbers, Tokyo shares closed lower amid news of an index reshuffling that had investors scrambling to adjust portfolios. The key
Nikkei 225
index shed 370.65, or 2.3%, to close at 16,130.90,
With the euro hitting a new low, the greenback fell against the yen to fetch 106.21. in Tokyo trading. The dollar was lately trading at 106.04 yen.
Hong Kong's Hang Seng index declined 267.47, or 1.6%, to close at 17,007.98 as shares of
Pacific Cyberworks
(PCW)
continued to be punished by investors.
Back to top