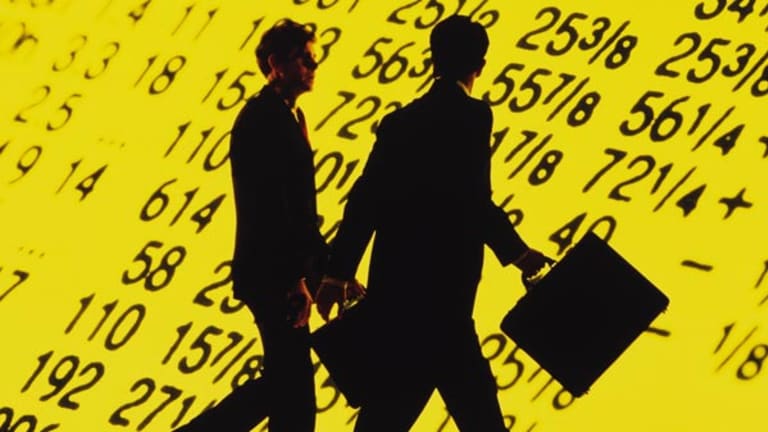 Today's Market: Tech Valuations Might Finally Look Cheap; Stocks Open Higher
<LI>Nortel rising in early trading.</LI><LI>Chicago PMI due out at 10 a.m.</LI><LI>News of deal with NTT has IBM's shares rising.</LI>
(Updated from 8:34 a.m.)
Trick? Or treat? The open for tech stocks was looking a little more like the latter this morning, with
Nasdaq 100
futures galloping above fair value.
After losing almost 300 points in little over a week, and being a stone's throw from its lows for the year, the
Nasdaq Composite Index is looking downright cheap. Meanwhile, the end of what is typically a bloody and gory month for stocks could also be infusing Wall Street with a taste of optimism.
The
Dow Jones Industrial Average was recently up 16 to 10,850. The
Nasdaq Composite Index was up 46 to 3237. And the
S&P 500 moved up 7 to 1406.
A bullish call on wireless communications company
Research in Motion
(RIMM)
from
Credit Suisse First Boston
this morning was certainly a boon. CSFB resumed its coverage of Research in Motion with a buy rating and raised its 2001 and 2002 earnings per share estimates for the company. Investors and analysts have lately expressed doubt about the potential of the once hot wireless Web.
As the economy continues to show signs of a slowdown, investors are in the process of revaluing price-to-earnings comparisons downward. But the verdict is not yet in on how fast the economy is actually slowing, nor what kinds of valuations are actually "investable" or reasonable at this point. This confusion over the economy and p/e valuations has forced a manic gyrating dance on the market lately, with wild upswings closely followed by maudlin downswings and vice versa.
A slew of earnings and revenue warnings issued by tech bellwethers such as
Intel
(INTC) - Get Intel Corporation (INTC) Report
and
Apple
(AAPL) - Get Apple Inc. (AAPL) Report
this quarter has made investors realize that tech companies aren't immune to a slowdown in the economy. They quickly began to knock down tech sector after tech sector that initially were thought to be graced by unstoppable growth. First it was the PC-makers, then the semiconductors and finally, the optical and networking stocks, to name a few.
But market pros think some of these names -- particularly sector bellwethers -- have started to look like good buys. After losing some 40% of its value since Oct. 20, networking leader
Nortel
(NT)
was finally getting a lift this morning. Nortel, which last week warned of slowing optical sales, was responsible for much of the rout in the networking sector. The company's shares were trading higher in preopen action this morning.
Still, investors may be cautious today about diving back into even the cheapest technology stocks, partly because mutual fund managers are expected to continue their tax-loss selling through the end of the session, which marks the close of the fiscal year for many funds. Tax-loss selling involves selling the stocks with the biggest losses for the year -- many of them tech stocks this time around -- at a loss to offset taxable gains on winners. This kind of selling has been responsible for some of the volatility and selling pressure in the market over the past week.
And stocks could take some direction from the
Chicago Purchasing Manager's Index, to be released at 10 a.m. The Chicago PMI, which helps to predict the
National Purchasing Manager's Index
, gives investors a peek at the pace of growth in the manufacturing sector.
It could be an important number to watch, considering signals from last Friday's
gross domestic product
that businesses are slowing their spending on plant and equipment far faster than expected.
TheStreet.com
wrote a separate
story about Friday's GDP numbers.
What
Federal Reserve Chairman
Alan Greenspan and Wall Streeters really want to see from economic data right now are strong productivity growth numbers coupled with manageable price inflation. And business spending is partly what allows for increased productivity.
Meanwhile,
new home sales
, considered a good gauge of near-term spending for housing-related items and consumer spending in general, is also due out at 10 a.m. Economists polled by
Reuters
are expecting new home sales to grow to 894,000 in September from 893,000 the previous month.
In company news, French telecommunications company
Alcatel
(ALA)
was rising in preopen trading this morning after releasing better-than-expected earnings.
PC-making goliath
IBM's
(IBM) - Get International Business Machines (IBM) Report
shares were rising on news that its Japanese unit was planning a deal with Japan's
NTT
that would be worth $13.8 billion over a 10-year period.
On the Dow, watch for earnings from
Procter & Gamble
(PG) - Get Procter & Gamble Company Report
today.
Back to top
Bonds/Economy
Bond market prices were rising moderately this morning. The benchmark 10-year
Treasury note was up 3/32 to 100 4/32, yielding 5.734%.
Back to top
International
Battered tech shares were inching up in
Europe today.
The
FTSE 100
in London was up 73.20 to 6461.60.
The
CAC 40
in Paris was 51.31 higher to 6348.15, while the
Xetra Dax
in Frankfurt was rising 66.24 to 6992.81.
After economic data on Friday showed a slowing U.S. economy, the battered euro continued to rise. It was lately at 0.8419.
Most Asian
equity markets closed higher Tuesday, as investors in Japan, South Korea and Hong Kong snapped up the shares that had been sold at considerably lower levels over the past few days.
In Tokyo, the
Nikkei 225
closed up 75.0 points, or 0.5%, at 14,539.6.
In Tokyo trading, the dollar traded up 0.29 yen to 108.99 yen. The greenback was lately at 109.18.
Elsewhere, South Korea's
Kospi
index climbed 9.8, or 1.9%, to 514.5 as
SK Telecom
(SKM) - Get SK Telecom Co., Ltd. Sponsored ADR Report
jumped 5.4% to 242,500 won ($212.72).
Hong Kong's
Hang Seng
index rose 95.4, or 0.6%, to 14,895.3.
Back to top