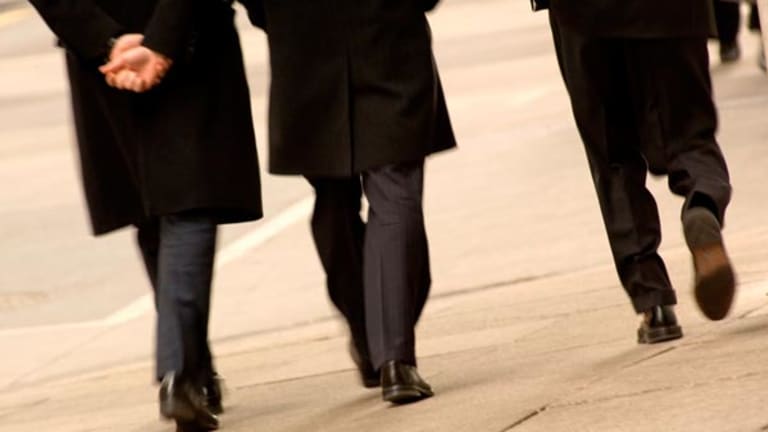 Publish date:
Today's Market: Tech Turns Lower on Disappointing Earnings News
<LI>AT&T falls after meeting much-lowered earnings expectations.</LI> <LI>Cisco drops on cautious words about January's business.</LI> <LI>New round of layoffs from major companies.</LI>
<LI>AT&T falls after meeting much-lowered earnings expectations.</LI> <LI>Cisco drops on cautious words about January's business.</LI> <LI>New round of layoffs from major companies.</LI>
(Updated from 9:28 a.m.)
Wall Street was feeling rather gloomy about tech stocks this morning following a new round of discouraging earnings news, more layoffs and the disappointing performance by the
Nasdaq Composite Index last week.
The tech-laden index has risen smartly since the beginning of the year, but tossed languidly last week, gaining just 12.8 points to 2781.3. Investors seemed immune to bad earnings news for a while, but technology companies continue to warn about weakness in coming quarters and no one is quite sure when the economy will turn.
The Nasdaq was 27 lower to 2755 this morning.
But even appetite for nontech stocks remains tentative ahead of the fateful
Federal Reserve meeting that kicks off tomorrow. The Fed will announce its decision about how much it's cutting interest rates on Wednesday afternoon, and the market has been pricing in a half-point cut. Anything less and you can bet stocks will fall.
Some disappointing earnings news over the weekend and this morning wasn't helping sentiment. The
S&P 500 was off 2 to 1353. The
Dow Jones Industrial Average, however, was inching into positive territory, lately up 10 to 10,669.
Networking titan
Cisco
(CSCO) - Get Cisco Systems, Inc. Report
over the weekend
said that January was far more challenging than it had originally thought, but that its long-term outlook had improved. At the
World Economic Forum
in Davos, Switzerland CEO John Chambers said: "The business momentum of most of my customers was very tough in December, and equally tough in January." Cisco's CEO made
similar remarks earlier this month. Cisco was off 6.2% to $36.
AT&T
and
Xerox
(XRX) - Get Xerox Holdings Corporation (XRX) Report
both reported weak earnings this morning. Telecom and cable television heavyweight AT&T reported fourth-quarter earnings that were down 51% from a year ago to 26 cents per share, in line with much lowered analyst estimates. The company also said that, due to its restructuring plan, it won't meet first quarter estimates, which should fall in the same range as its fourth-quarter results. Fourth-quarter revenues rose to $16.88 billion from $16.4 billion in the year-ago period. The company
cut its outlook for both earnings and revenue for the fourth quarter several times last year due to declining prices in the long-distance market. AT&T was off 1.8%.
All was not dire for the company. Its tracking stock,
AT&T Wireless
(AWE)
,
reported revenues that were up 39% to $2.97 billion. It said its
earnings before interest, taxes, depreciation and amortization and excluding other income, totaled $272 million, up 33% over the year-ago quarter.
AT&T is just one of several long-established companies that can't seem to get their act together. Copy giant Xerox posted a 31 cent loss in the fourth quarter, missing lowered analyst estimates by a penny and the year-ago figure by 10 cents a share. The
troubled company posted its first quarter loss in 16 years in the third quarter of last year. Xerox also said it would cut 4,000 jobs in the first quarter, or 4% of its total workforce, with more job cuts planned for later in the year. The stock has been trashed in the last 12 months due to problems with billing, customer debt and increasing competition. It has been implementing cost-cutting measures to try and get its business back in focus.
Xerox, which was edging 0.4% higher,
warned in December of weaker-than-expected fourth-quarter results, adding then that it had drawn all of an emergency credit line it was tapping for daily operations
And the job-slashing rolls along. Automaker
Daimler Chrysler
(DCX)
announced it is cutting 26,000 jobs. And
The Financial Times
reported that media goliath
Disney
(DIS) - Get Walt Disney Company Report
is also planning to cut jobs. Last week, Swedish mobile phone giant
Ericsson
(ERICY)
and telecom
WorldCom
(WCOM)
announced job cuts.
TheStreet.com
recently wrote about the repercussions of a growing round of
job cuts.
Following Ericsson's disappointing earnings report last week and ahead of earnings from mobile phone handsetmaker
Nokia
(NOK) - Get Nokia Oyj Sponsored ADR Report
Tuesday, investors may be tentative about the telecom sector. Nokia may be the only handset maker to report a year over year gain, but the company has already lowered its estimates for worldwide cell phone demand in 2001. Ericsson was off 3.1%, while Nokia was 1.7% lower.
Motorola
(MOT)
recently reported earnings that were in line with twice-lowered estimates but 10 cents per share lower than the year-ago figure. The company also posted a 20% drop in order growth in its communications business and a 19% decrease in growth in its chip business.
Meanwhile, the chipmakers, online brokerages and investment banks and retailers look like some of the most vulnerable to the slowing economy right now, according to a report from earnings tracker
I/B/E/S
, as much-discussed problems continue to grow.
Continuing concerns over a much-discussed buildup in a inventory is one of the biggest concerns for tech companies, wrote I/B/E/S' Joseph Kalinowski. Weak financial markets should continue to hurt on-line trading commissions and underwriting income for investment companies going forward. And a soft stock market and growing layoffs are cutting further into already weak consumer spending, which is clearly hard on the retailers.
Another factor shaking confidence in the market is finally getting a bit of resolution, however. California officials have agreed to a broad plan to solve the state's energy crisis, but utilities and consumer groups have already voiced their opposition to some elements of the plan. The utilities would give up equity stakes to the government, while the state would issue bonds to help the companies pay off their debts. This would allow consumers to benefit financially when the utilities recover. Two of the state's biggest utilities,
Pacific Gas & Electric
, owned by PG&E
(PCG) - Get PG&E Corporation Report
, and
Edison International
(EIX) - Get Edison International Report
are on the brink of bankruptcy.
The near-term market force is the Fed's decision on interest rate cuts, but the market will also react to some important economic data out this week. Fourth quarter
gross national product
is released on Wednesday, which will tell investors something about the nation's economic growth and output. Wall Street also gets a look at the latest installment of the jobs report on Friday. That should tell investors how the employment situation is shaking out in light of the economic slowdown and news of increasing layoffs.
Back to top
Bonds/Economy
Bond prices were flat this morning. The benchmark 10-year
Treasury note was lately down 1/32 to 103 18/32, yielding 5.27%.
Back to top
International
European markets were mixed near their midsession, with meager gains in Frankfurt and London, and losses in Paris.
London's
FTSE
was inching higher, up 15.90, or 0.25%, to 6310.20. Across the channel, Paris'
CAC-40
was off 34.24, or 0.58%, to 5891.38. Frankfurt's
Xetra Dax
was up just 6.70, or 0.10%, to 6701.90.
The dollar hit a one-month high against the euro yesterday. The euro has been slowly gaining against the U.S. dollar amid expectations of a slowing domestic economy. It was lately trading at $0.9189.
Asian markets rose overnight.
Tokyo stocks stemmed a three-day downturn Monday in anticipation of a substantial interest rate cut this week in the U.S. from the Fed. The key
Nikkei 225
closed up 149.22, or 1.09%, to 13,845.28. The index scraped near hit a 27-month low on Jan. 10 of 13,151.47.
Hong Kong stocks rose slightly after taking a three-day holiday for Chinese New Year, and the key
Hang Seng
closed up 55.61 points, or 0.35%, to 16,099.82.
The greenback was lately falling against the yen, trading at 116.61 yen.
For more on world stock markets, check out
TheStreet.com's
global indices information.
Back to top