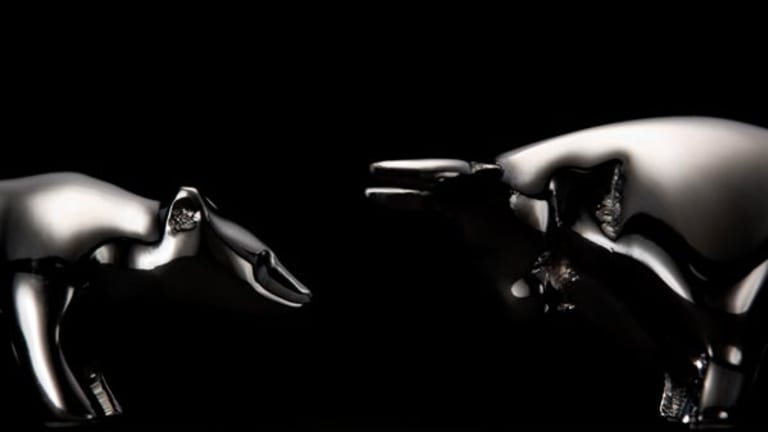 Publish date:
Today's Market: Tech Stocks Sprint Out of Gate
<LI>Intel earnings report is better than expected.</LI> <LI>Latest CPI report shows inflation in check.</LI> <LI>Juniper jumps on impressive earnings news.</LI>
<LI>Intel earnings report is better than expected.</LI> <LI>Latest CPI report shows inflation in check.</LI> <LI>Juniper jumps on impressive earnings news.</LI>
(Updated from 9:27 a.m.)
Semiconductor goliath
Intel
(INTC) - Get Intel Corporation (INTC) Report
didn't exactly have good news for the market last night. But investors may have been expecting worse.
Juniper Networks
(JNPR) - Get Juniper Networks, Inc. (JNPR) Report
, on the other hand, landed the market with some
pretty fantastic numbers.
From the way the market opened, investors want to toss a whole lot of cash into stocks today. And the latest round of inflation data should help keep sentiment positive.
The tech-heavy
Nasdaq Composite Index was jumping 111 to 2730. The
Dow Jones Industrial Average was gaining 35 to 10,689. And the
S&P 500, which tracks the broader market, moved up 15 to 1341.
December's
Consumer Price Index, which gauges prices in consumer goods, came in this morning right in line with economists' forecast at 0.2%. The core number, which excludes energy and food prices, dipped to 0.1%, just below forecasts of 0.2%. In November, the headline CPI rose 0.2%, while the core number rose 0.3%. The numbers seemed to reassure the market that inflation is under control, and
S&P 500 futures inched higher.
Nasdaq 100
futures -- already at limit up -- didn't budge. Limit up is the maximum price increase allowed on a futures contract in a single trading day.
Higher inflation numbers could have dampened hopes for new interest-rate cuts when the
Federal Reserve meets at the end of this month.
Still,
industrial production fell 0.6% in December, compared with forecasts of 0.5% -- one of the weakest reports in years.report. Capacity utilization, which measures how much of the country's production capacity is being used, fell to 80.6%, just below forecasts of 80.9% and the previous month's 81.6%.
While investors were rewarding Intel for its earnings report, analysts did not seem pleased.
Merrill Lynch
,
Goldman Sachs
and
Credit Suisse First Boston
cut their earnings estimates on Intel. And
Lehman Brothers
analyst
Dan Niles issued a cautious report on the company this morning. Intel was rising 4.2%.
Other earnings news on the block: Recently merged banking giant
J.P. Morgan Chase
(JPM) - Get JPMorgan Chase & Co. (JPM) Report
was losing 1.7% after it missed earnings estimates by a wide margin, coming in with earnings of 37 cents a share. Analysts were forecasting the merged company would make 45 cents a share for the quarter. But that might not be the end of the world for investors in the financial sector.
Yesterday, earnings numbers pretty much in line with estimates from three of the country's biggest banks sent shares spinning higher.
Citigroup
(C) - Get Citigroup Inc. Report
reported earnings per share of 65 cents, in line with forecasts.
Bank of New York
(BK) - Get Bank of New York Mellon Corporation Report
met analyst forecasts of 50 cents per share for the quarter, while
Bank of America
(BAC) - Get Bank of America Corp Report
missed lowered earnings expectations by a penny, coming out with earnings of 85 cents a share.
An industrywide slowdown in some investment banking and securities brokerage areas, along with worries that weakening credit quality could hurt banks' loan portfolios, had investors expecting a
beating in the banking sector this earnings season.
It's a pretty busy earnings roster today. In the spotlight are battered PC maker
Apple Computer
(AAPL) - Get Apple Inc. (AAPL) Report
; the Dow's best performer in 2000,
Boeing
(BA) - Get Boeing Company Report
; serial earnings warner
Eastman Kodak
(EK)
and PC maker
IBM
(IBM) - Get International Business Machines (IBM) Report
, which is well off its 52-week high.
This morning's CPI data reassured investors that they could continue to hope for new interest rate cuts at the end of this month. The Fed, after all, is always on the outlook for inflation and won't cut rates if it fears that higher prices are a real concern.
The Federal Reserve's policy-making body meets at the end of this month to determine what to do with interest rates. Following last Friday's inflation data, many economists began forecasting a quarter-point cut in interest rates, down from a half-point prediction before the report was issued. The
producer price index, or PPI, showed that prices paid by producers had risen faster than expected.
Some economists worried that a sharp rise in natural gas prices in December could jack up price inflation for that month. And there are serious concerns that inflation could continue to rise following planned output cuts by the world's largest oil exporting nations, which make up OPEC. The OPEC nations agreed today to cut production by 1.5 million barrels per day, effective Feb. 1. The oil cartel wants to hold oil prices at $25 to $30 a barrel.
Meanwhile, the Fed's interest-rate cut a few weeks ago -- its first in over a year and a half -- has done a lot for market sentiment. The half-point rate cut to 6% has inspired many on Wall Street to say the Fed is now on the market's side. A slowdown in the economy in recent months has already taken its toll on many companies' earnings and could continue to do so in the first quarters of this year. But lower interest rates help spur economic growth. Lower rates are good for business -- and earnings -- growth because they make it cheaper to borrow money. The Fed manages the health of the economy by lowering and raising interest rates.
Back to top
Bonds/Economy
Bond prices were lower this morning following the release of an in-line CPI. The benchmark 10-year
Treasury note was lately down 3/32 at 103 24/32, yielding 5.246%.
Back to top
International
European markets were rising as the morning wore on.
London's
FTSE
soared 95.50, or 1.57%, to 6178,80. Across the channel, Paris'
CAC-40
was climbing 120.45, or 2.09%, to 5882.12. Frankfurt's
Xetra Dax
was up 140.53, or 2.16%, to 6643.42.
The euro was tumbling, down to $0.9332 this morning. It has been gaining slowly in the past few weeks as the U.S. dollar weakens in the face of a slowing domestic economy.
Asian markets were mixed overnight.
Tokyo's key
Nikkei 225
index rose for a fourth straight session after hitting a 27-month low last Thursday. The index, lead higher by banking shares, closed up 83.18, or 0.61%, to 13,667.63.
Losses in Chinese shares pressured the Hong Kong stock market lower Wednesday after Chinese Premier Zhu Rongji supported a crackdown on stock market manipulation. The key
Hang Seng
index closed down 101.67, or 0.66%, to 15,261.48.
The greenback was lately rising against the yen, trading at 118.015 yen.
For more on world stock markets, check out
TheStreet.com's
global indices information.
Back to top