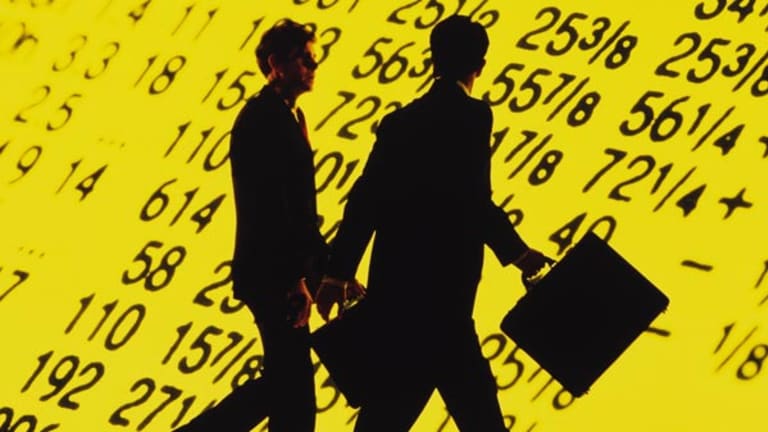 Today's Market: Tech Stocks Slump in Early Action
<LI>Nasdaq loses ground from the get-go.</LI><LI>Earnings growth estimates come down.</LI><LI>EDS, Block Drug rising; AT&T down.</LI>
(
Updated from 9:29 a.m. EDT
)
The
Nasdaq Composite Index is picking up Monday morning right where it left off Friday -- going down.
The tech-larded index lately was off more than 50 points to 3310, with weakness in such leading issues as
Cisco
(CSCO)
,
Intel
(INTC)
and
Yahoo!
(YHOO)
. The
Dow Jones Industrial Average was faring better, up 15 to 10,612.
Until earnings reports start flowing in earnest, it's going to be pretty hard to guess this market's direction. Meanwhile,
Yom Kippur
and Columbus Day together should thin the ranks on Wall Street substantially, reducing trading volume and increasing volatility.
So far this morning, stocks were looking flat to lower. But considering the trading action in recent weeks, that doesn't mean much of anything. Of late, the major indices seldom start and finish the trading day on the same side of the flatline.
"It's going to be a truncated-type day," said Bill Allyn, head of block trading at
Jefferies
.
"Between Columbus Day and the Jewish holiday, we're going to have less than a full audience. No one can place too much credence on what happens today," he added.
Allyn expects to see more selling during the rest of the week.
"The rest of the week, we should continue to the downside -- until we get some positive earnings surprises. The
Nasdaq Composite Index could get down to 3000. On the
Dow Jones Industrial Average we might fall another 1000 points -- to around 9700," Allyn said.
There are no big earnings reports today, but investors will certainly want to keep an eye out for earnings warnings.
Many market watchers expected the wave of earnings warnings that has plagued the market in the past month to slow down last week. But they continued to trickle in, and consensus estimates show analysts revised their third-quarter earnings growth projections down to 14.9% from 15.3% last week, according to a morning report from market research firm
I/B/E/S
. Analysts were initially expecting 18.2% growth at the close of the second quarter. Meanwhile, new preannouncement data showed this has been the worst confession season of the year, with 70% of total preannouncements negative.
Still, I/B/E/S was optimistic, saying because of the history of positive surprises seen within the
S&P 500, it believes the 14.9% growth figure is conservative. Third-quarter earnings growth, the report said, can still approach 18% to 19% if past trends continue. (
TheStreet.com
looked at the earnings-growth outlook in a
Wednesday story.)
Renewed strength in oil prices doesn't bode well for today's market. Crude oil was trading sharply higher in London this morning, up as much as 88 cents to $31.10. Oil prices rose following increased violence in the Middle East and an early spell of cold weather in the U.S. Oil reserves are already at a 24-year low and a number of refineries are reducing their capacity this month for maintenance.
This only fuels earnings fears, as several companies have blamed high energy costs for expected earnings weakness in the past month. Higher oil prices also threaten to boost inflation as well as take a bite out of consumer demand at a time when the direction of the economy is uncertain.
There are still some individual stocks that look like good picks today.
Electronic Data Systems
(EDS)
should be popular with investors. The company's shares were rising in preopen action since it announced after Friday's close that it received a $6.9 billion contract to link the
Navy
and
Marines'
computer systems.
AT&T
(T)
shares were also rising in preopen trading after
The Wall Street Journal
reported that Senate Judiciary Committee Chairman
Orrin Hatch
(R., Utah) warned that ties between
AT&T
(T)
and a merged
America Online
(AOL)
and
Time Warner
(TWX)
could threaten competition. The company's shares have been in the sewer since early May. AOL said it shouldn't have to break off its ties with AT&T because U.S. regulators addressed the issue in a review of an earlier merger.
Back to top
Bonds/Economy
The bond market is closed for Columbus Day. The benchmark 10-year Treasury note last traded on Friday at 99 15/32, yielding 5.821%.
Back to top
International
European stocks were tumbling on weakness in telecom and tech stocks, as well as banks, this morning.
In London, the
FTSE 100
was lately down 82.3 to 6308.9.
Across the channel, the
CAC 40
in Paris was down 86.57 to 6171.84, while the
Xetra Dax
in Frankfurt was 67.11 lower to 6709.28.
The euro was squeezing out some slim gains, lately up to 0.8696.
TheStreet.com
recently looked at what
ails the euro.
Japan's stock markets were closed for a holiday Monday, but the rest of the
region's equity markets were led lower by weak technology and telecom shares.
Hong Kong's
Hang Seng
closed down 491.18, or 3%, at 15,693.50, as index heavyweight
China Mobile
(CHL)
tanked HK$3.25, or 5.5%, to 55.75 ($7.15). Volumes remained low, however, as Hong Kong was returning from a long weekend after being shut for its own local holiday on Friday.
Back to top