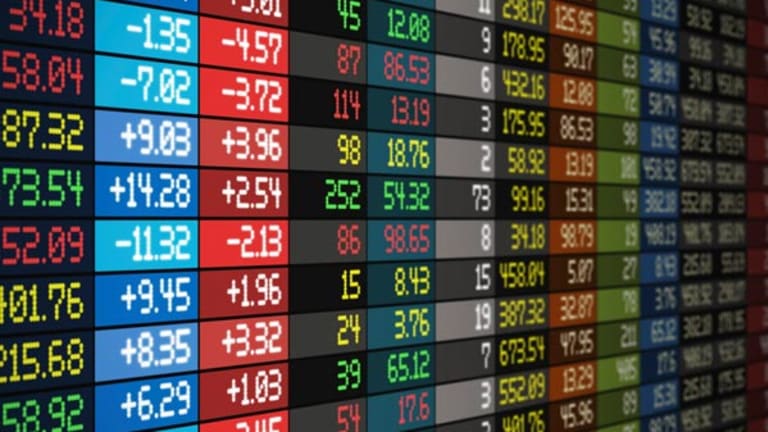 Publish date:
Today's Market: Tech Stocks Slip in Early Trading
<LI>Oracle disappoints, Adobe impresses on software sales.</LI> <LI>CPI, industrial production numbers show tame inflation.</LI>
<LI>Oracle disappoints, Adobe impresses on software sales.</LI> <LI>CPI, industrial production numbers show tame inflation.</LI>
(Updated from 9:27 a.m.)
Stocks were mixed in early trading this morning following the release of a benign
Consumer Price Index and
industrial production and capacity report.
Triple witching -- the expiration of equity options, index options and futures contracts -- and a relatively murky earnings picture had stock futures zipping back and forth before the open. Triple witching often causes volatility.
The
Dow Jones Industrial Average was lately around even, up 1 to 11,089. The
Nasdaq Composite Index fell 38 to 3876. And the
S&P 500 slipped 4 to 1477.
"The CPI number came in kind of in line, but the market was weak yesterday. The bottom line is, you've got triple witching today," said Kenneth Sheinberg, head of listed trading at
SG Cowen
.
"People are reacting to earnings announcements. The price of oil is moving again. The euro is filtering into all kinds of earnings warnings," he said. "And September is historically a very bad month for the market -- especially for tech -- and the path of least resistance is down."
"The true path of the market should start Monday, because many of the swings caused by triple witching take place in the two weeks preceding it," Sheinberg added. "If they can't get the market going soon, there could be a serious sell-off."
August's headline CPI came in at a 0.1% drop vs. expectations of a 0.2% rise, while the core -- which is minus food and energy -- was right in line with expectations at a 0.2% jump. The numbers are further evidence of tame inflation, though the good news was dragged down by a drop in energy prices, which have since risen. The CPI which measures consumer inflation.
Industrial production and capacity, which came in at 9:15 a.m, was stronger than expected. The market had expected a slight drop in manufacturing, and economists were estimating it would remain unchanged, according to Reuters consensus forecasts. But the number came in up 0.3%, while capacity utilization remained at 82.3% vs. expectations it would pull back to 82%.
Otherwise, software companies should see a mixed reaction from the market today. Software giant
Oracle's
(ORCL) - Get Report
strong earnings release after the close yesterday was tempered by slower-than-expected applications software sales, which disappointed analysts.
Oracle,
Computer Associates
(CA) - Get Report
and
PeopleSoft
(PSFT)
were all trading lower in early action. But
Adobe Systems
(ADBE) - Get Report
, the leading maker of publishing and graphic design software, was shooting 3.9% higher in early action after it said sales will rise at least 25% in the fourth quarter and fiscal 2001.
Multinational retailers may have a mixed day. The proud owner of the swoosh,
Nike
(NKE) - Get Report
reported stronger-than-expected profits last night, saying they were boosted by international growth. The company posted earnings per share of 77 cents, topping the 74 cent analyst estimate and the year-ago 70 cents.
But weakness in the euro has crippled profits at several other multinationals with operations overseas. Euro worries sabotaged several stocks yesterday, including
McDonald's
(MCD) - Get Report
,
Colgate-Palmolive
(CL) - Get Report
,
Coca-Cola
(KO) - Get Report
and
Gillette
(G) - Get Report
.
This was despite an intervention by the
European Central Bank
, which helped boost the euro slightly.
TheStreet.com
wrote about the move
yesterday .
Meanwhile, watch for appliance-maker
Maytag
(MYG)
to swing lower after it warned its earnings could be down 8% to 10% for the third and fourth quarters due to slower sales at
Circuit City
(CC) - Get Report
and
Heilig-Meyers
(HMY) - Get Report
(HMY:NYSE) stores. Circuit City stopped selling appliances in July, while Heilig-Meyers announced recently that it would close more than 300 of its 800 stores.
Elsewhere in the news,
Ford
(F) - Get Report
will buy back up to $5 billion of common and Class B stock in an effort to lift its stock price.
TSC
wrote about the buyback in a separate story
yesterday .
Back to top
Bonds/Economy
The 10-year Treasury note was lately down 10/32 at 99 11/32 and yielding 5.837%.
The CPI fell 0.1% in August, its first drop in 14 years, but a 2.9% drop in energy prices was to blame. The core CPI, which excludes food and energy and is a more stable barometer of inflation trends, rose 0.2%, in line with the average forecast. The sharp rise in oil prices over the last month is expected to produce a considerably less friendly September CPI.
The annual growth rate of the CPI edged down to 3.4% in August from 3.5% in July.
The Treasury market is continuing the trend that started earlier this week, favoring short-term securities at the expense of long-term ones, based on the view that the Fed is finished raising interest rates and may contemplate cutting them if global growth hits a series of speed bumps.
Yesterday, an early rally in the bond market -- after a surprisingly friendly reading on inflation at the wholesale level -- morphed into a sell-off that moved the 30-year bond's yield decisively higher than the 10-year note's yield for the first time since January. The sell-off came amid shifting views on monetary policy and heavy issuance of corporate bonds.
TheStreet.com
wrote a separate article on the steepening
Treasury curve.
Back to top
International
European markets were seeing technology and telecom struggle to hold on to Thursday's gains after new rises in oil prices re-ignited inflation worries.
The
FTSE 100
was down 46.70 to 6508.80 after turning around a weeklong losing streak yesterday.
Across the channel, the
CAC 40
in Paris was down 22.54 to 6615.37, and the
Xetra Dax
in Frankfurt was off 12.11 to 7036.39.
The embattled euro was lately trading higher at $0.8658.
Asian markets were flat to lower today, as selected telecom and electronic stocks fell lower on profit-taking before the weekend.
Korea took a beating, however, with the key
Kospi
index falling more than 3% after U.S. auto giant Ford said it was pulling the plug on its planned buyout of troubled
Daewoo Motor
. Korea's
Kospi
index slid 21.94, or 3.4%, to close at 628.20.
Hong Kong's
Hang Seng
index shed 145.90 to finish at 16,249.53 and Taiwan's
TWSE
index rose 3.16 to stand at 7155.45. Tokyo markets were closed for a public holiday.
Back to top