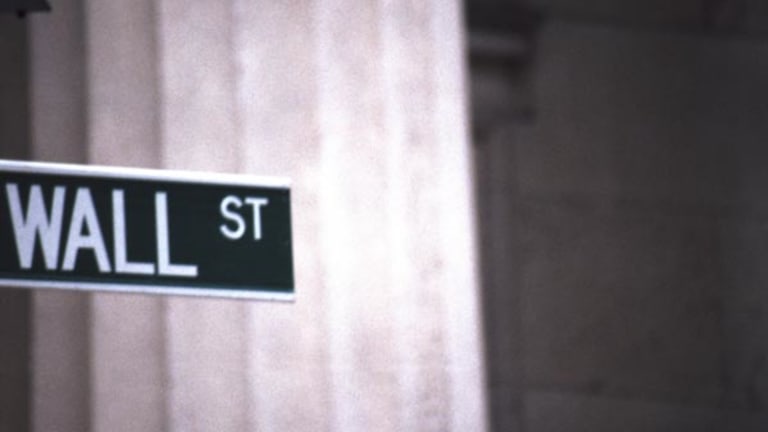 Publish date:
Today's Market: Tech Stocks Shake Off Yahoo's Bad News
<LI>Yahoo! falls after disappointing earnings report and outlook.</LI> <LI>Semiconductors and computermakers get hit with negative analyst comments.</LI>
<LI>Yahoo! falls after disappointing earnings report and outlook.</LI> <LI>Semiconductors and computermakers get hit with negative analyst comments.</LI>
(Updated from 9:27 a.m.)
Following some less-than-spectacular earnings news last night from tech leaders
Yahoo!
(YHOO)
and
Motorola
(MOT)
, investors this morning were sulking. Yahoo! disappointed with earnings for its fourth quarter and revenue estimates for 2001, while Motorola met its much reduced earnings estimates for the quarter.
In a conference call with analysts this morning, Motorola said it wouldn't provide specific guidance for 2001 until it reports its first-quarter earnings.
But market pros are getting more optimistic about the market's ability to smile in the face of adversity, so perhaps a drop at the open will yield to a rally. Yesterday, investors pushed futures well into the red before the bell, and yet stocks managed to rally into the close. Networking systems providers
Redback Networks
(RBAK)
and
Juniper Networks
(JNPR) - Get Juniper Networks, Inc. (JNPR) Report
also rallied, despite downgrades from
CIBC World Markets
. However,
Cisco
(CSCO) - Get Cisco Systems, Inc. Report
, which was also downgraded, fell after CEO John Chambers was bearish about the company's
outlook.
Indeed, the
Nasdaq was lately in the green, gaining 6 to 2530. The blue-chip
Dow was lower by 4 to 10,598. And the
S&P 500, which tracks the broader market, was fractionally lower to 1313.
"I don't think the market is going to react too badly to
the Yahoo! news," said Tony Cecin, manager of Nasdaq trading at
U.S. Bancorp Piper Jaffray
. "My sense is that the Street is starting to write off some of the obvious. My guess is you're going to see less and less of a visceral reaction."
The real strength in the market right now is investor optimism that the
Federal Reserve will cut interest rates by another half-point at the end of this month. The Fed's policy making body, the
Federal Open Market Committee, meets Jan. 30 and 31 to decide on interest rates. Last week, the Fed dropped the benchmark federal funds rate 50 basis points to 6% in a surprise intermeeting move.
Still, it remains to be seen whether the market can take the Yahoo! news in stride. The second-largest of the pure-play Internet companies (after
America Online
(AOL)
), Yahoo! is a real market titan and the outlook it gave last night was pretty dire. If one of the behemoths of this game is having problems, investors wonder what the declining online advertising market that's hurting the big boys means for smaller companies. Yahoo! was off 17% soon after the open, and several other large Internet companies were trading down.
If the tech sector can shrug off the bad news and rally today, it would be the first time in a long time that the index rallied three days in a row. The Nasdaq rose 45.4 points Tuesday to 2441.3 and 82.9 points to 2524.2 yesterday.
The market will also have to contend with new negative analyst reports on semiconductors, as well as PC makers
Hewlett-Packard
(HWP)
and
IBM
(IBM) - Get International Business Machines (IBM) Report
, issued this morning.
Lehman Brothers'
analyst
Dan Niles suggested that investors sell all their semi stocks if they rally. Chip stocks, as measured by the
Philadelphia Stock Exchange Semiconductor Index
, were trading lower.
And investors continue to watch two California utilities that are teetering on the edge of bankruptcy because of rising deregulated power costs vs. fixed consumer rates. And crude oil prices are rising ahead of expectations that OPEC, the organization of oil exporting countries, will cut production when it meets next week. Thinner oil supplies means higher prices, which can contribute to rising inflation.
It was perhaps no surprise that Yahoo! guided earnings estimates down for this year in its conference call last night. Companies are expected to issue disappointing outlooks this earnings season. With the shrinking dot-com universe and slowing economic growth taking a major toll on online advertising, pretty much all of the analysts were expecting Yahoo! to warn about coming quarters. About 80% of Yahoo!'s revenues come from advertising.
But analysts were shocked by just how much Yahoo! slashed and burned. Yahoo forecast 2001 earnings per share of 33 cents to 43 cents compared with analyst forecasts for as much as 59 cents a share. The company also lowered its 2001 revenue forecast to $1.2 billion to $1.3 billion, just a touch above revenues for 2000 of $1.1 billion and falling short of the consensus forecasts from earnings tracker
First Call/Thompson Financial
of about $1.42 billion.
ABN-Amro
and
Credit Suisse First Boston
downgraded Yahoo! this morning.
Expect a bevy of other analysts to be active this morning with negative calls on Yahoo!.
Showing its reach, Yahoo! was helping to drag online ad company
DoubleClick
(DCLK)
lower. The company, which reports earnings after the close today, was 13.6% lower.
Motorola, the world's second-largest cell-phone maker,
met already lowered fourth-quarter earnings expectations, though it reported a decline in profit and said handset sales fell 20% in the quarter.
Warnings just a few weeks apart in October and December effectively brought the company's estimate for fourth-quarter earnings per share down a staggering 59%, from 37 cents a share to 15 cents a share.
Earnings excluding special items fell 41% to $335 million, or 15 cents a share, from $564 million, or 25 cents a share, a year earlier. The consensus estimate of analysts polled by First Call was 15 cents. Including special items, earnings were just $135 million, or 6 cents a share. Motorola, whose stock has been battered over the past several months, was trading 2.7% higher. Rival
Nokia
(NOK) - Get Nokia Oyj Sponsored ADR Report
earlier this week said its sales also were lower than expected.
Back to top
>Bonds/Economy
Bond prices were rising this morning, but were off their earlier highs following a much weaker-than-expected weekly
jobless claims report this morning. The benchmark 10-year
Treasury note was lately up 4/32 at 105 1/32, yielding 5.080%.
Jobless claims for the week ended Jan 6 fell to 345,000 from a revised 381,000 for the prior week. Economists had been forecasting 374,000 for the week.
Back to top
International
European markets were mixed, but rising this morning. Both London and Frankfurt stocks were advancing into the green, while Paris stocks were paring back earlier losses.
London's
FTSE
remained in the green after Britain's Bank of England announced it had left interest rates unchanged. The FTSE was 34.60 higher to 6094.50. Across the channel, Paris'
CAC-40
was down just 1.32, or 0.02%, to 5652.03. Frankfurt's
Xetra Dax
was rising 60.73, or 0.96%, to 6380.80.
The euro was trading up to $0.9512 this morning. It has been gaining slowly in the past few weeks as the U.S. dollar weakens in the face of a slowing domestic economy.
Asian markets hit the pavement overnight.
Hong Kong's key
Hang Seng
index closed down 2.24%, or 345.02, to 15,090.77.
Tokyo's key
Nikkei 225
hit 27-month low, led down by telecom NTT DoCoMo and automobile maker Toyota Motor. The Nikkei closed 1.72% lower, or 231.58, to 13,201.07
The greenback was lately rising against the yen, trading at 117.31 yen.
Back to top